Students in the Resumed Undergraduate Education program make their way to Brown in many different ways — the stories of three Class of 2017 graduates from the program illustrate the wealth of lived experience they bring to campus.
PROVIDENCE, R.I. [Brown University] — Instead of making a beeline to college after high school graduation, Jennifer Avery hit the road, touring the country as a singer in a punk rock band. Zoila Bergeron worked as an interpreter in the Dominican Republic, then moved to the United States to start a career in financial services. Michael Zaskey served as a medic in the U.S. Army's 82nd Airborne Division.
Though none went to college on the traditional timeline, all three will earn bachelor's degrees during Brown University's 249th Commencement this Sunday. And while each took a very different path toward processing out through the Van Wickle Gates, they all entered them the same way — through Brown's Resumed Undergraduate Education (RUE) program.
Launched in 1973 as an experimental program, RUE gained permanent status six years later. Today, the program enrolls 24 undergraduates at Brown — all of whom have been out of high school for six years or more and have not yet completed a college degree.
Unlike those in many other programs for nontraditional students, RUE students complete the same course of study and earn the same degrees as those who came to Brown immediately or soon after high school. The chief difference is that work and life experience is more heavily weighted in the application process.
And that makes for a rather exceptional cohort of students, all of whom have taken a more circuitous path to college than the average 18-year-old.
First-year student Kaely Michels-Gualteri is a trapeze artist who toured with the Ringling Bros. & Barnum and Bailey Circus. Junior Jonathan Famery played professional soccer in France. Before coming to Brown, sophomore Damen Dume started an NGO in Mali focused on health care advancement, community development and environmental protection.
Those are just a few of the compelling backstories that RUE students lend to campus.
"The RUE program provides access and opportunity to students who have taken a nontraditional path to college," said Maitrayee Bhattacharyya, senior associate dean of the College for diversity and inclusion. "Just as importantly, these students, with their breadth of professional and life experience, enrich the academic environment for other students here at Brown. They offer a very unique dimension of diversity and perspective to our campus."
Turning long-held passions into a degree
After the stint in the punk rock band, Avery went on to work as a puppeteer and performance artist — and then, after years on the road, as a certified nursing assistant. This last job was rewarding and perhaps more practical, Avery says, but they [Note: Avery's preferred pronoun is they] missed making art full time. So years removed from formal education, Avery enrolled at a community college to pursue an associate's degree in fine arts with the idea of transforming that passion into a focused career.
Brown, with its multidisciplinary ethos, was the ideal next home to advance that work, Avery says. At Brown, Avery is a visual arts concentrator whose playful immersive multimedia pieces incorporate textiles, crafts, painting, sculpture, theater, literature and dance and explore themes around childhood, gender, feminism and mental health, among others.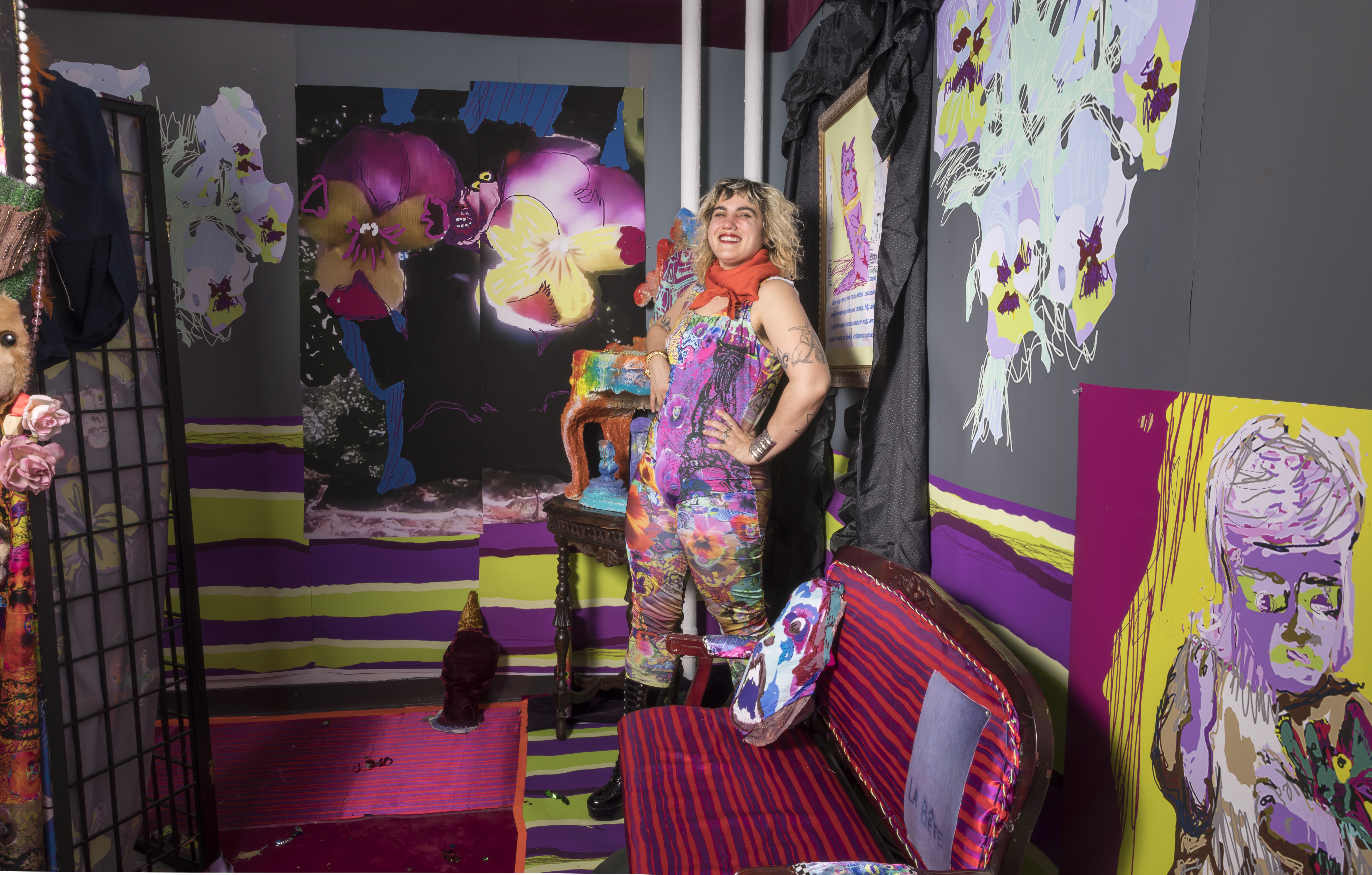 In 2014, Avery was the first American ever awarded a coveted artist residency with the Hermès Foundation, studying and working in the luxury brand's silk and textile workshops in France. After graduation, Avery has shows lined up in Paris, New York City and Puerto Rico. Avery attributes this substantial career leap to the individualized course of study they were able to design via Brown's Open Curriculum, mentorship from faculty and the ability to enter college with a wealth of life experience under their belt.
"If I had gone to school when I was 18, I would have been completely lost, and not very dedicated or interested," Avery said. "I would have been going through the motions. Here, I have been able to completely shape and sculpt my education, to hone in on my interests and focus on what is really important to me. Brown has been so supportive about me picking and choosing from many disciplines to create this perfect education for myself and also gave me the confidence and clarity to do it."
Bringing diversity to Brown
The RUE program has also been a common pathway for military veterans to enter Brown.
Zaskey, a neuroscience concentrator, served as an army medic for six years with deployments to Haiti, Afghanistan and Iraq before deciding to leave to pursue his goal of becoming a doctor. He says he wanted to attend a school filled with smart, motivated students that was also welcoming to members of the military. Brown was both, he says.
While on campus, Zaskey has been a strong advocate for veterans, serving as president of the Brown University Student Veterans Society and as a liaison to service members interested in applying to Brown. He was recently asked to sit on the Rhode Island's Post 9/11 Veterans Advisory Council, a task force formed by Governor Gina Raimondo to address issues faced by younger veterans.
While the RUE program has helped Zaskey achieve his goals — he begins his studies at Brown's Warren Alpert Medical School in the fall — he says the program also serves an important broader role at Brown.
"The RUE program brings a type of diversity that you don't get from students straight out of high school," he said. "RUE students bring ideas and thoughts and beliefs that have been shaped by their lived experiences outside of an educational environment. They know what it means to pay rent, to raise children, to be in the military, to hold down a job for 20 years — or what it's like to be married, to be divorced, or to be a celebrity in France.
"All of these perspectives have definitely enhanced my own education, but the program also enhances the education of the whole student body."
Inclusive but supportive
Though the RUE program seeks to offer students a full-fledged Brown experience, it also recognizes the unique circumstances they face, Bhattacharyya says. With that in mind, RUE students are given more flexibility around some of the logistics of campus life.
They are not required to live on campus or enroll in a meal plan, for instance. They have a dedicated faculty advisor, their own orientation and customized career services. RUE students who are parents are eligible for the same childcare subsidy as faculty and staff. And while they are encouraged to attend Brown full-time, they are able to enroll part-time if needed.
Bergeron, the mother of two young children, says such support has made it easier for her to juggle her family and academic commitments. When she graduated from high school in the Dominican Republic, Bergeron was unable to pursue her college dreams because her ill mother required full-time care. She eventually got married and moved to the United States, spending several years working in finance before leaving the workforce to stay home with her children. She says the time away from her career gave her the space to figure out what she really wanted to do — write and pursue an academic life — which ultimately propelled her to Brown.
The RUE program has allowed her to engage with a demanding curriculum and fully immerse herself in the life of the campus, she says. In addition to pursuing a dual concentration in literary arts and Hispanic studies, Bergeron has served as treasurer, vice-president and president of the Resumed Undergraduate Student Association. She's also been a peer mentor and a member of the Brown Daily Herald's editorial board. In 2015, she received a Mellon Mays Undergraduate Fellowship, joining a highly competitive program that supports undergraduate research and preparation for graduate school.
"The fact that the RUE program is the same as the undergraduate program sends a wonderful message that intellectual curiosity has no restrictions," Bergeron said. "At Brown, your talents are rewarded no matter where you come from or how you got here."
Celebrating circuitous paths
The RUE students' journeys toward the Van Wickle Gates are important for the entire Brown community to take note of, says Bhattacharyya, particularly during Commencement and Reunion Weekend as graduating seniors prepare to embark on their lives beyond Brown.
"The RUE program illustrates the Brown ethos of lifelong learning, flexibility, exploration and being able to engage formally and informally with your education," she said. "This is a place where students chart their own course, where they don't stop pursuing their passions and learning goals just because they've been delayed or interrupted or changed. RUE students demonstrate to all of us that we don't necessarily have to follow a linear path."