On Sunday night, Noah took the stage at Brown's Salomon Center for Teaching to discuss topics including lessons learned from his childhood in South Africa, last year's election of Donald Trump and why we should all challenge our own beliefs.
PROVIDENCE, R.I. [Brown University] — Growing up in apartheid-era South Africa presented nearly insurmountable challenges for mixed-race families. For a young Trevor Noah, a black mother from South Africa and a white father from Switzerland in a country where racial segregation was the law meant that his birth itself was a crime, he told a Brown University audience on April 30.
"At the very early years of my existence, we were hiding the fact that we were a family," Noah said. "And so this was the world we grew up in, which was painfully and strangely enough, normal."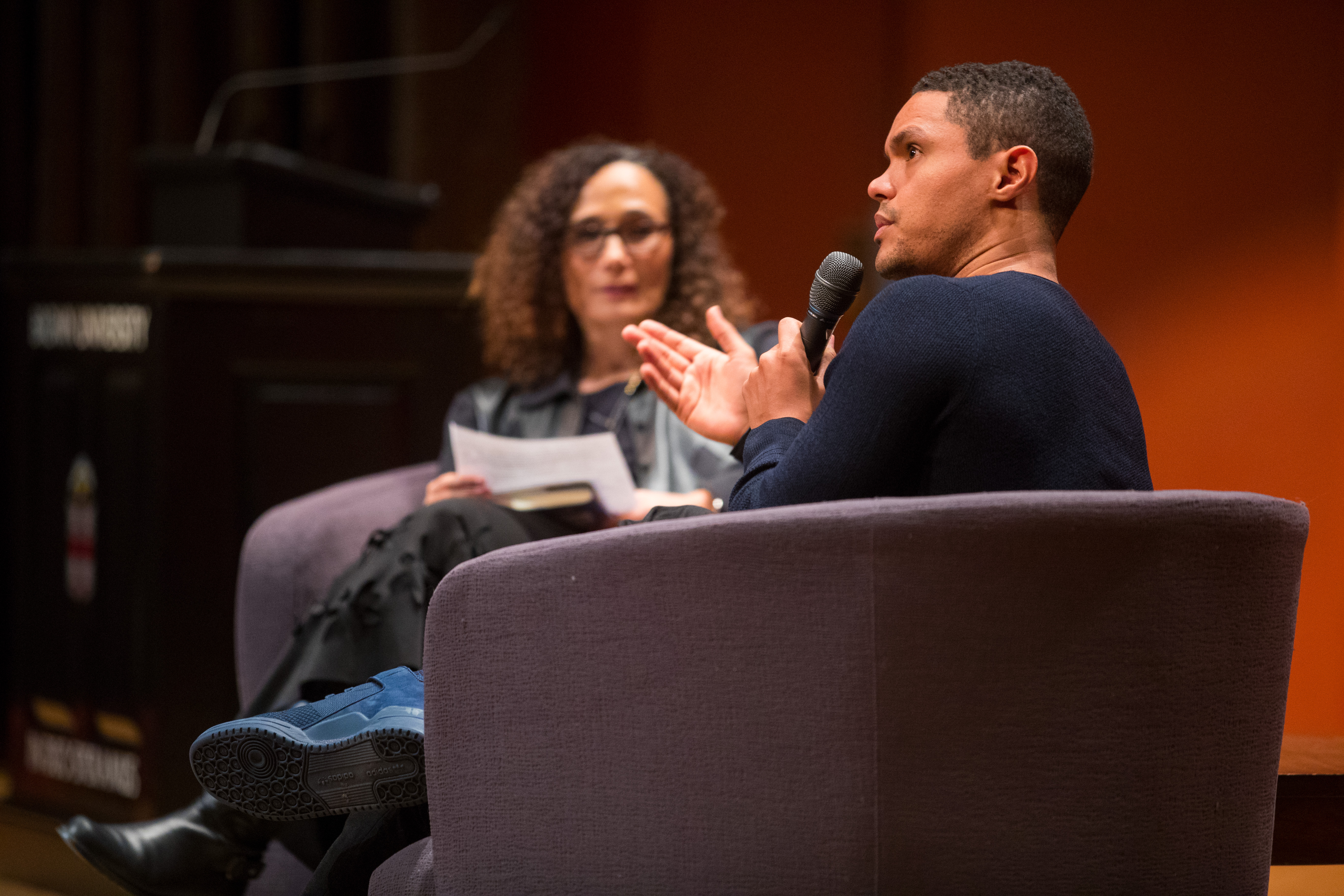 More than three decades later, Noah hides no longer — these days, he reaches nearly 1 million people each night as the host of Comedy Central's "The Daily Show."
Last fall, he shared his own story in the New York Times bestseller, "Born a Crime: Stories from a South African Childhood," which served as the basis for the comedian's visit to Brown. His Sunday night appearance packed the Salomon Center for Teaching for a Brown Lecture Board discussion moderated by Tricia Rose, director of the University's Center for the Study of Race and Ethnicity in America.
While he interjected his comedic flair on occasion, he also offered a more sober take on topics that ranged from his childhood to a much-debated "Daily Show" exchange with conservative commentator Tomi Lahren to the election of Donald Trump.
Early in his remarks, it was evident that Noah's mother played a profound role in how he navigates the world.
"One gift that all parents should pass on to their children is the ability to understand the rule of law, but the freedom to challenge it," Noah said. "My mother was really strict, but one thing she'd say is: 'Challenge me if you think I'm wrong.'"
He applies his mother's standard to his own ideas, too. Asked why he invited Lahren to appear on his show last year, Noah said that he wanted to see who she was out of her environment, but he also wanted to know whether his beliefs would stand up to a challenge.
"If you don't pressure-test your beliefs, if they can't stand up to some sort of resistance, then should you have believed in those things in the first place?" Noah asked. "I don't bring people to my show because I think I'm going change them. This is not an evangelical sermon. I'm bringing people to have a discussion. And people who I don't agree with, I see an opportunity to learn from them."
In posing a series of student-submitted questions to Noah, Rose asked whether someone who identifies as being "pro-black" could date a white person, which drew a gasp from the audience.
"There should've been more butter in that question," Noah said, to laughs.
Expanding on that reaction, Noah said that if the goal is to celebrate blackness or fight oppression as it exists today, he would not exclude people from the conversation based on the belief that blackness is a pure concept. Such a thought process, he said, could lead to feelings of superiority.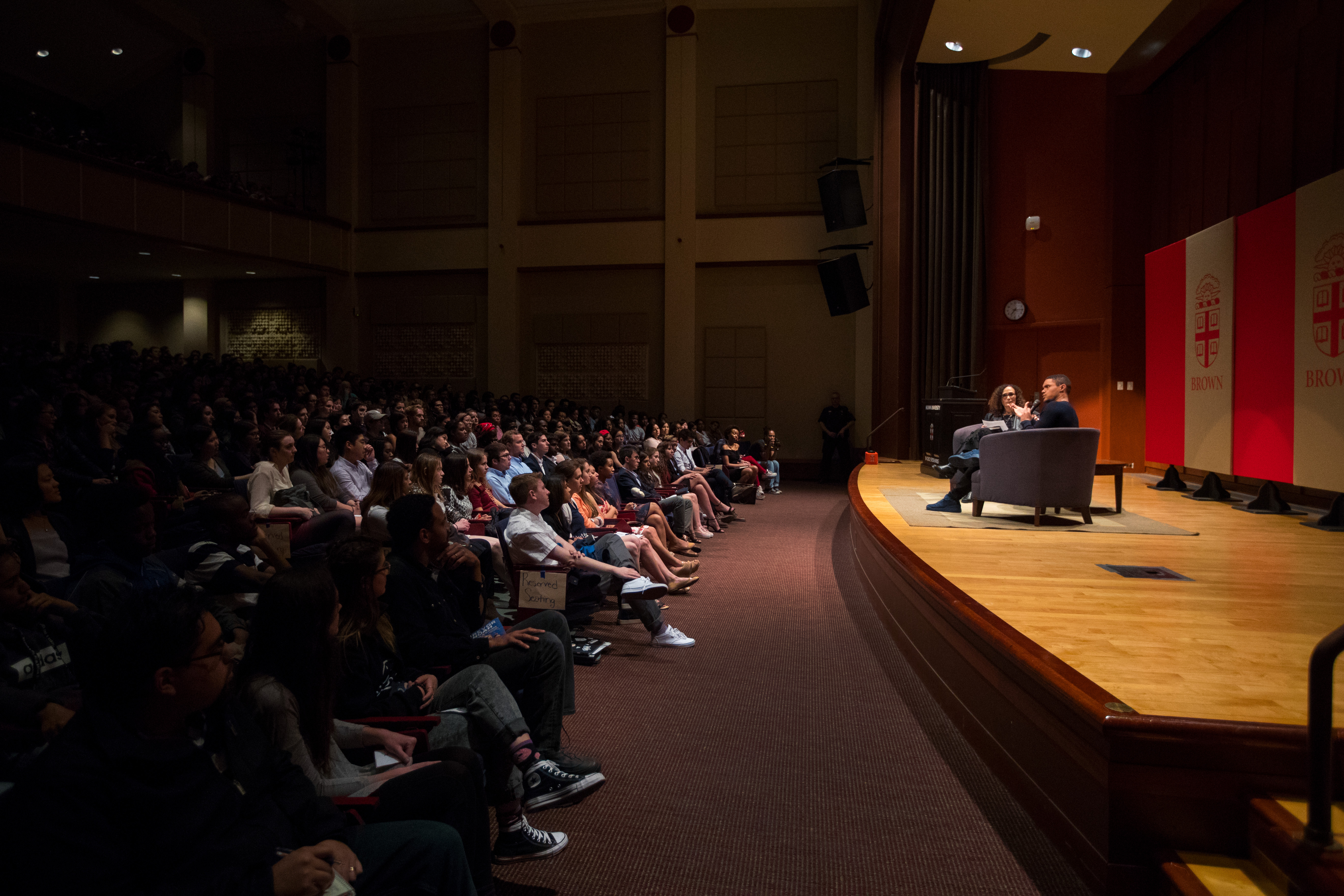 Paraphrasing a Nelson Mandela quote, Noah said he never understood why the anti-apartheid revolutionary said, "Never again should we live in a world where one group oppresses another, whether it's white to black or black to white."
Noah remembered thinking, originally: "What are you talking about? Black people don't oppress anyone." He later realized, he said, that in instances when black people hold positions of power, with that would come the responsibility to uphold the same values they espoused.
Rose also asked about Noah for thoughts on the rise of Donald Trump. "I had to ask," she said to the comedian.
If he could return to campaign season, Noah said he would "beat the drum of Trump a little bit harder, because for too long I allowed people to convince me that I didn't know what I knew."
But he didn't ignore what was happening around him, he said, and even went as far as to compare Trump's qualities to those of an African dictator.
"For some people, they only saw the joke side of it," Noah said. "But what do you think an African dictator comes with? It comes with a certain level of bombast, it comes with a certain level of terror and a certain level of suppressing the free media."
People will take what they want from comedy — that is both the gift and the curse of satire, he told the audience.
Asked whether the media provided a platform for the election of the 45th president, Noah said the rise of Trump cannot be attributed to a single factor. But he called Trump an effective showman.
"Say what you will about Donald Trump, but he is a good performer, he knows how to engage an audience and he knows how to tell a story," Noah said.