The former president of Brazil spoke about prioritizing the fight against poverty during her administration and how income inequality threatens democracy.
PROVIDENCE, R.I. [Brown University] — In a speech at Brown University on April 10, Dilma Rousseff, the former president of Brazil who was impeached in August 2016, reviewed the social and economic policies she pursued while in office and discussed the political climate in the country today.
Rousseff's visit to Brown was part of the Watson Institute for International and Public Affairs' Distinguished Speaker Series and was organized by Brown's Brazil Initiative.
In introducing the lecture, Brazil Initiative Director James Green said, "We firmly believe that one cannot understand Brazil's past, present or future without access to multiple perspectives." That sentiment was echoed by Provost Richard Locke, who introduced Rousseff and described the event as part of Brown's goal to serve as a convener — to give the campus community direct access to individuals with an array of expertise and experience.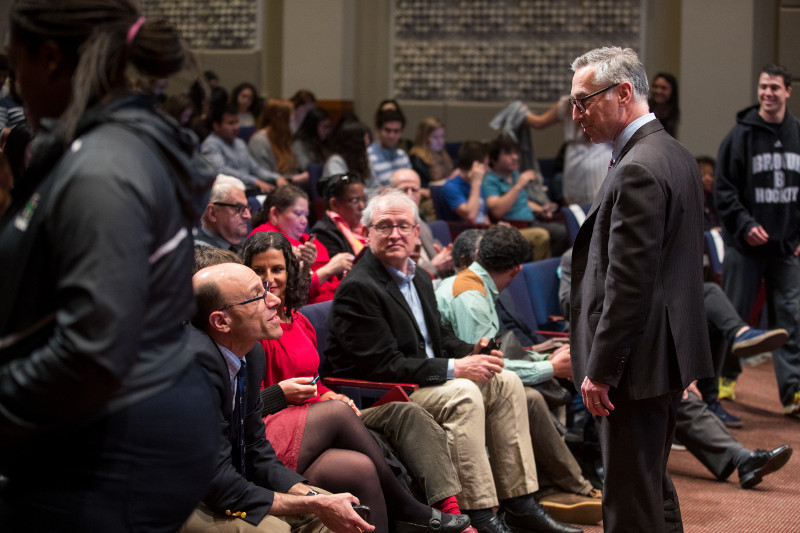 Rousseff began her talk, which was delivered in Portuguese, by reminding the audience that Brazil was the last country to abolish slavery, a fact that she said pointed to "the absolute selfishness of our oligarchy," according to the English translation of her remarks. During her one and a half terms as president, Rousseff said, her administration made the decision to focus on tackling hunger, extreme poverty and inequality.
Rousseff, who prior to serving as president was minister of energy and then chief of staff for President Luiz Inácio Lula da Silva, illustrated her lecture with a slide presentation tracking programs designed to eradicate hunger and create jobs beginning in 2002, the year Lula da Silva was elected.
She showed a graph of what she described as the largest reduction in the number of undernourished people in the world over the course of 12 years, an escalating trend in job creation from 2002 to 2014 and income growth. She also spoke about programs that safeguarded retirement, provided housing and crop insurance and boosted the income of family farmers.
Rousseff noted the impact of Bolsa Familia, a program that transfers money to low-income families who qualify by committing to keep their children in school and take advantage of health care services including prenatal check-ups and childhood vaccinations. Rousseff emphasized that targeting services to the poorest Brazilians was key to creating a stable democracy and noted that a constitutional amendment championed by her successor and former vice president, Michel Temer, endangered the social protection system.
Amendment 55, passed in December, places a limit on federal spending for 20 years in an effort to control Brazil's federal budget deficit.
"You are harming the democracy and the constitution," Rousseff said of the amendment, according to the translation. "The first impacted are the most fragile. The rich don't need it that much. This makes the lives of middle class people very complicated, and it is clearly anti-democratic."
Rousseff also spoke about her impeachment process, which she described as a parliamentary coup d'etat. She was impeached in August 2016, halfway through her second term, after being accused of breaking a budgetary law and allegedly obscuring the size of budget deficits.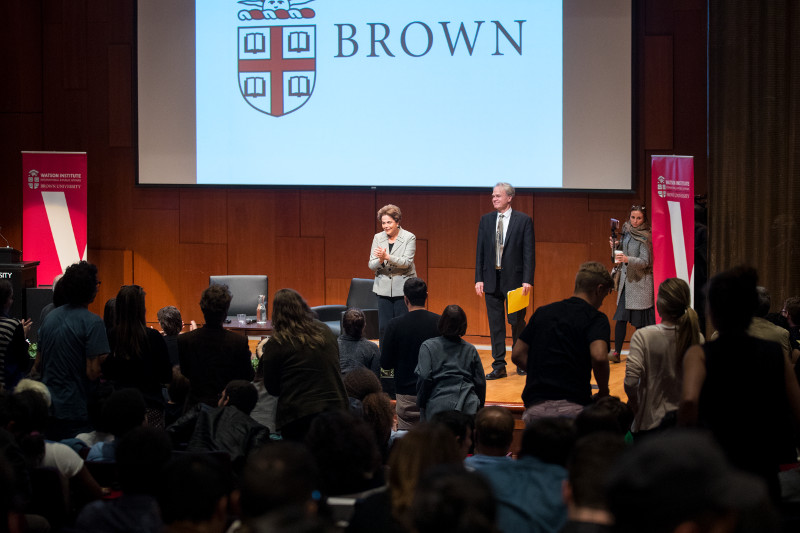 Rousseff said that the auditors who reviewed the charges argued that previous presidents had used the same methods she did and that she had heard other politicians argue for her removal after she did not halt the investigation, fearing that the investigation would reveal wrongdoing by them.
At the close of her talk, Rousseff answered a wide-ranging set of questions submitted by audience members about her time as a member of two guerrilla resistance organizations, which led to her arrest, imprisonment and torture by the military regime that ruled the country from 1964 to 1985. Other topics included Brazil's political culture, the country's health care initiatives and whether young Brazilians studying abroad should consider returning home or seeking opportunities elsewhere.
In answering the questions, Rousseff spoke of the huge disappointment her generation felt when she was a teenager, because the military regime had taken the hope of transformation away, and that she and others in the resistance believed they had an obligation to fight the dictatorship and expand democratic spaces. She noted that now, conservative administrations are ascendant in Latin America, a move away from Leftist or "pink tide" movements, and warned that "when inequality increases, a very dangerous thing occurs. Politics loses its power."
In the end, however, she urged young Brazilians to return home: "We cannot depend on another entity to resolve the country's problems," Rousseff said.