During a tour of engineering research labs at Brown, U.S. Sen. Jack Reed warns that budget cuts to scientific research threaten innovation, the economy and America's competitive edge.
PROVIDENCE, R.I. [Brown University] — U.S. Sen. Jack Reed toured two Brown University engineering labs on April 3 to learn about next-generation clean energy technologies that Brown researchers are developing with the support of federal research dollars. The visit comes in the wake of a White House budget proposal that would slash federal funding for scientific research, particularly clean energy.
Joined by Provost Richard Locke and Vice President for Research David Savitz, Reed met with engineering professor Nitin Padture, who is developing a new type of solar cell that rivals the performance of traditional cells but could be produced at a fraction of the cost. Reed also spoke with the Brown research team behind Leading Edge, a system that harvests energy from rivers and tidal canals using oscillating underwater wings.
Rhode Island's longtime U.S. senator warned that cutting funds for projects like these would undermine both the local economy as well as American competitiveness in the global economy.
"The next great revolution is going to come in alternative energy," Reed said. "If we're not developing [those] products, we won't be selling them to the world… and we won't have these jobs."
The Leading Edge project is supported by a $3.8 million grant from the Advanced Research Projects Agency-Energy (ARPA-E), which operates under the Department of Energy. The program was designed to fund breakthrough technologies that show fundamental technical promise but are too early for private-sector investment. President Trump's budget outline proposed a 17.9 percent cut in the energy department's funding and the complete elimination of ARPA-E.
"If we lose this [funding], we're not just going to lose projects, we're going to lose our innovative capacity and our edge," Reed said.
The budget proposal outlined similar cuts in research funds supported by the National Institutes of Health, Environmental Protection Agency, Commerce Department and other agencies. And while the Trump budget proposal did not address the National Science Foundation explicitly, many are concerned that the agency's funding could see significant declines as well. 
Padture's work in solar technology is funded by a $4 million grant from the National Science Foundation. Graduate students and postdoctoral researchers in his lab are supported by Department of Education as well as the Department of Energy.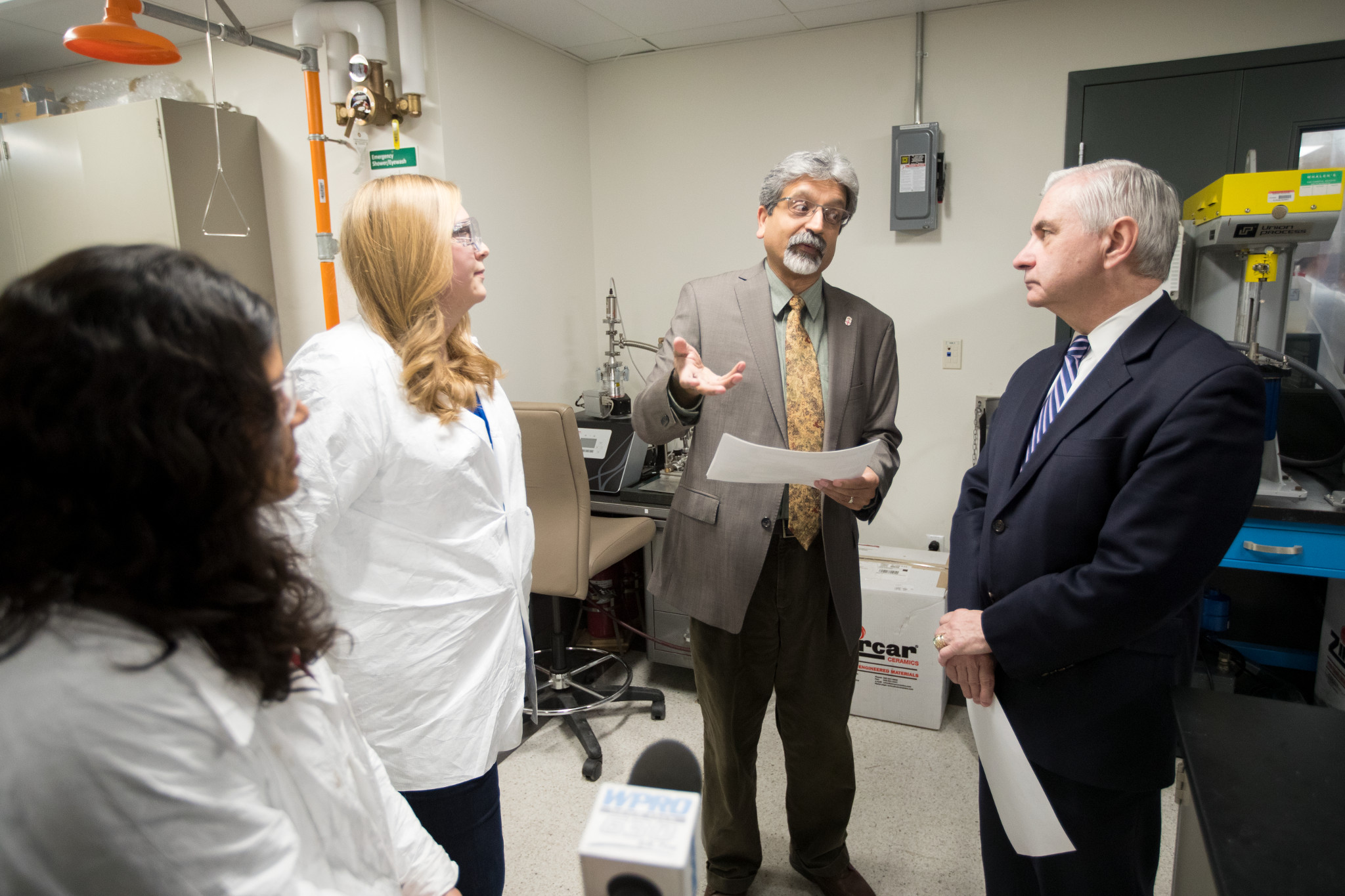 Locke pointed out that approximately 18 percent of Brown's annual budget comes from external research funding, the majority of which is from the federal government. He said the cuts proposed in President Trump's budget outline would be "devastating" to research projects at Brown in alternative energy, climate change, environmental science, public health and other areas.
"It has short-term impacts because those funds support our students," he said. "But in the longer term, it also undermines our ability to be on the forefront of scientific and applied discoveries."
The University is in the process of making contingency plans to help soften the blow of cuts in the short term at Brown, but the longer-term implications for research at Brown and across the country remain a grave concern — so do the broader consequences for the country, Reed said.
"We're destroying our competitive advantage by undercutting our investment in science and technology," Reed said.