The Brown University School of Public Health will feature the urgency and importance of population health scholarship with the premiere of a documentary on the opioid crisis, a broad-ranging research exposition and a lecture on gun violence.
PROVIDENCE, R.I. [Brown University] — In three free, open-to-the-public events scheduled from April 12 to 20, the Brown University School of Public Health will highlight the life-and-death urgency and the breadth of its efforts to combat challenges to the population's well-being.
The first event features a film about the opioid drug crisis; the second will showcase Brown research on a wide variety of public health issues; and the last will focus on the public health toll of gun violence.
"In each of these events — through personal stories, thoughtful discussion and rigorously analyzed data — we hope to convey the vital importance that public health research and teaching have to population health in Rhode Island and beyond," said Terrie Fox Wetle, dean of the school.
Deadly drugs
The series opens at 5 p.m. on Wednesday, April 12, in Sayles Hall with the premiere of "Warning: This Drug May Kill You," an hourlong HBO documentary that traces the medical origins of the nation's opioid crisis through the stories of four devastated families.
University President Christina Paxson will introduce the film. Afterward, film director Perri Peltz, a Brown alumna and parent, will join a panel discussion with Dr. Josiah Rich, professor of medicine and epidemiology and director of the Center for Prisoner Health and Human Rights; Dr. Nicole Alexander-Scott, director of the Rhode Island Department of Health (RIDOH); and Rebecca Boss, director of the Rhode Island Department of Behavioral Healthcare, Developmental Disabilities and Hospitals. Wetle will moderate the panel.
Registration for the event is encouraged here.
Later this month, the film heads to the Tribeca Film Festival.
Research showcase
By 1:30 p.m. the next day (Thursday, April 13), Sayles Hall will transform into the annual poster session, "Public Health Research Day." More than 80 researchers, including Brown faculty members and students and RIDOH staff members, will be on hand to explain their latest work on topics such as neurodevelopment, HIV, eating habits and healthy weight, health effects of mindfulness, and hepatitis C.
In addition to posters highlighting ongoing research projects, a special set of displays will highlight Brown and RIDOH datasets that are available for fellow scholars to mine in order to explore their own research ideas.
At 3:30 p.m., the poster session makes way for a reception and award ceremony as the best work is recognized.
Gun violence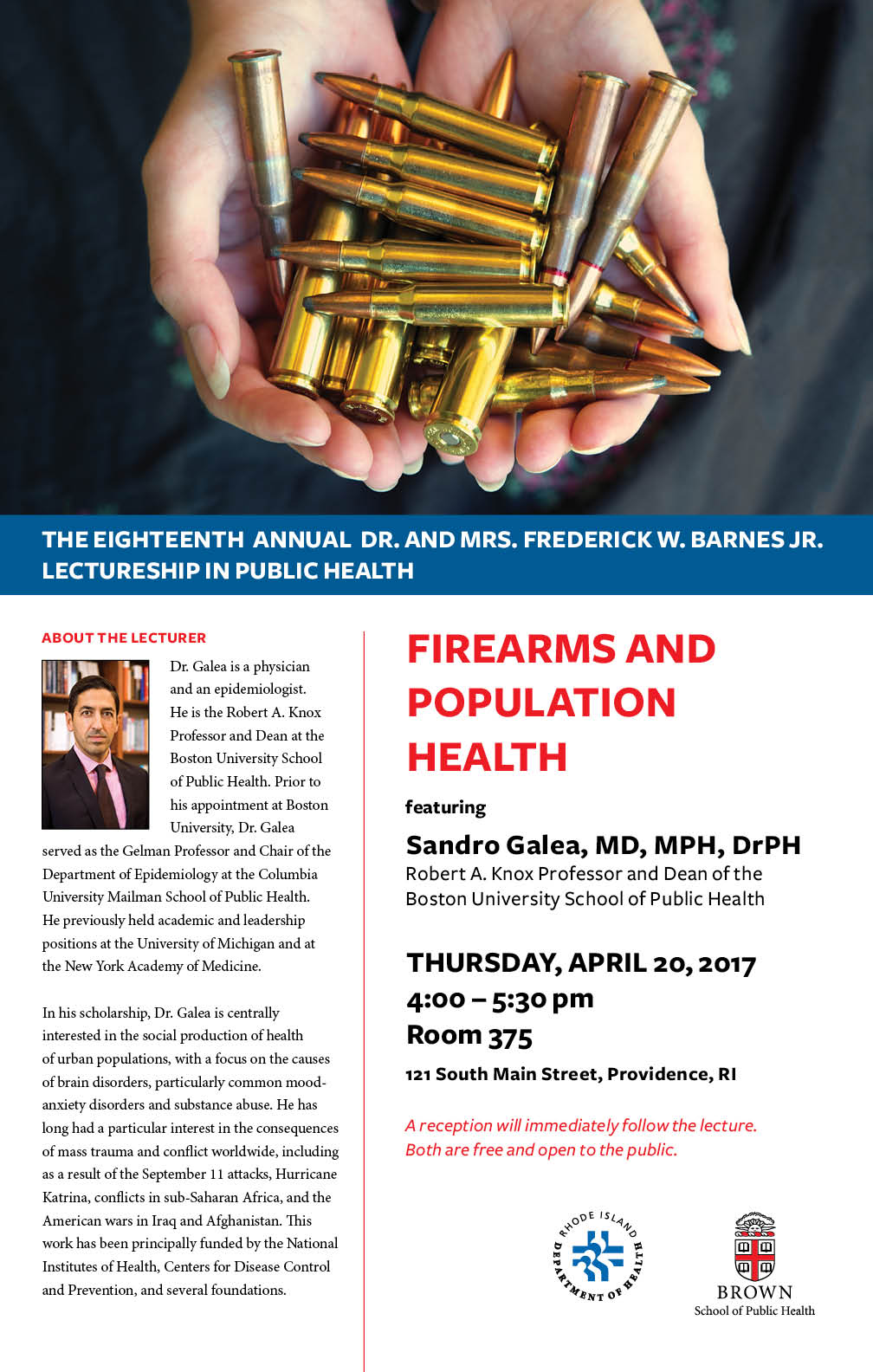 The focus returns to a single, urgent public health issue at the 18th Annual Dr. and Mrs. Frederick Barnes Lecture on Thursday, April 20, in Room 375 of the School of Public Health at 121 S. Main Street. There, Dr. Sandro Galea, dean of the Boston University School of Public Health, will deliver a talk titled "Firearms and Population Health."
Galea studies social determinants of urban health problems including anxiety and mood disorders and the effects of trauma. He focuses on guns, which are involved in the deaths of about 33,000 people in the U.S. each year, as a public health crisis.
Co-sponsored by RIDOH, the lecture begins at 4 p.m. and will be followed by a reception.