Adriel Barrios-Anderson, a neuroscience and science and society concentrator, and Viet Nguyen, an education concentrator, will reflect on their Brown experiences with their speeches "Silent Lessons" and "The Idea of Deserving."
PROVIDENCE, R.I. [Brown University] — While many universities invite household names — prominent politicians, entertainers, writers or business leaders — to speak at their graduation ceremonies, Brown's longstanding tradition has been to feature graduates themselves as the primary voices at Commencement.
At the University's 249th Commencement ceremony on Sunday, May 28, this year's senior orators — Adriel Barrios-Anderson of Houston, Texas, a neuroscience and science and society double-concentrator, and Viet Nguyen of Mountain View, Calif., an education concentrator — will deliver speeches that reflect on the experiences that have defined their Brown careers.
"Our speakers have powerful, moving stories to share with the Commencement audience," said Zachary Sng, a professor of German studies and comparative literature who chaired a Commencement Speakers Committee comprising students, faculty and staff. "Their stories draw from intensely personal reflections on their time at Brown, but they also reach out to comment on questions that many of us grapple with as Brown faculty, parents and alumni."
Both students boast résumés that suggest a dizzying pace of life at the University.
Barrios-Anderson plays first violin in the 5Y Quintet, supports underrepresented students in STEM fields as a coordinator of the New Scientist Collective and is a member of research labs focused on pediatrics, psychiatry and human behavior. He is enrolled in the Program in Liberal Medical Education (PLME), which means next year he will begin medical studies at the Warren Alpert Medical School of Brown University.
Nguyen is president of the Undergraduate Council of Students (UCS), co-founded First-Gens@Brown, is the executive director of 1vyG, an organization that strengthens the first-generation college student network, and has interned at both Google and the Clinton Foundation.
Despite the busyness that an accounting of their activities suggests, Barrios-Anderson and Nguyen have each chosen to speak on topics that require unhurried contemplation.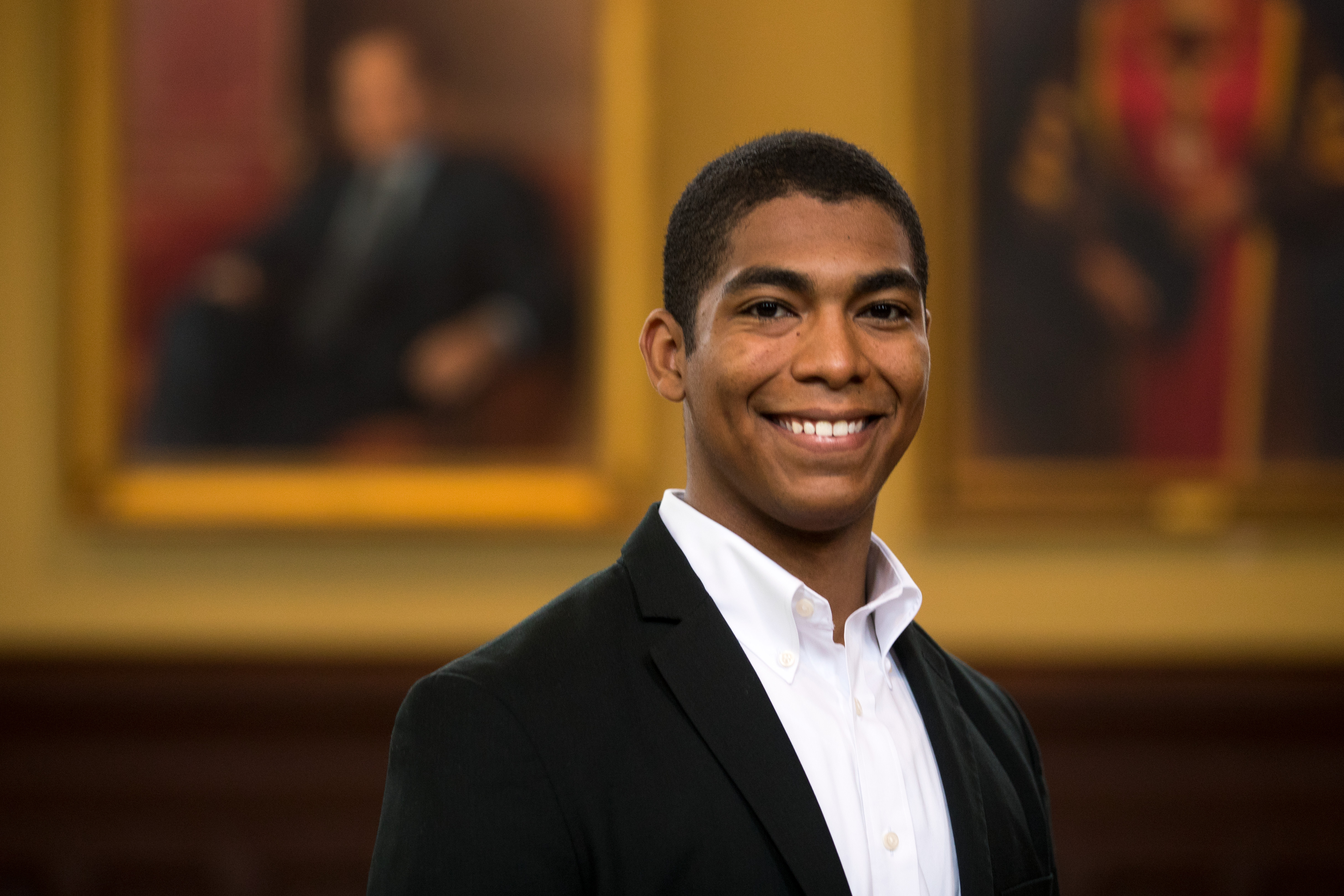 Barrios-Anderson will deliver a speech titled "Silent Lessons," which describes how "silence is pervasive in every facet of our lives." He began to think about silence early in his years at Brown, he said — in the first classroom he stepped into, in fact, where a music teacher drew his attention to the silence in a well-known phrase of music.
"Silence in music shapes notes and dictates rhythm," Barrios-Anderson said. "While silence can be the literal absence of sound, it can also represent, in academics, aspects of research that are unknown."
In his neuroscience work, which involves stroke research related to newborn health, not much is known about the treatments he is exploring, Barrios-Anderson said. In seeking answers, silence can be instructive.
"I spent 80 percent of last summer sitting in a microscope room by myself," Barrios-Anderson said, "and found myself generating new hypotheses in that quiet room about neonatal brain injury as well as for my other project on psychiatric neurosurgery for OCD."
While Commencement as a PLME student does not involve a parting from Brown as it does for many of his peers, he said he shares some uncertainty with his fellow graduates as he readies himself for the unknowns of medical school.
"I think that I have been really lucky to navigate a lot of different spaces at Brown, academically and otherwise," Barrios-Anderson said. "The theme of silence passes through many different aspects of academic and social experiences at Brown. I feel compelled to talk about it."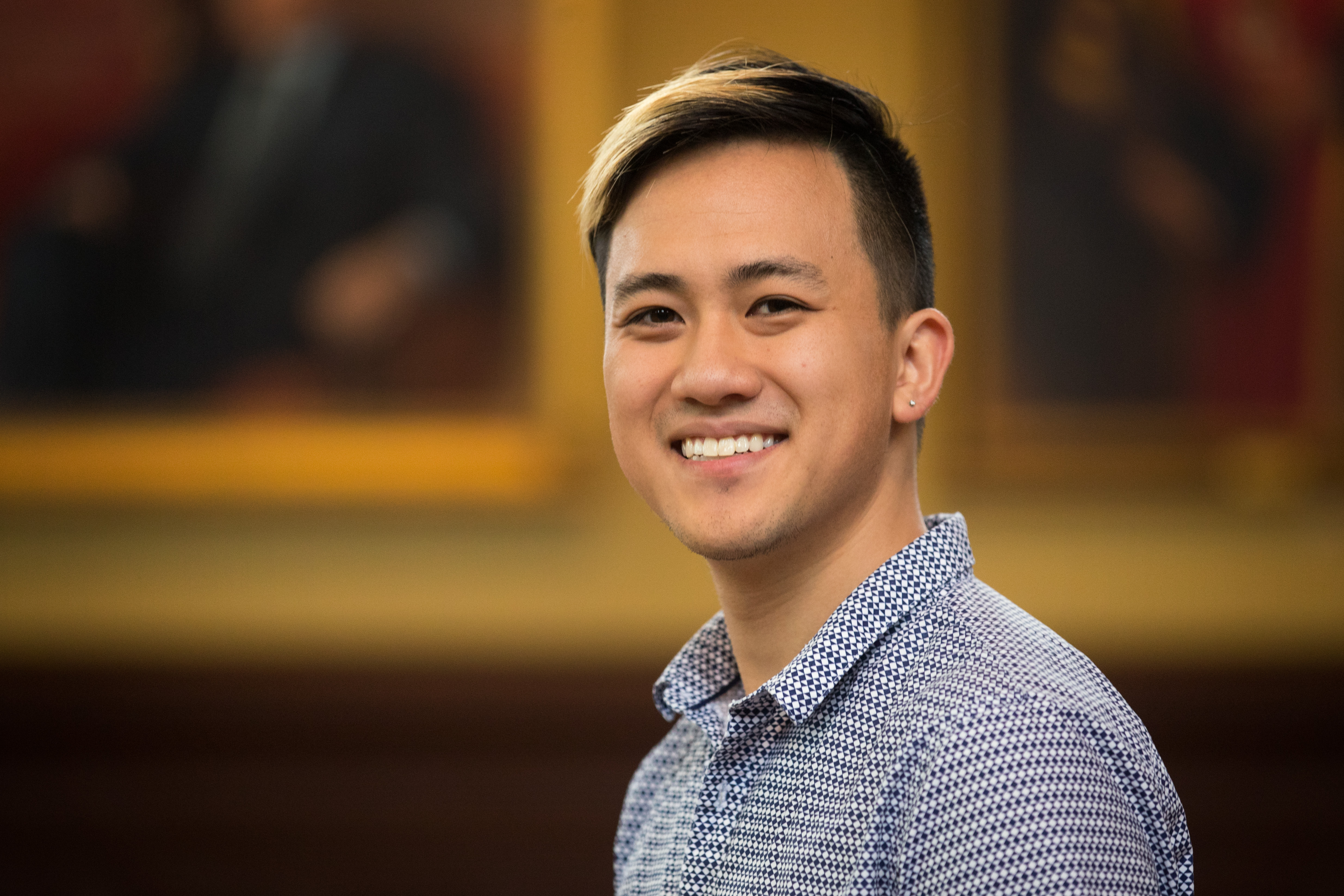 Not-talkative is how Nguyen, who will deliver a speech called "The Idea of Deserving," describes his younger self.
"I came into Brown hesitant to open up about who I was, uncertain and self-conscious," Nguyen said. "I didn't know a lot of the scholars that people talked about in class or the theories they cited. Those small things make you feel out of place, that you need to fit into the idea of what an Ivy League student should look like."
Nguyen said his speech traces his personal evolution at Brown. Despite those early questions about "Why did they pick me?" he accepted the idea over time that he deserved to be at Brown. He also thought deeply about what that meant.
"What does it mean, going to this institution?" he asks. "And how does that affect and shape our sense of self and what we think about the idea of being deserving?"
In his work with UCS, 1vyG, First-Gens@Brown and the First-Generation College and Low-Income Student Center, Nguyen has focused on finding ways to support the fullness of students' identities and to "change the culture of Brown to fit the student, rather than assimilate students into the culture of Brown," he said.
Nguyen said he asks himself, "How do you do that? How do you take the framework so that we're not making students feel inadequate or making them feel that they have to fit an idea of what they should be?"
These questions and others, as well as a drive to find ways to open doors for low-income students, informs Nguyen's plans to use his education concentration to work in higher education, after he spends the coming academic year teaching English in South Korea on a Fulbright Fellowship.
And while Nguyen cautions against celebrating how a Brown degree separates him and his peers from others, he notes, "I think a lot of schools say that student voice matters, but I think that at Brown specifically you can see it… I'm the person I am because as an underclassman I saw all these wonderful juniors and seniors really daring to say, 'We're really grateful to be here, but we're going to make it better for the next generation.'"