The 16th installment of the student-run film festival will run from April 10 to April 16 and feature a women composers panel, a focus on virtual reality in film and a slate of undergraduate and graduate films.
PROVIDENCE, R.I. [Brown University] —Three leading film directors will deliver keynotes at the 2017 Ivy Film Festival (IFF), an annual student-organized event at Brown University that showcases student filmmakers and hosts events in which members of the film industry share their perspectives with general audiences and the next generation of moviemaking professionals.
Directors Ezra Edelman, Barry Levinson and M. Night Shyamalan will give talks as part of the weeklong festival, which also includes screenings of 25 student films selected from over 300 works submitted by students in 40 countries.
The IFF is entirely student-run, and seeks to cast a wide net, featuring films from all over the world and showing them not just at Brown but at other universities.
Brown undergraduates Oakley Friedberg and Solveig Xia, the 2017 IFF executive directors, said this year's festival marks two big accomplishments: becoming one of the key platforms for student films worldwide by representing 40 countries this year and expanding the IFF Satellite Festival to 16 universities, including the entire Ivy League and campuses in Edinburgh and Madrid.
The festival, which runs from April 10 to April 16, is free and open to the public, but advance registration for events is required. Tickets will be made available through the IFF Facebook event page. Those who indicate they will attend events will receive updates and registration information via Facebook.
Keynotes
M. Night Shyamalan, the Academy-Award nominated director and screenwriter of the blockbuster "The Sixth Sense," and the force behind the recent film "Split," will give the first of three keynote addresses on Wednesday, April 12 in the Salomon Center for Teaching. In a moderated discussion, Shyamalan will talk about his career as a science-fiction filmmaker, the creative process and touch on issues of representation in Hollywood.
Ezra Edelman, a producer and director who was nominated for an Academy Award for his documentary film "O.J.: Made in America," will speak at noon on Thursday, April 13, in the Granoff Center. That evening at 6 p.m., Edelman will deliver the 17th annual Casey Shearer Lecture in MacMillan Hall.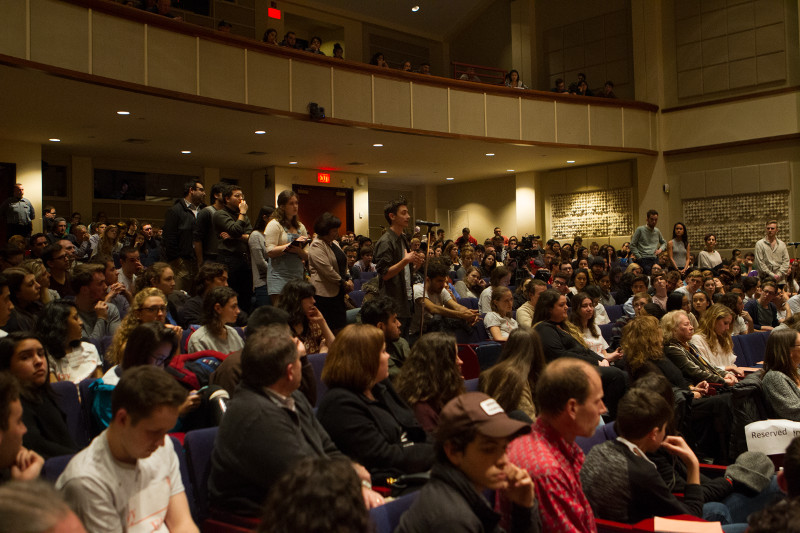 The third keynote, a conversation with Barry Levinson, the Academy Award-winning director of "Rain Man," will be held on Thursday, April 13, at 8 p.m. in the Granoff Center. The discussion will be moderated by Robin Bronk, CEO of the Creative Coalition, a nonprofit and nonpartisan social and political advocacy organization for the entertainment industry.
Panels
On Friday, April 14, composers Germaine Franco and Kathryn Bostic, who worked on the films "Dope" and "Dear White People," respectively, and music supervisor and consultant Anna Granucci, whose credits include "Whiplash," will participate in "She Scores: Women in the Musical and Cinematic Arts." This panel discussion will offer insight into how composers and music supervisors incorporate music into a visual medium. The panel will highlight the contributions of women composers, who are underrepresented in the film scoring industry. 
On Saturday, April 15, Adam Blumenthal, Brown University's virtual reality artist-in-residence, will moderate a panel discussion on virtual reality storytelling featuring Luis Blackaller, creative director of Wevr, Graham Roberts, senior editor at the New York Times graphics department, and Alissa Crevier, global head of brand partnerships of Littlstar.
Festival-goers can experience the technology firsthand at IFF's first "VR Arcade" featuring both student and professional work. As one of the first student-run film festivals in the world to pioneer an initiative geared towards virtual reality, IFF x VR aims to foster the next generation's dialogue around virtual reality storytelling, the latest chapter in a legacy of evolving narrative media.
"We launched IFF x VR to engage the next generation of storytellers with this innovative medium," Xia and Friedberg said.
Screenings
The festival opens with the virtual reality film "Across the Line," an immersive experience that combines 360-degree video and computer-generated imaging to put viewers in the shoes of a patient entering a health center for an abortion.
Other professionally produced films to be shown include "Menashe," a Yiddish-language film that follows a widower battling for custody of his son in Brooklyn's ultra-Orthodox Jewish community, and "The Immortal Life of Henrietta Lacks," a film about an African American woman who became an unwitting pioneer for medical breakthroughs when her cells were used to create the first immortal human cell line in the early 1950s.
On Friday, April 14, IFF presents its official selection of student films. The selection features a curated program of films from students in the U.S., India, France, Iran, Ecuador, Libya, China, South Africa and more. The IFF official selection last year included two films that went on to receive Academy Award nominations for Best Short Film (Live Action): "Day One" and "Everything Will Be Okay."