The current students behind Brown's annual extravaganza for admitted students offered their take on what makes this annual rite of passage so memorable.
PROVIDENCE, R.I. [Brown University] — Talk to any group of Brown undergraduates, and you'll likely discover at least one — usually more — who will tell you that "A Day on College Hill" was the reason they chose Brown.
The name is a bit of a misnomer. Over the years, the experience has morphed into a three-day event that brings hundreds of admitted students to campus for a taste of life as a Brown undergraduate. These days, no one calls it by its full name anyway. It's ADOCH — pronounced ā dock.
The admitted students stay overnight in residence halls and take part in a packed program that features class visits, panels and lectures on academics and campus life, performances and events hosted by Brown student groups, and social events ranging from a cookies-and-cocoa meet and greet to a late-night salsa workshop.
The two current students behind ADOCH 2017 — which takes place April 18 to 20 — are junior Sophie Book and sophomore Dominique Kercy. They co-coordinated this year's event, leading a 30-person planning committee and an army of nearly 1,000 Brown student volunteers. Starting the first day of the fall semester, the two worked more than 20 hours per week, putting the program together, managing logistics and finding current students to host admitted students overnight in their dorm rooms.
Despite the long hours, both insist that creating and curating this annual taste of Brown was a labor of love. In the days before this year's ADOCH, Book and Kercy spoke about what's new for this year and shared some words of wisdom for visiting students.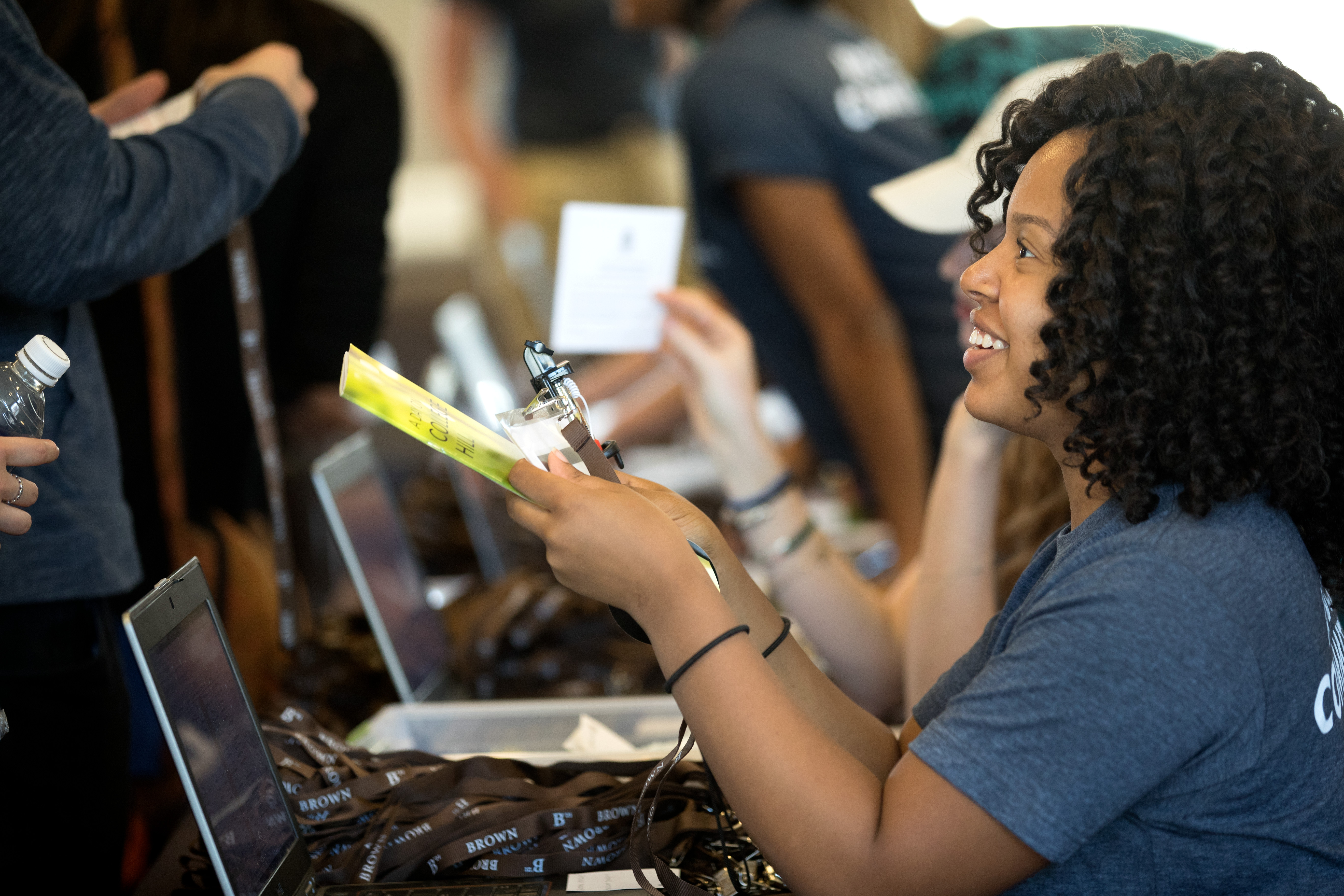 Organizing this event is a significant undertaking — what made you interested in taking this on?
Sophie Book: It's such a cool job because we get to take all of what we love about Brown, condense it into three days and share it with prospective students. We really do get to shape their first impression of the University — we all know that first impressions are huge, so it's a really big responsibility. I've learned a lot through this experience. ADOCH is a massive event with a lot of moving parts. The responsibility of planning and facilitating a three-day event has really developed my leadership skills, and I've had the opportunity to collaborate with many different people. I've learned how to communicate with staff members and motivate teams of undergraduates while simultaneously developing and maintaining friendships with the incredible members of my committee!
So many students say that ADOCH is what made them decide to come to Brown. Why does the experience have such an impact?
Dominique Kercy: I always say it's the reason that I came here. It was the first time that I was traveling alone without my parents to somewhere I had never been. I got here and thought, wow, I can make it here. I really got a feel for the people who would be at Brown. They were all really open, including the current students. I went to other schools' admitted student days, and the conversations were pretty generic — what do you like to watch on Netflix and stuff like that. The conversations I had at ADOCH were unlike any that I was having with other 17 and 18-year-olds.
It was a bit intimidating at first because I met people who were doing such interesting things. I met this one girl who started an ASL summer camp for deaf children, and I was meeting people who were published scientists and others who had met the President. Their accomplishments would come out so casually, but people were also really interested in what I had to say and what I was up to. Like when I told someone I spoke Creole they talked to me for 20 minutes about that because they always had an interest in Haiti's language and wanted to learn it. I just thought it was so great how engaged people were in our conversations.
Book: I didn't go to ADOCH because I was accepted early decision. But speaking from the other side, we really just work hard to set the scene for people to bond and feel like they are part of the community. And I think that's what's so special about Brown — this great community feeling that we have — and it really shows during ADOCH.
What compels so many current Brown students to volunteer for ADOCH?
Book: That's just the kind of people that Brown students are. Someone's visiting? We're going to make it a home for them. It really speaks to the atmosphere that we have at Brown and why people choose to come here. It extends past ADOCH, too. I'm a junior now, and I've been applying to internships. One of the things I do is reach out to Brown alums, and everyone is so friendly and welcoming and so willing to give their time.
What's new this year for ADOCH?
Kercy: There are night events for ADOCH that go from 7 p.m. until 2 in the morning. So this year, we partnered with Safewalk to walk students back to their dorms after these late-night events.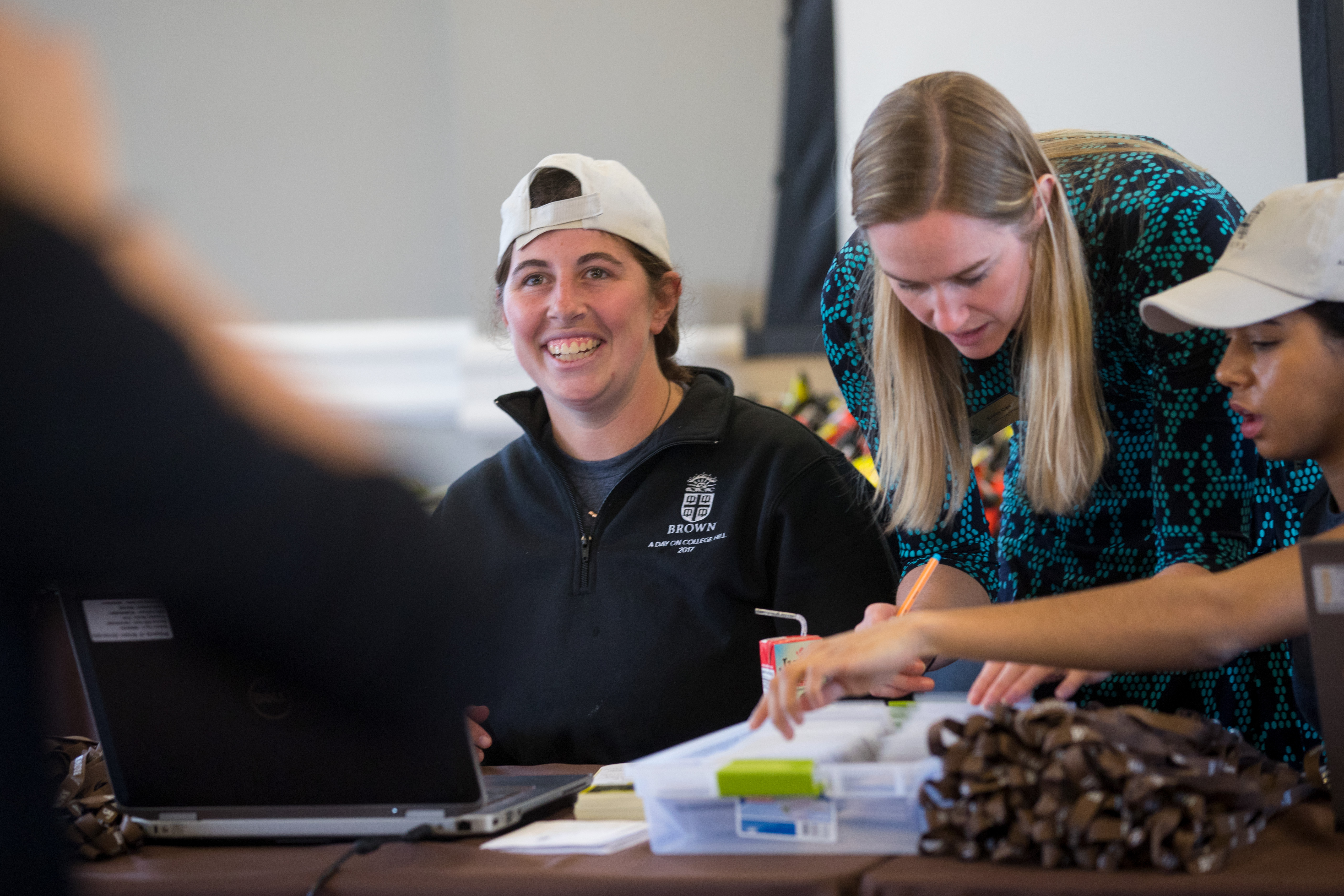 Book: One of the biggest changes to the program is to the dance. It used to be called the "ADOCH Mixer Extravaganza," and it was at this weird time in a huge space when there were a lot of other events going on. So you had a few people that were dancing, but most people were not. It could be awkward, and no one could agree on the music. Two years ago they queued up "The Cupid Shuffle" 30 times in a row by mistake.
This year, it's going to be "A Party on College Hill." It's going to be the only event happening, and it's going to be the last event happening. We also changed the space to Alumnae Hall so it won't be so awkwardly large.
Kercy: Also this year we have "Gigs on the Green" — a concert put on by Brown students on the main green for an hour right after you meet your dorm host. Every year, the program is personalized a bit.
What's your favorite thing that happens at ADOCH?
Book: The opening ceremony where President Paxson speaks is really special. I don't want to spoil anything for the prospective students, but there's this video that we play and every time I watch it, I get the fuzzies. It just makes you want to go to Brown.
Kercy: Yeah, that was the moment where I was like, "Wow." I got goose bumps, and thought, "I have to commit."
Book: I feel that way now when I see it, and I already go here!
Kercy: My favorite part is registration because you get to see people's first impressions and the different ways that they walk in. Sometimes they're really confident. Sometimes their parents will be in front of them. Sometimes, they'll be like "Stay over there, Mom" or they will be very worried. I like being one of the first faces they see.
What advice do you have for students coming to ADOCH?
Book: My advice is to really enjoy the experience and be willing to take risks and go outside your comfort zone. One of the best things about ADOCH is that you get this chance, with an entirely new group of people, to do all these really fun things. High school can be a very constraining place, and Brown is just the opposite of that. So go into ADOCH with an open mind and get really excited to hang out with all of us. Also, you have to go the salsa workshop.
Kercy: Oh, I loved the salsa workshop!
Book: We have events scheduled from 7 a.m. in the morning until 2 a.m. in the morning, and we know that the program looks overwhelming when you first get it. It's a crowded day, but it's a fun day. So don't get stressed about being places at certain times. At Brown, you can walk in a little early or late if you need to. This is your time to do you.
Kercy: Also, go to classes that are outside your planned concentration or areas of interest. Be cross-disciplinary. That's a very Brown thing to do.