While Khaled Almilaji offers a poignant example of a Brown student affected by rapidly changing federal policy on immigration, a much broader swath of the University community has expressed concern.
PROVIDENCE, R.I. [Brown University] — For Dr. Khaled Almilaji, the winter months of 2017 should have meant a quick trip to Turkey to check in on the humanitarian organization he founded, a return to the U.S. and to classes at Brown's School of Public Health and, most importantly, time spent at home in Providence with his wife, Jihan, who is pregnant with the couple's first child.
Instead, Almilaji remains entrenched in the home of a colleague in Gaziantep, Turkey, a town along the Syrian border where he has directed medical relief work since fleeing his war-torn hometown of Aleppo, Syria. To keep up with the courses he's taking in the second semester of his master's studies at Brown — biostatistics, qualitative methods of research and health services in the U.S. — he relies on lecture videos, notes taken by friends and correspondence with his professors.
Prospects for reuniting with Jihan in Providence don't seem optimistic. For now, they use Skype to communicate and to support each other in what has been a harsh winter, in more ways than one.
"It's really difficult with all this stress," Almilaji said in a March 3 interview. "My wife is my priority, so I'm online most of the time with her encouraging her and supporting her. And of course there is always a lot to do here in Turkey for Syria — my team here is overloaded with work."
Almilaji had returned to Turkey in late December intending to spend just a week in the country to renew his residency status. In the waning days of the Obama administration, his student visa was revoked for no stated reason — despite a major effort by Brown's senior leaders, elected officials from Rhode Island and his fellow students at Brown, he has been unable to get the visa renewed. Though it is less restrictive for some immigrants and includes some allowance for waivers, President Donald Trump's new March 6 executive order on immigration seemed to reinforce the barrier that was already preventing Almilaji from returning to the U.S.

"Natural-Born Humanitarian" featuring Almilaji. 
(Snapdragon Films)
Never mind that he is a globally noted humanitarian who was tortured during the Syrian civil war. Never mind that Jihan, a fellow Syrian physician, remains in U.S., pregnant and awaiting his return. Never mind that among the people personally vouching for him is Human Rights Watch leader and Brown alumnus Kenneth Roth. Never mind a series of other supportive efforts coordinated at the University. The new executive order imposes "a 90-day ban on the issuance of new visas for citizens of six majority-Muslim nations," including Syria.
In Gaziantep, Almilaji has been helping out with relief work, including building an electronic medical records network among field hospitals in rebel-held territory.
And after more than a month of trying to obtain a new visa, he is increasingly pursuing the alternative of enrolling in a master's program in Canada, a contingency that Brown is supporting. His goal is to get the education that will increase his ability to improve the health and welfare of Syrians. His drive toward that long-term goal is what has kept him focused; while he was taking exams last semester, for instance, even as his hometown of Aleppo was falling to government forces.
"The Aleppo fall was horrible," he said. "That was one of the things that affected me so much. But I was able to focus because I am here just to go back and help."
School of Public Health Dean Terrie Fox Wetle worked closely with Almilaji during his first semester at Brown. This week, after Trump issued the new executive order, Wetle told the Providence Journal she was less than encouraged about the prospect of his return.
"We value and respect Khaled Almilaji and the humanitarian work he had done," she said. "He is a beloved member of the School of Public Health community, and we have worked hard to help him return to Brown to complete his MPH studies. I am concerned that the new executive order will make his timely return to us very difficult. Although we hope he can come back to us, we are also working to help him find another public health program to finish his degree."
A widespread concern
Though his story is particularly wrenching, Almilaji is hardly alone in the Brown community in grappling personally and poignantly with the many uncertainties arising from the Trump administration's immigration policies. The University has acknowledged that 22 members of its community are citizens of the seven countries named in the first executive order on immigration (Iraq was removed in the second order). The worries among students are many, but what's become clear in recent months is that a broader swath of the Brown community is seeking answers and support, too.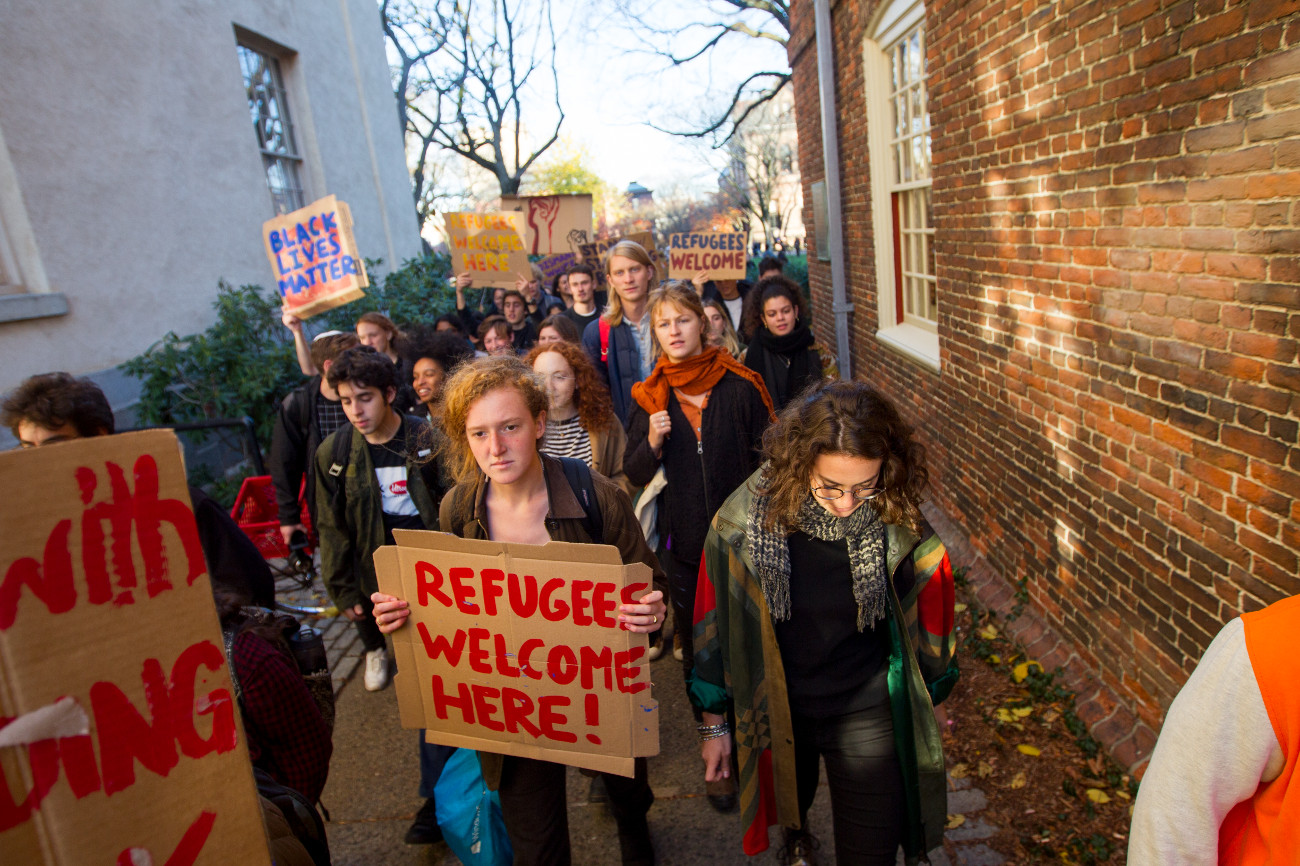 Brown President Christina Paxson and Provost Richard Locke made it clear through letters to the community in January that the University will provide all the support it can. Since then, administrators at Brown have worked to do just that, for instance, by  filing a brief in support of litigation against the original ban, holding informational events and discussions for concerned students and faculty, connecting them with legal advice, working with Rhode Island's Congressional delegation, and marshaling resources such as extended housing during breaks.
The University hosts approximately 1,500 international undergraduate and graduate students, said Shontay Delalue, assistant provost for global engagement. That group contains not only students from the directly affected countries, but also those from Muslim-majority countries not named in the ban.
"They have a certain level of obvious fear and anxiety," Delalue said. That anxiety extends further she said, to other students who carry the identity of "international," regardless of religion or country of origin.
With guidance from the University's response to the executive orders, the Office of Global Engagement (OGE) has been working with many other campus offices to provide support to groups and individuals, said Shankar Prasad, associate provost for global engagement and strategic initiatives. The office has held several open discussions for concerned students, faculty and staff, both for the general campus and specifically for the School of Engineering and the Graduate School.
Consistently in the current climate, academic and personal choices that should be normal for faculty and students, have become perceived as fraught with risk, Prasad said. But he is encouraged that at least the new March 6 order exempts current visa holders — even from the six named countries — from travel restrictions. That could render moot some of the problems his office helped students confront under the earlier ban.
For example: For students who recognize a need to travel back to their homeland, OGE has been ready to connect them with expert legal advice. In the event, as with Almilaji, that they can't return, the office can help them make alternate plans to remain a student and to continue classes and research, Prasad said.
Such issues are very real. There are some undergraduates whose passports are set to expire. Normally, they'd return home to renew them but under the first order became unsure they'd be able to come back if they do. So Delalue began connecting students with relevant deans to determine how they could complete their degree requirements if they had to remain overseas.
Delalue, meanwhile, tells the story of another undergraduate who gave up an international research opportunity rather than risk being locked out of the United States. That change of plans means the student unexpectedly needs summer housing and a new academic plan.
"We are working with the residence life office to make sure we have a contingency plan in the event that students need accommodations over breaks," Delalue said.
Recently, two students who are applying for green cards for permanent residence in the U.S. contacted OGE to express their uncertainty of what to make of the pace of that process.
Meanwhile, other campus media such as the Brown Alumni Magazine and the Brown Daily Herald student newspaper have reported on students grappling with similar anxieties since the election.
The executive orders, and the climate they have created, affect faculty and prospective faculty members, too. Prasad said he knows of international scholars who have withdrawn from consideration in faculty searches, given the climate in the country right now.
"It's not specific to Brown," Prasad said. "It's because they don't feel like the United States is supportive of international individuals."
Alumni have called to express concern about the government's suspension of expedited processing of H1B visas, Prasad said. Since those changes were announced on March 3, the University has been assessing the impact for current visa holders across the campus in dozens of departments, some of whom may need timely renewals. The policy change may also affect the timeframes of pending hires.
The new order
With the new executive order, many of these concerns may continue. Prasad and Delalue said the University will continue to support students, for instance through a coordinated working group that includes staff in Government and Community Relations, the Chaplain's Office, the Dean of the Faculty, the School of Public Health, the Alpert Medical School and the Office of General Counsel.
Part of the response is based on what the order actually says — but part of it is planning for the less predictable situations it could spawn.
"Our role is both reactive and proactive," Prasad said. "It's about putting these structural elements in to place. So if we need housing, for example, we have considered our options in advance."
For his part, Almilaji said, he has to hold out hope that he'll regain control of his future even as he laments that for many of his fellow Syrians, that has been an unattainable luxury for years.
"For a person who was suddenly facing all of this, it would be very difficult," he said. "But for Syrian people, I think, year after year, we have developed some kind of ability to adapt to more bad news. We hear every day about relatives and friends that we are losing. We become reluctant to become emotionally and psychologically affected so easily. It is the fate of Syrians to be really tough and to get used to bad news everyday, unfortunately."