To lead a new paper in <em>Health Affairs</em> that describes the exceptional success of Costa Rica's approach to primary care, student Madeline Pesec combined her own initiative and talent with Brown's unique academic programs and alumni network.
PROVIDENCE, R.I. [Brown University] — At least in the area of global health scholarship, it would be hard to imagine a more Brunonian story than that of medical student Madeline Pesec, the lead author on a new paper that explains the enviable success of Costa Rica in building a system of universal primary health care (other countries, take note).
The study, published this week in the March issue of the journal Health Affairs began as an assignment to write a 500-word blog post for the Boston-based research center Ariadne Labs while Pesec was a summer intern as an undergraduate at Brown. But with uncommon initiative, Pesec has been nurturing an interest in Latin American health care since her teens, so a mere single page on a topic so understudied and yet so compelling was sure to be just a start.
Instead, the research for the paper became Pesec's senior thesis in her concentration in Latin American studies at Brown (a complement to her senior thesis on health care disparities among U.S. Latinos for her other concentration in public health). Now a first-year student in the Warren Alpert Medical School, she's continuing the research both for Ariadne and for the master's degree she's pursuing in the University's new Primary Care and Population Medicine (PC-PM) dual degree program.
Pesec laid the academic foundation to support all this work when in 2012 she enrolled in Brown's Program in Liberal Medical Education (PLME), which includes admission for both undergraduate and medical study over eight years. That allowed her to take advantage of the Open Curriculum as an undergraduate with the assurance of a path to medical school.
"It's pretty hard at other universities for pre-meds to primarily focus on the humanities," she said. "At Brown I was able to complete all my requirements to get to medical school, all of my Latin American studies requirements and all of my public health requirements, and I think I still had three classes to spare."
"At Brown, you put students in charge of their own education," she added. "That's a lot for a 17-year-old to take on, and there's absolutely advising and support. But for people who know what they want to do and where they want to go, the ability to just take that and run is really special, especially within the PLME program."
Her mentor at Ariadne, Brown alumnus Dr. Asaf Bitton, said Pesec is indeed uncommonly energetic and capable.
"She's got incredible maturity and poise," said Bitton, who is a co-author on the new paper. "She's a very Brunonian type of self-motivated, interesting person."
Leading up to the research
Pesec got to know Brown early. Her mother and uncle are active alumni. For instance, her mother has helped to plan reunion activities.
"I first came to Brown when I was two, for campus dance," Pesec said.
Pesec's inspiration to engage in health care, specifically in Latin America, emerged in her childhood. She began studying Spanish at age 5 and for many years beginning when she was 9, she attended a Spanish language immersion camp, meeting counselors from countries such as Argentina and Mexico.
When she was 12 she helped care for an acute medical condition of one of her family members. Pesec found her medical duties — which many kids might have called "gross" — to be engrossing instead.
The family was fond of travelling to help Pesec practice her Spanish. On a tour of Costa Rica, one of their stops was a biological research station. She recognized an opportunity to perhaps study there. So when she was 14, the summer after she stopped going to the language camp, she made arrangements — including reaching out to local scientists — to return to the country to study traditional botanical medicines.
The summer after junior year of high school, she volunteered at a medical clinic in rural Peru. While the work suturing wounds and even administering CPR to a patient who suffered a pulmonary emboli confirmed her passion for medicine, she also observed how severely lacking resources were and how chronic ailments among the population weren't adequately addressed.
"I became dissatisfied with this sporadic volunteering model and saw a lot of structural aspects of the Peruvian health care system that I was frustrated by," she said. "I realized I was really interested in working with governments to build better health care systems."
That's a tight fit with the mission of Ariadne Labs, which develops simple and innovative solutions to critical health care problems around the world, but Pesec didn't know that yet.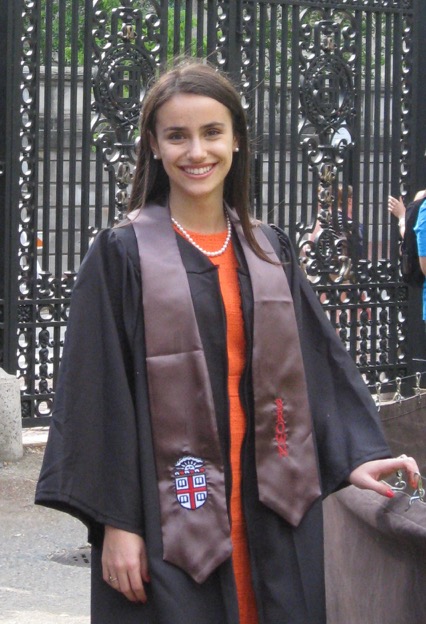 It was merely time to apply to college. With the way her interests had developed, Pesec was not thinking of Brown only because she had danced on the College Green as a toddler. Brown seemed the right fit for her ambitions. She applied early decision as a PLME, knowing that she wanted to take classes in public health and Latin American studies.
One of her first-year classes was public health professor Ira Wilson's class on the U.S. health care system.
"That gave me the tools to start thinking about how health care systems are broken down into primary, secondary and tertiary care, how these systems are born out of a country's unique history, and how these systems are structured, paid for and utilized," she said.
Ever since, Pesec has considered Wilson a mentor. Even now, he's supervising her master's thesis.
Wilson also helped introduce her to Ariadne Labs, through a colleague. She got a series of interviews and submitted reams of writing samples. In the process, with additional recommendations for Pesec from public health professor Stephen McGarvey, who was Bitton's mentor at Brown, Bitton recruited her to Ariadne's primary care unit for an internship in the summer of 2015.
Her first assignment was to help boil down a huge volume of case studies of national health care systems that Ariadne had compiled with the World Bank to provide a basis for recommending potential health care reforms in China.
"This is a hard task to throw at a master's in public health or medical student, let alone an undergrad, and Maddy did just a great job," Bitton said. "She far exceeded our expectations."
The Costa Rican 'unicorn'
A related assignment was to write a set of brief blog posts profiling the "promising practices" of health systems in various countries. One was Costa Rica, a country that had long piqued both Pesec's and Bitton's curiosity.
"I was disappointed with the amount of information I could find," Pesec said. "But the model sounded exactly like this 'unicorn' that we'd been chasing."
Costa Rica seemed to be doing exceptionally well among low- and middle-income countries at creating an effective and efficient universal primary care system.
So Bitton encouraged her to dig deeper, and she did. With several co-authors from Ariadne, including Hannah Ratcliffe, Ami Karlage, Lisa Hirschhorn and the famed Ariadne executive director Dr. Atul Gawande, the new Health Affairs paper reflects Pesec's review of thousands of articles about various aspects of Costa Rican health care. Pesec also conducted dozens of interviews with Costa Rican officials and health care workers while on another family vacation — a two-thesis working vacation for her — at the end of 2015.
What the team found is that in 1994, Costa Rica embarked on a sweeping primary care overhaul that has implemented four especially key reforms. These steps helped it to achieve the third-highest life expectancy in the Western Hemisphere with substantial reductions in maternal and child mortality and dramatic increase in health care coverage. All this has come at below-average cost by global standards, both per capita and as a percentage of GDP.
First of all, Costa Rica fully integrated the public health and health care delivery arms of its government so that just one agency was responsible for all aspects of health care. The merger came with its share of conflicts, Pesec learned, but ultimately led to a unified approach to public health, preventive care and curative care nationwide.
Costa Rica's reforms also envisioned and implemented the idea of multidisciplinary care teams composed of a doctor, a nurse, a community health worker, a medical clerk and a pharmacist. They all work together to care for their panel of patients with frequent communication that minimizes gaps in care.
The whole system is organized geographically with a goal of reaching everyone in the country. Seven health regions are divided into 104 health areas of between 30,000 to 100,000 residents. There are enough teams per area for each to serve a panel of about 4,500 patients. That's much higher than the number of patients per primary care doctor in the U.S., Pesec said, but much lower than before the reforms or other low- and middle-income countries. And she found that sick patients can often still make same-day appointments.
Finally, the Costa Rican system collects and makes strong use of data to monitor care outcomes and to drive future improvements. The central health service looks at detailed data from each health area and uses it to create an annual action plan for the next year.
Pesec and her co-authors make no secret that they view Costa Rica as a model for other countries.
"By adapting and adopting the integrated set of service delivery reforms that Costa Rica innovatively implemented, and by focusing on quality, equity and measurement for improvement, other countries can begin to build primary health care systems that will facilitate the achievement of health for all," Pesec and her co-authors wrote.
The paper was a substantial effort. To integrate the project with her studies at Brown she reached out to McGarvey. Together with Jeremy Mumford, associate professor of history, he supported the research as Pesec's independent study project and (second) honors thesis.
Continuing in medical school
That primary care is now such a focus of Pesec's studies is a transformation she attributes to Bitton and Wilson. She said she once had a typical American's perspective on that branch of medicine — that it was all treating sniffles and taking blood pressure.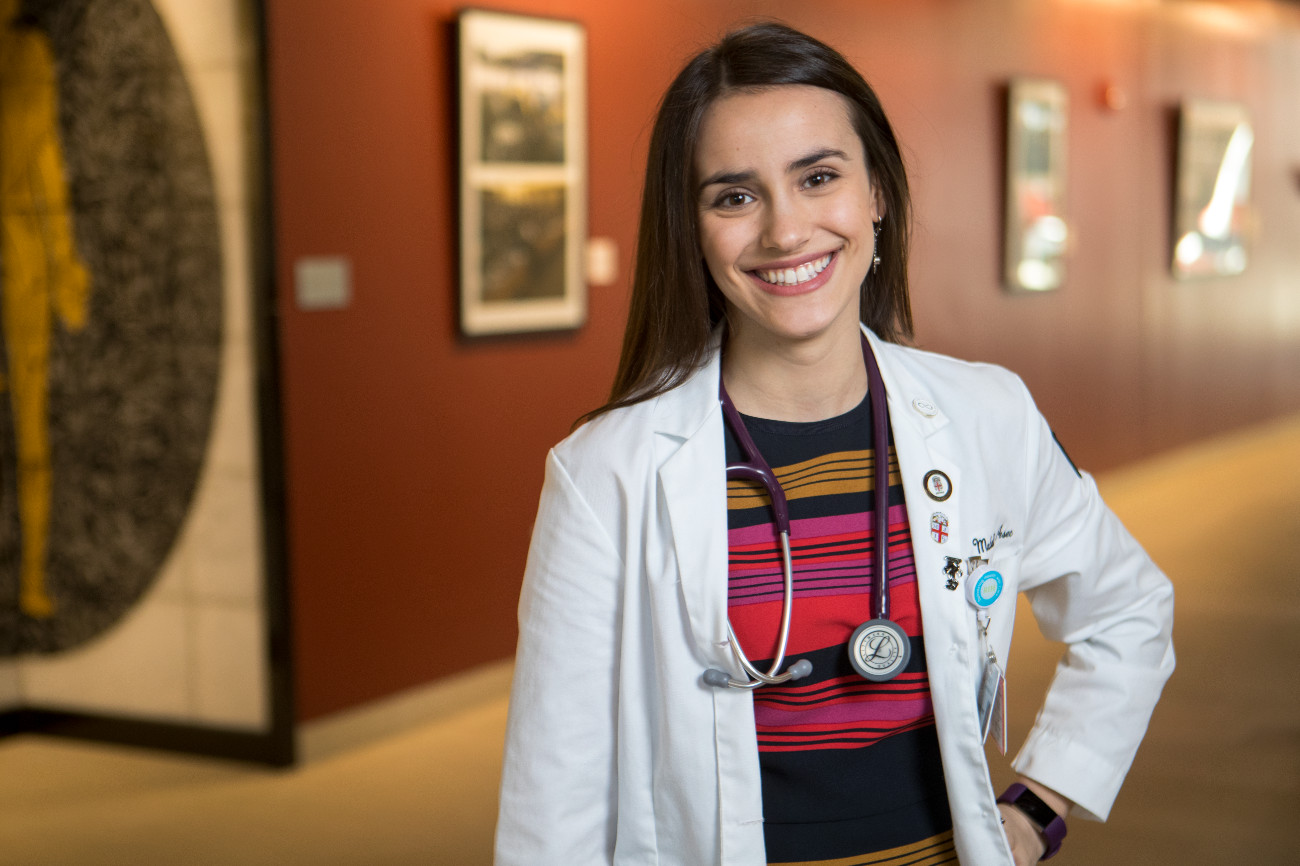 But now she's in Brown's second class of the new PC-PM program, which teaches students to become leaders at the forefront of health care change by understanding health care as not just individual episodes of treatment but also as part of the ongoing lives of whole populations in a social context.
"Dr. Bitton really convinced me that a major part of health care systems will hopefully be primary care," Pesec said. "It's a huge hole in our understanding of global health."
In her Master's work, Pesec will continue to study Costa Rica's model, drilling further into how the health system gathers, manages and makes use of data for continuous improvement. She said the PC-PM program, now only in its second year, has provided the perfect opportunity.
"The primary care master's program has facilitated this continuing research" she said. "It's through the program that I'll be returning to Costa Rica this summer. I'm really grateful for the program and the community of scholars it's brought together. Having this subset of 24 students who really care about population health has been incredible."
To Bitton, the story of Pesec's research is one of a student making full use of supportive environment.
"The ability for Maddy to be funded and to have time to spend with us to explore these important problems and to have a network of mentors not just here and at Brown says a lot about a system that helps motivated young students do great things," he said.