A distinctively Brown cohort of 35 transfer and visiting students marched through the ceremonial Van Wickle Gates on Tuesday, marking the beginning of their academic studies on College Hill.
PROVIDENCE, R.I. [Brown University] —Thirty-five transfer and visiting students from across the country and around the globe paraded through Brown's celebrated Van Wickle Gates on Tuesday, Jan. 24, as part of a mid-year procession ceremony symbolizing the beginning of their academic journeys at the University.
The incoming students can only be described as distinctively Brown, said Julie Lee, an assistant dean of the college for academic support and transfer who played a part in orientation for the new Brown students.
"These students have demonstrated a high degree of independence and an ability to take risks, while also embracing an opportunity to switch to a new institution that is supportive of their academic interests," Lee said.
Walking to the tune of the Brown Band's trumpets, drums and more, the students marched through the Van Wickle Gates and onto the walkway of the Front Green, finally arriving at the Faculty Club for a brunch with university deans to learn about the various resources Brown has to offer. The Brown Band continued its upbeat tempo in the gusty and wet January morning as the newly admitted students entered the building.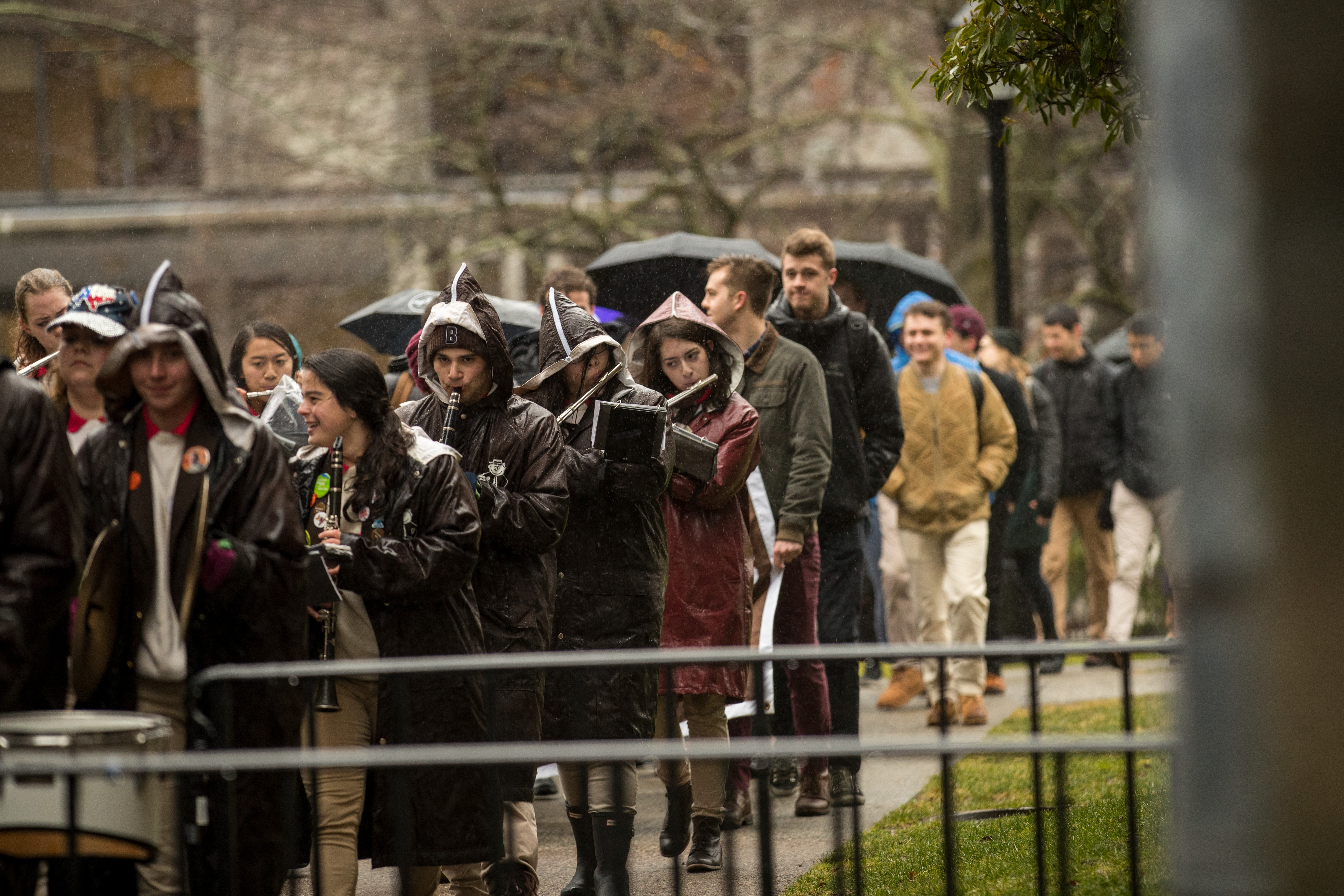 A majority of the students, Lee said, expressed interest in Brown's Open Curriculum, a model of learning at the cornerstone of Brown's liberal arts education that gives students the freedom to carve out their own education.
"Across the board, the students have shown a commitment to pursuing an academic program that is self-directed and embodies their personal and professional aspirations," Lee said.
The incoming transfer students come to Brown from 30 different universities including Dartmouth College, Duke University, New York University, the University of Pennsylvania, Tufts University, the University of Edinburgh in Scotland and the University of Michigan, among others.
In addition to the transfer students, six visiting students took part in the procession. One hails from the Chinese University of Hong Kong, and five come from the historically black Tougaloo College which has shared a unique partnership with Brown since 1964.
The students, who will join Brown's classes of 2019 and 2020, have been immersed in orientation activities since Sunday — spring semester classes begin tomorrow (Wednesday, Jan. 25).