Sculptures by Urs Fischer and Giuseppe Penone will be installed beginning June 14.
PROVIDENCE, R.I. [Brown University] —Two works of public art by distinguished contemporary artists are being installed on the Brown University campus this month: Giuseppe Penone's meditative "Idee di pietra (Ideas of Stone)" and Urs Fischer's playful "Untitled (Lamp/Bear)." The sculptures come to Brown through loans from an anonymous alumnus and the Steven and Alexandra Cohen Collection, respectively. Public lectures by the artists will be scheduled in the fall to celebrate the loans.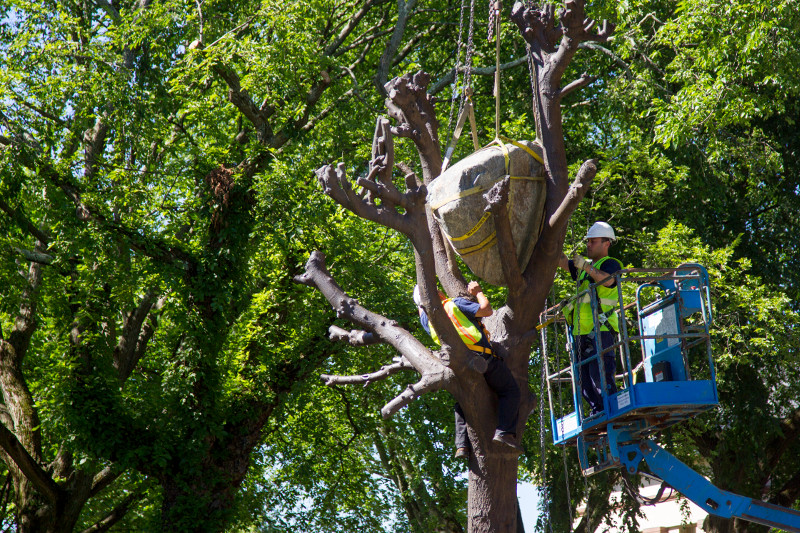 Workers began installing "Idee di pietra" among the elms — on a site where an elm tree stood until approximately four years ago — on the Brown's Main Green between Waterman and George streets on June 14. Modeled after a nut tree, the sculpture possesses a striking likeness in color, texture and stature to the real thing, said Jo-Ann Conklin, the director of Brown's David Winton Bell Gallery. A massive boulder, taken from the Orco River near Penone's hometown of Turin, is cradled within the branches of the 27-foot-tall tree.
Penone is one of the foremost figures of Arte Povera: a 1960s Italian avant-garde movement whose proponents employed common materials, such as stones or newspapers, to protest the commercialization of art. Conklin notes that Penone has concentrated on the aesthetic and intrinsic qualities of trees, creating works ranging from richly textured wall hangings to intriguing and sensuous sculptures.
Penone has described "Idee di pietra" as a manifestation of the forces of gravity and light, which act on trees and humans equally. The artist has said that "the need and the search for balance, which exists in every living being to counteract the force of gravity, is evident in every step and in every small action of our lives."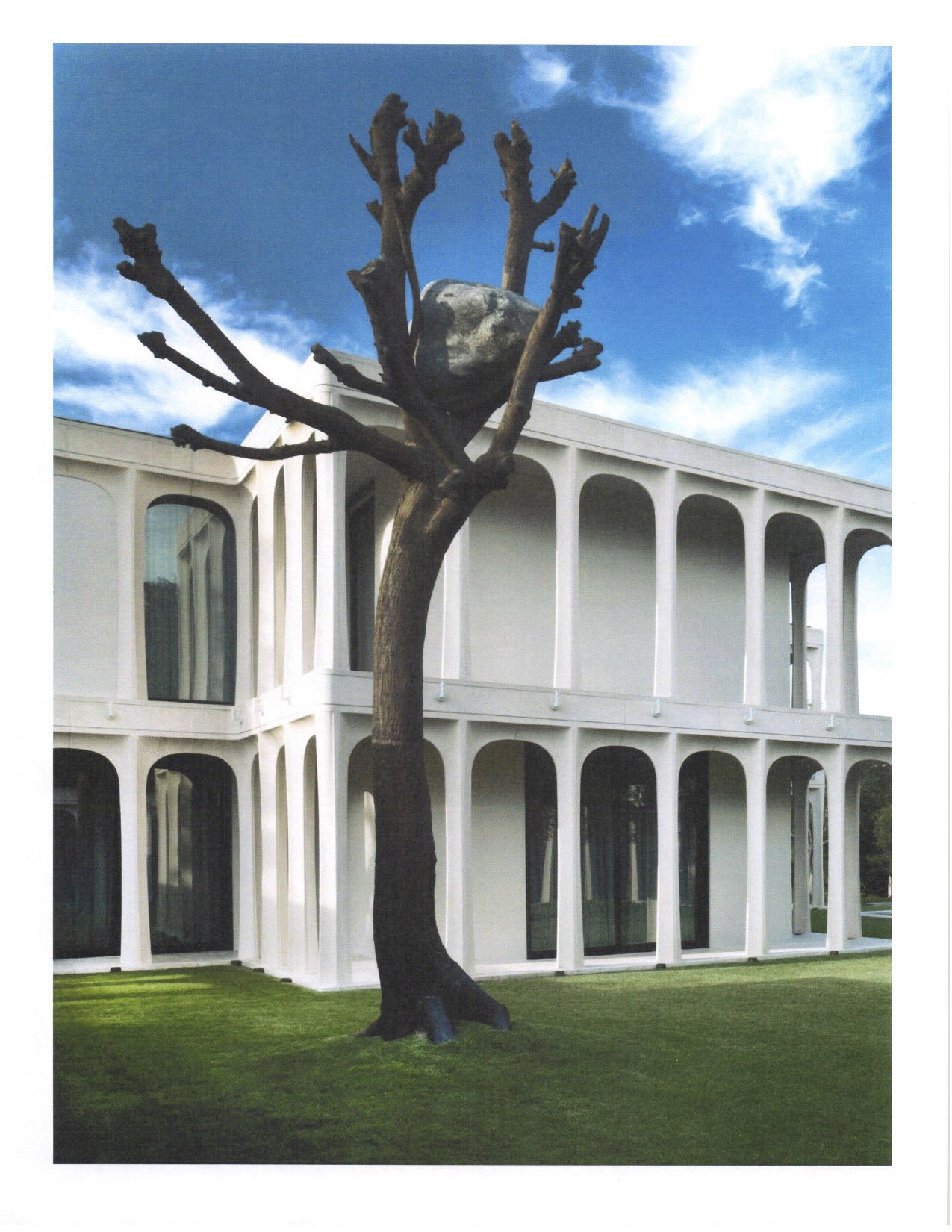 Meanwhile, "Untitled (Lamp/Bear)" will be located on Simmons Quad near Ashamu Dance Studio, and is set for installation during the third week of June. The 23-foot-tall sculpture depicts an enormous baby-blue teddy bear that is physically combined with an outsized black desk lamp with a functioning light. The bear, which looks like a child's plush toy, has a stainless steel interior framework and is part of an edition of three – the other two versions of the sculpture are yellow, and one was previously installed in front of the Seagram Building on Park Avenue in Manhattan.
The piece is part of a series that Fischer, a Swiss artist, describes as exploring "the inner mechanics of duality" that interrogates "what happens when two specific objects meet in an imagined space." Conklin said Fischer's work "is rooted in playfulness, with an element of irreverence." Audacious and humorous, Conklin said, "the sculpture is a nostalgic and larger-than-life presence." It joins the lineage of sculptures referencing Brown University's mascot, the Kodiak bear.
The long-term loans of "Idee di pietra" and "Untitled (Lamp/Bear)" – each will be on campus for five years –come to Brown through the work of the Public Art Committee, which is dedicated to making public art part of the day-to-day experience of campus and to enriching the cultural, intellectual and scholarly life of the University and the broader communities.