A terrible infection almost cost Brown University gymnast Tori Kinamon her leg, but instead it gave her an academic mission. Fully recovered from her ordeal, she's not only preparing for a new season in the gym, but is also conducting research to ensure that fewer infections afflict athletes in the future.
PROVIDENCE, R.I. [Brown University] — Toward the end of her month-long stay in Rhode Island Hospital, as she began to recover from eight surgeries on her left leg in two weeks, Tori Kinamon of Peachtree City, Ga., was up on crutches, trying out a stairwell where a window faced northeast.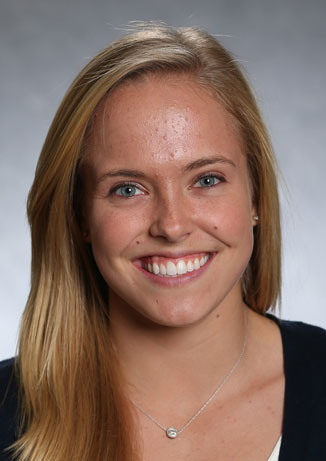 "I remember looking out and seeing the Sci Li across the way and the reality of my experience really hit me at that moment," she said. "I remember thinking, 'That's where I should be right now. I should be in the Sci Li studying or just be on Brown's campus and instead I'm here.' That was a really hard reality to face."
This was not the way Kinamon wanted to spend the early spring of her freshman year in 2014. Instead of finishing her first season with the Brown gymnastics team and continuing her studies, she was battling an overwhelmingly painful infection of methicillin-resistant Staphylococcus aureus. At its peak the infection seriously threatened to take her leg, if not her life.
In the end, the so-called "superbug" took a lot of muscle and left a two-foot long scar, but last spring Kinamon was back up on the uneven bars in competition for her team and her school. She had made the decision that MRSA wasn't going to chase her out of the gym. Gymnastics is the closest thing to flying, she said, and after competing as an individual throughout high school she was indelibly excited to be part of a team at Brown.
Kinamon managed to finish her freshman year courses from home early that summer, but it would take much longer to rebuild the lost muscle to competition strength. She had a lingering fear that somehow she could become infected again, but she had the drive, the faith, and the support of her team and family to fly again.
"I didn't just want to be able to walk, I wanted to be able to run and jump and return to my previous fitness level," she said. "I didn't want the MRSA infection to define what I did."

In the best way, though, that's only half-true. While she has defied MRSA by competing again athletically (winning the Mari-Rae Sopper Spirit Award from USA Gymnastics in April), she has made MRSA a defining aspect of her academic life. She didn't just fend off the bacterium. As a Brown student, she's now coming after it.
Resurgent with research
This semester the health and human biology concentrator is taking classes on the epidemiology of infectious diseases, immunology, and the burden of disease in developing nations. But all year she'll also be working in the lab of Dr. Eleftherios Mylonakis, the Dean's Professor of Medical Science and chief of infectious diseases at Rhode Island Hospital and The Miriam Hospital.
Her focus is on finding out how to prevent MRSA from spreading. A lot of research has explored control within hospitals, but far less can explain how it manages to afflict healthy people in the community. Athletes are at elevated risk. Last month, MRSA ended the football season for New York Giants tight end Daniel Fells.
As in Fells' case, Kinamon doesn't know how she got the terrible bacteria, but she wants to find out. She started her research this fall by undertaking a detailed review of the scientific literature on MRSA cases in athletes. She's studying prevention practices, such as screenings, and information on how infections occur.
"Right now I'm looking at the prevalence of MRSA colonization in athletes to see if it is known, and if it is known, how do we go about decolonizing people to reduce the risk of transmission to others in the community," she said. "I hope that will extend to some lab work in looking at specifics of the [particularly virulent] community-acquired MRSA strains."
Mylonakis praised Kinamon as "analytical, supremely motivated, meticulous and scientifically curious." Her personal story has been inspiring for his research group, he said, and her work will add to the scope of what it can accomplish.
"This work will highlight that everyone — even young individuals at the best shape of their lives — is potentially vulnerable to these resistant pathogens and has already generated scientific questions on the molecular pathogenesis of MRSA that Tori is planning to investigate in the lab," he said. "Her work has summarized what we know about the spread of MRSA among athletes. More importantly, it demonstrates a lot of missing links that will need to be studied. I anticipate that Tori's work will be instrumental in developing prophylaxis strategies among athletes."
A patient's perspective
Doing all this in her junior year gives Kinamon an opportunity to explore more about infectious disease overseas next year. Originally she came to Brown hoping to prepare for medical school with a focus on sports medicine. That remains an interest, but after her ordeal she's broadened her perspective to pursue a concentration subfocus in global and international health. She's had the guidance of professors such as Mylonakis, Dr. Tim Flanigan, professor of medicine, and Katherine Smith, associate dean of biology for undergraduate education, but she also took to heart what someone said, perhaps off-handedly, while she was in the hospital.
"Someone said to me, 'You're really lucky you are not in a Third-World country,'" she said. "That made me very interested in why, if someone had a MRSA infection in another country, their outcome could have been totally different just based on the resources they have."
Kinamon said being a patient, and not just a student, has changed how she looks at her studies and her future career.
"When I was hospitalized, my eyes were suddenly and unexpectedly opened to the patient aspect of medicine," she said. "The experience has allowed me to empathize with people in ways that I couldn't have before."
As much pain and fear as she felt, as hard as she's had to work, she has come through it with sense of what she gained, rather than what she lost.
"Looking back on my experience, I wouldn't change what happened to me because it's completely altered the way I look not only at the world but also at myself," she said. "Through Brown's open curriculum and the breadth of opportunities available, I've been able to tailor my educational experience so that I can really look into what happened to me and why it happened. More importantly, it's enabled me to explore how I can translate my experience into something that helps others avoid this preventable infection."
She wouldn't change her experience, but she might change the game, squashing a superbug as she sticks what once may have seemed to be an impossible landing.