In Akilah Dulin-Keita's "Place Matters" class, students didn't just read about how neighborhood characteristics affect health. They used their knowledge to assess two Providence neighborhoods as the city plans possible improvements — and told the deputy director of the Healthy Communities Office what they found.
PROVIDENCE, R.I. [Brown University] — A key lesson in the Brown University School of Public Health class "Place Matters" is that the seemingly mundane, everyday physical characteristics of a neighborhood deserve focused attention when they are considered for what they could mean to a child's life.
"One of the things I was surprised by was just how much time you can spend evaluating a crosswalk," said Dr. Ashley Lakin as she and her team of three fellow graduate students presented their classwork Nov. 17.
Each member of her team had spent several hours walking the neighborhood around Providence's Veazie Street Elementary School, carefully examining how well crosswalk lines were painted, where lighting was situated, where there was litter and graffiti, and whether signs warned motorists about safety. Another team did the same for the area around the John Rollins Recreation Center on Prairie Avenue. In each case, they hoped to find and fix problems that prevent kids from getting out and playing more.
On this pivotal morning of the class, the two teams presented their observations and recommendations not only to their instructor, Akilah Dulin-Keita, assistant professor of behavioral and social sciences, but also to Ellen Cynar, deputy director of the City of Providence's Healthy Communities Office. They weren't just showing what they had learned. They also sought to make a real difference for the city and its residents.
"The city, in partnership with community organizations, is trying to increase usage of the recreation centers, so the students' evaluation will inform built environment barriers while other groups are assessing the programming and actual rec building structures," she said. "The students' evaluations (and written policy briefs) will be used to help generate and support conversations about how to address these barriers within the context of what's feasible within the budgetary constraints."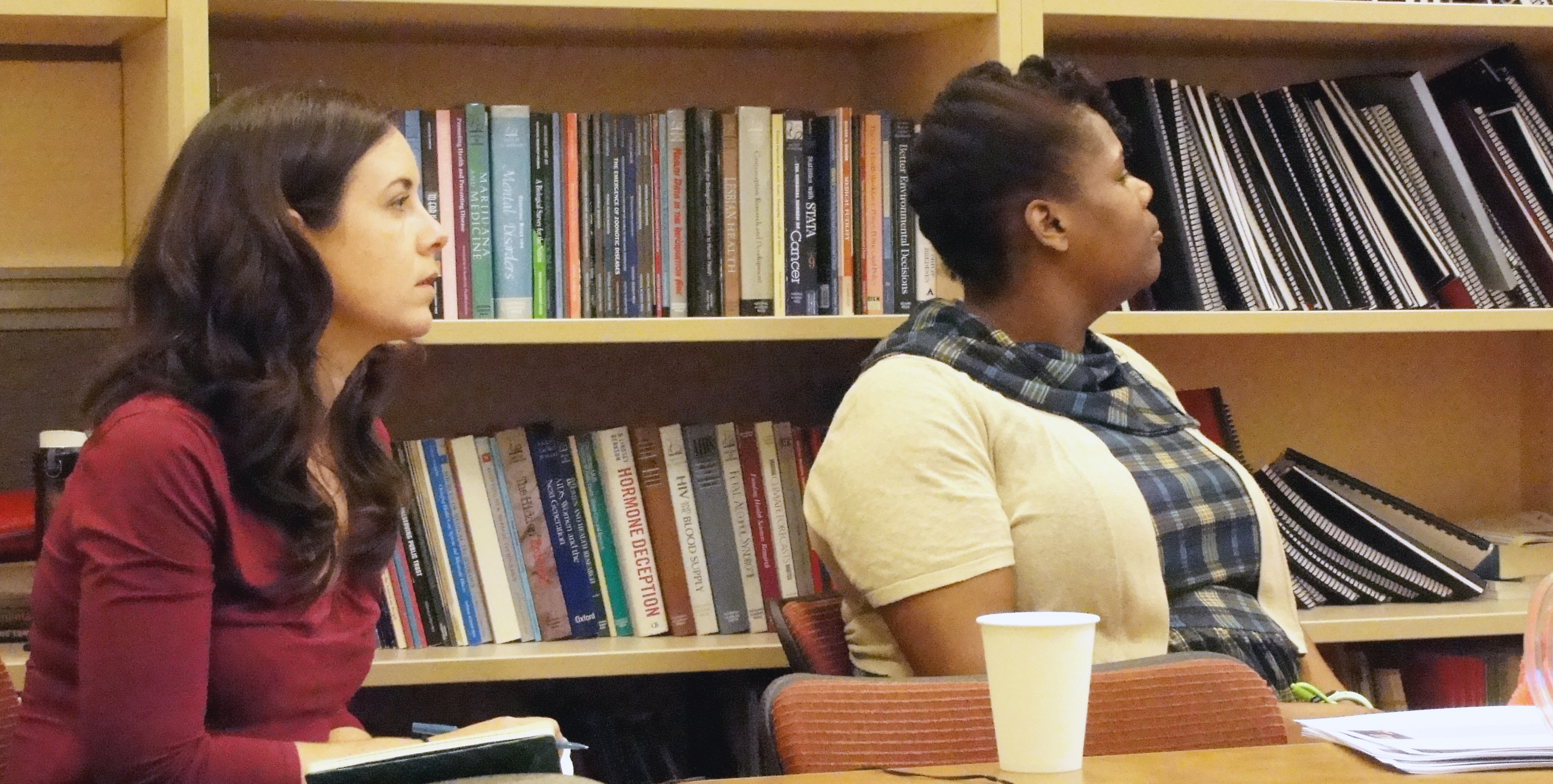 Promoting play
Shantell Steve began the John Rollins team's presentation by laying out the stakes: "Over the last 30 years there has been a dramatic increase in obesity levels in the United States. Sixteen percent of adolescents and children are obese while 17.1 percent of children and adolescents are overweight. This accounts for 12.7 million children and adolescents in the United States."
Childhood obesity, in turn, can lead to serious health problems later in life including type 2 diabetes and cardiovascular disease.
A rich body of research — much of it on the reading list in Dulin-Keita's syllabus — shows that a neighborhood's "built environment" — streets, sidewalks, buildings, lighting, traffic, and housing — has a substantial impact on whether kids engage in physical activity. If the journey to a rec center or a schoolyard seems unsafe and playing there seems unpleasant, it almost doesn't matter that the facility exists.
On Veazie Street
To assess the conditions in a quarter-mile radius around each site, students used the Built Environment Assessment Tool (BE Tool), a rubric released earlier this year by the U.S. Centers for Disease Control and Prevention. BE provides the means to do a systematic audit of a neighborhood's walkability, bikeability, and other qualities.
The Veazie School team of Samantha Kingsley, Lakin, Esther Li, and Oluwadamilola Oni-Orisan found a range of things to address. In a sampling of 16 intersections, Kingsley said, most had either faded crosswalks or none at all. Two had traffic lights but neither had walk signals or "push to cross" buttons. Area sidewalks were narrow and some had a "trip hazard." The students also noticed graffiti and litter in some places.
In the schoolyard itself, the team found evidence that oil had leaked from cars that park there after school hours. They noted that the schoolyard signage ("Do Not Enter," "No Trespassing") focused on keeping people out rather than inviting kids in.
The team recommended making area crosswalks more visible, adding crossing signals and installing bike racks on the school grounds. More parking nearby might help parents, but parking on the blacktop itself should be prohibited, Oni-Orisan said.
The foreboding signage could be changed to describe the space as a play area with rules and hours. Improving lighting and painting the playspace with colorful markings that suggest ways to play would make the space more inviting, she said. Repainting a currently uncelebrated ramp that bridges the schoolyard to a park across the street would encourage students to play in that green space as well.
As she listened, Cynar said she mapped each recommendation to the appropriate city department — traffic vs. schools, for example. She asked the students what they thought would have the most impact.
"I would think the signage would be important because it's very clear that you're not welcome," Li offered. "You could even have the entrance to the park be some kind of mural where the children can participate in the decoration."
Rollins reconnaissance
The Rollins center team of Lena Miroshnichenko, William Nardi, and Steve inspected 30 intersections in a neighborhood that also includes the Charlotte Woods Elementary School, Roger Williams Middle School, and the Juanita Sanchez Educational Complex. They noted that triple-layered fencing keeps the facilities separated.
In some locations in the neighborhood the students noted signs of physical disorder. They also noted a lack of speed limit signs and bike lanes and areas where additional lamp posts would improve illumination.
"This area has potential with the schools in the area and the rec center to be a well-utilized area, but there are measures for improvement," Miroshnichenko said.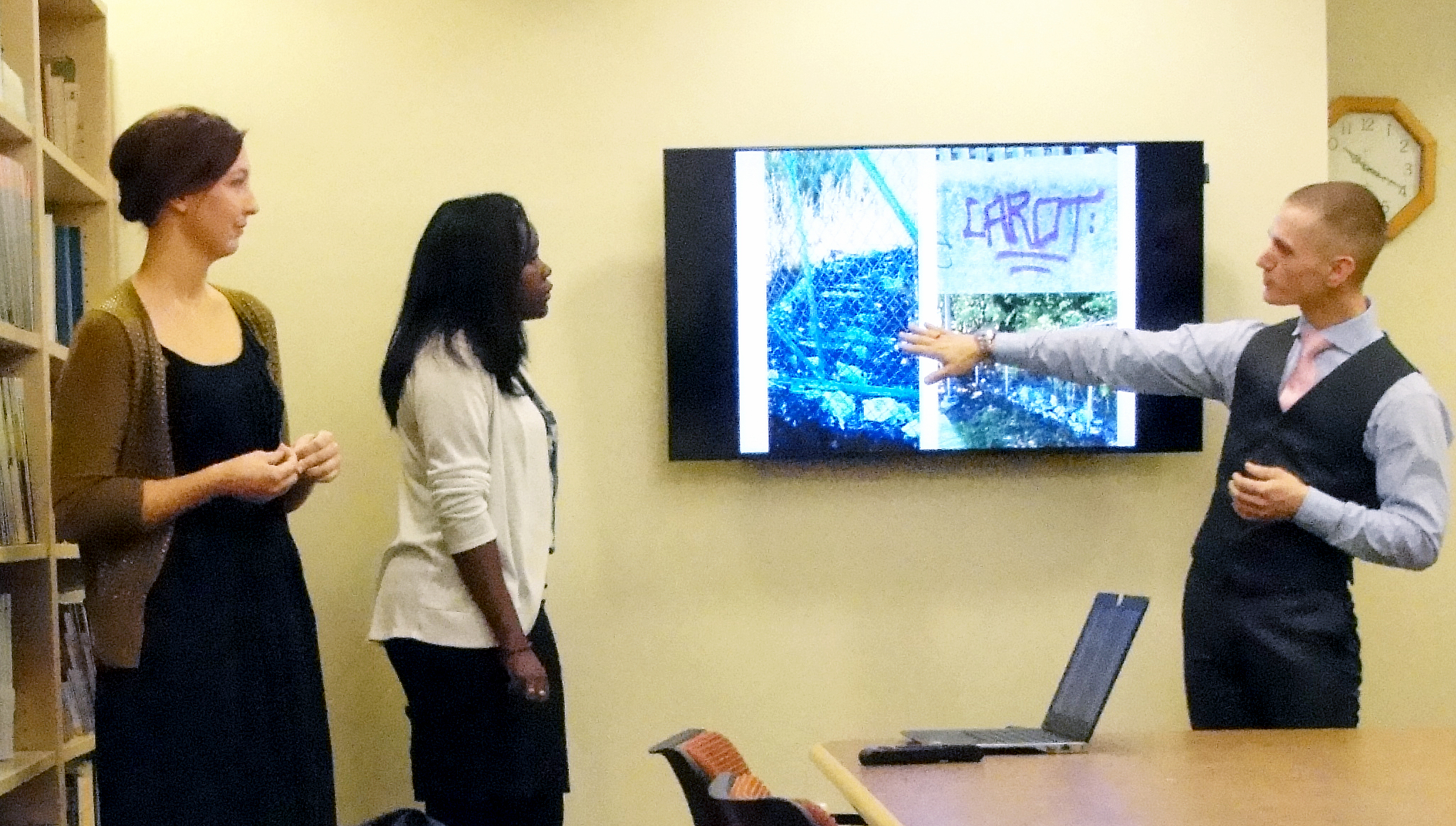 The team recommended moving a bus stop to directly in front of the center, improving pedestrian safety measures such posting speed limits, adding accommodations and signage for bicyclists, and forming a community coalition to clean up trash and graffiti.
Cynar said that as the city examines how to use Health Equity Zone grants from the state department of health to improve neighborhoods around its recreation centers, the analysis is helpful, though focused on only one center.
"The information you're sharing is really important," she said.
For the rest of the semester, the class will pivot to rural health concerns. In that setting the environmental influences on health may be different, but the goal remains the same: Using research to ensure that where someone lives can be an asset to health, rather than a liability.