Several hundred members of the Brown community stopped by Sayles Hall Wednesday morning for a campaign breakfast with President Christina Paxson. The agenda: Information about the $3-billion <em>BrownTogether</em> campaign and a huge thank-you for keeping Brown on the move.
It's not every day that Brown faculty and staff from all areas of the University get together for breakfast, but Sayles Hall was full on Wednesday morning. Deans, groundskeepers, faculty, coaches, lab techs, vice presidents, office staff, campus police — hundreds of faculty and staff showed up for a buffet breakfast in Sayles Hall hosted by President Christina Paxson, a visual representation of a crucially important theme: BrownTogether.
"At Brown, we are mindful that a strong, vibrant community promotes varied perspectives in many voices," Paxson said. "This is the lifeblood of innovation."
Paxson welcomed the house with news from earlier campaign launch events — a $3-billion goal, nearly $950 million in early gifts already in hand, groundbreaking on a new engineering building, a five-year renewal of ICERM, faculty TED-style talks, a football victory over Princeton — all gathered under the unifying theme BrownTogether.
"We live at a time that calls for more of what Brown has to offer: collaborative scholarship, fiercely independent thinkers, and an empathetic worldview," Paxson said. "BrownTogether — the sum of its extraordinary parts and a powerful force for good in the world — stands ready to answer that call! So I want to thank everyone here for your passion, your dedication, and for caring deeply about Brown's future. I have never been prouder and more honored to be working with all of you."
The program included a screening of the new campaign video.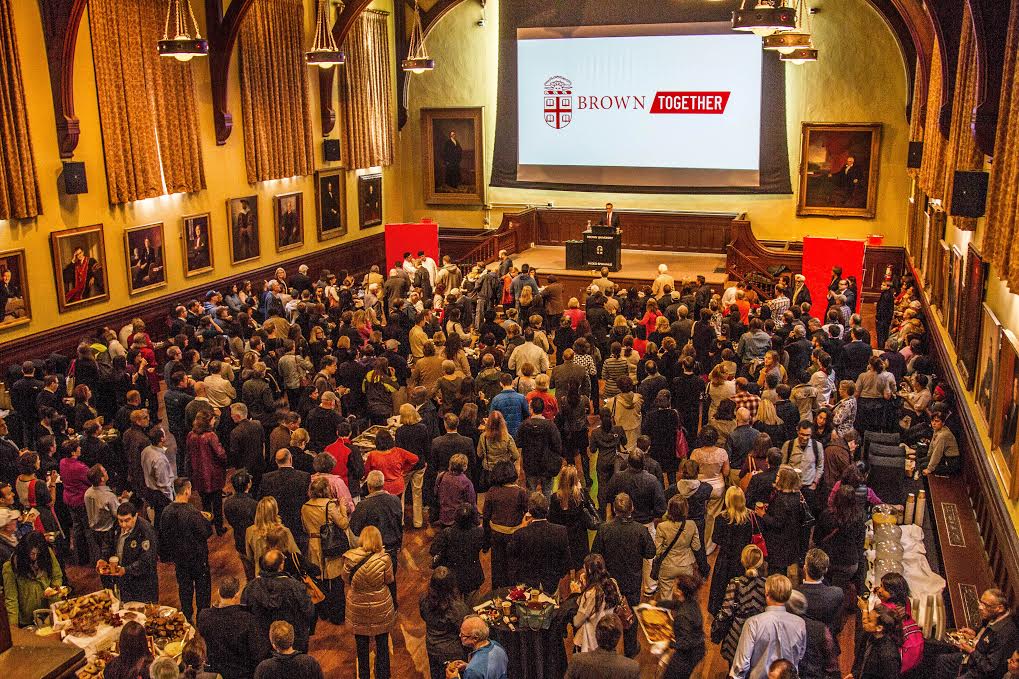 A few comments gathered at Sayles Hall
Lindsey Graham, vice president for academic finance and administration
"I think that $3 billion of new investment in Brown and Brown programs focused on faculty growth and exciting new programs ... has generated quite a buzz. ... I've spent a lot of time in the medical school helping to build and define the medical school's strategic plan, and I'm particularly excited to see that there will be hopefully new investment in the Brown medical school, which is much needed and long overdue."
Aquarius Gooding, facilities truck driver who delivered gift mugs and bags with colleague Eddie Tejada
"This is my first [campaign]. With us delivering the stuff, I've seen the mugs and the bookbags. It's a nice thing. It's a beautiful thing, you know. You get to meet other employees. This is the Brown, you know, friendly community. You get to chat and see different people."
Lynn Menatian, research protections manager, Office of Research Integrity
"I just think of the magnitude of the endeavor. It's one of the biggest campaigns I've ever seen here at Brown. ... "I hope we reach our goals and that it can boost additional research here at Brown."
Michele Wise, senior benefits special programs coordinator, Human Resources
"I was immensely proud to be part of Brown — [the video] made me very motivated. I think I would follow President Paxson into battle. That's the feeling that I got. I've been here a long time, 28 years, and I'm still excited about working for Brown."
Stephanie Obodda, assistant director of IT communications
"The video really made me think about how students are not the only ones at Brown that have deep pride for the institution. You really see it so much in staff and in faculty as well."
Kat Schott, assistant director for academic program coordination, School of Professional Studies
"I appreciate that the president wants to make the staff aware of the new campaign and include us in forwarding her initiatives, and I also appreciate that it's not just about the big donors — although those are obviously very important. Every donor in this campaign counts and can make a difference."
Karen McNeil, program director, Office of Student Veterans and Commissioning Programs
"Being relatively new to Brown, I feel that I'm here at a really important time — all these new things not only with our relationship with the military, veteran students in ROTC, but also with the capital improvements in the engineering building. ... We have a lot of veteran students who are interested in engineering, in the sciences, in the Watson Institute. Having these strong centers with top faculty and new buildings will help us attract the best students. I'm hopeful it will do good things."
Cynthia Yearwood, coordinator of learning, professional development and employee programs, Human Resources
"I think [the campaign is] pretty aggressive, but very admirable. "It's great for the University as it benefits the students, faculty and staff."
Greg Godino, IT support consultant, School of Engineering
"I think it's a fantastic idea to bring the community together and get our foundation built. It's about all of us."
Katie Silberman, community liaison, Office of Community and Government Relations
"I think the campaign is good for Brown and good for Rhode Island. It will strengthen the University while bringing resources to our local community."
Tanya Waldburger, video and new media producer, School of Professional Studies
"It's very inspiring. It spoke to me as a Brown alum."
Gordon Morton, manager of communications and external relations, School of Engineering
"Brown is already a great place for faculty, staff, and students, but this campaign will take us to new heights and allow us to do so much more together in several key areas. There was a tremendous sense of energy and excitement with the launch this weekend, and I'm eagerly anticipating what the future holds for the University."