A Day on College Hill — ADOCH — gave nearly 700 prospective students a chance to encounter life at Brown firsthand.
PROVIDENCE, R.I. [Brown University] — A crowd of arrivals at the Amtrak train station marked the beginning of ADOCH, a three-day event that drew nearly 700 prospective students to Brown from 46 U.S. states and nearly two dozen countries
"ADOCH is such an important event for different reasons. This tends to be the first time many students see Brown and experience the community firsthand," said Erik DeAngelis, associate director of admission. "I often hear graduating seniors mention a time at their ADOCH and how it was the first place they met some of their lifelong friends."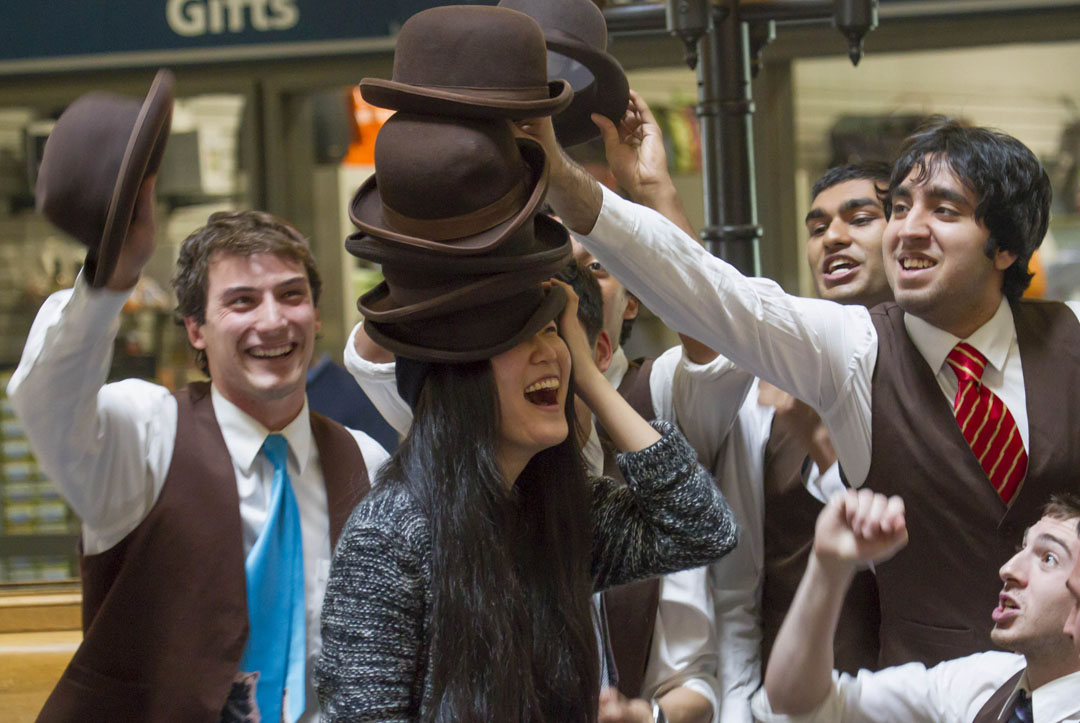 The Brown Derbies welcomed visitors at the train station Tuesday afternoon with four a cappella performances including Beyoncé's Drunk in Love and If I Were A Boy.
Once on campus, the visitors didn't waste any time taking advantage of what Brown had to offer. Ezza Ahmed of Linwood, N.J., scored a touchdown in a game of flag football across from the JCB. She was more interested in the upcoming Block Party, though. "I've met some really awesome people and they told me they were going," said Ahmed, who had already found a group of friends.
Dean of Admission James Miller and his staff could finally put faces to photos — and they had seen a lot of photos. "You've been in our homes, been with us on our vacations," Miller told a nearly full house under a tent on the College Green.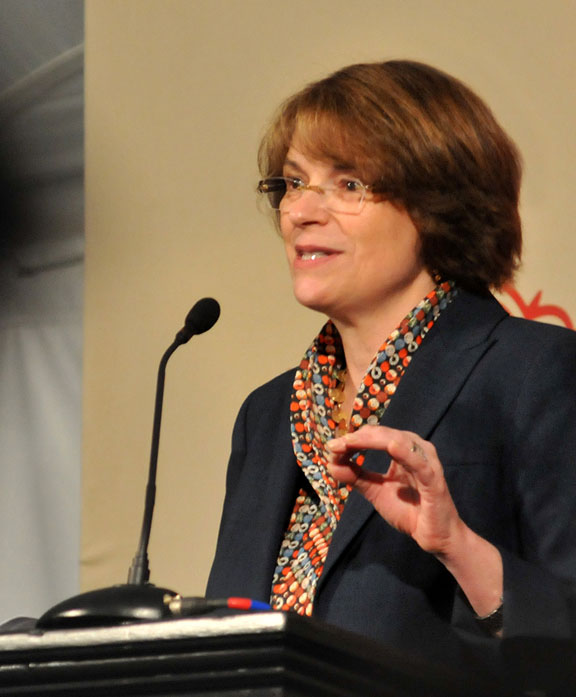 In her remarks, President Christina Paxson added that the College Admission staff has a knack for finding that spark that makes an applicant uniquely suited for the opportunities Brown affords. She offered a couple examples.
She told the crowd about a student who came into her office to propose the TechStyle Haus, and how three students organized a national conference for first-generation college students.
"I realize I have the best job," Paxson said, ending her speech with a promise that students who choose Brown will be part of an institution that is noticeably growing.
Discoveries began in earnest Wednesday morning. In "It's A Small, Measles-Infected World After All," Richard Bungiro spoke about the history of vaccines, how they work, and some of the deadly killers of the 20th century that have been eradicated.
Elsewhere, parents and students were learning about the history and future of hip-hop with Tricia Rose, professor of Africana studies. After her lecture, "The Roots of Hip Hop," Rose took questions from potential students, and the discussion she began continued as the students left the building.
Following a Concentration Fair on the College Green — with representatives from 55 concentrations — students headed off for more lectures about neuroscience, health professions, the business program, University services, and other offerings.
On both evenings, the visitors took in a variety of student performances, found themselves in deep discussions, and engaged in activities that ADOCH planners suspect will be remembered for a lifetime.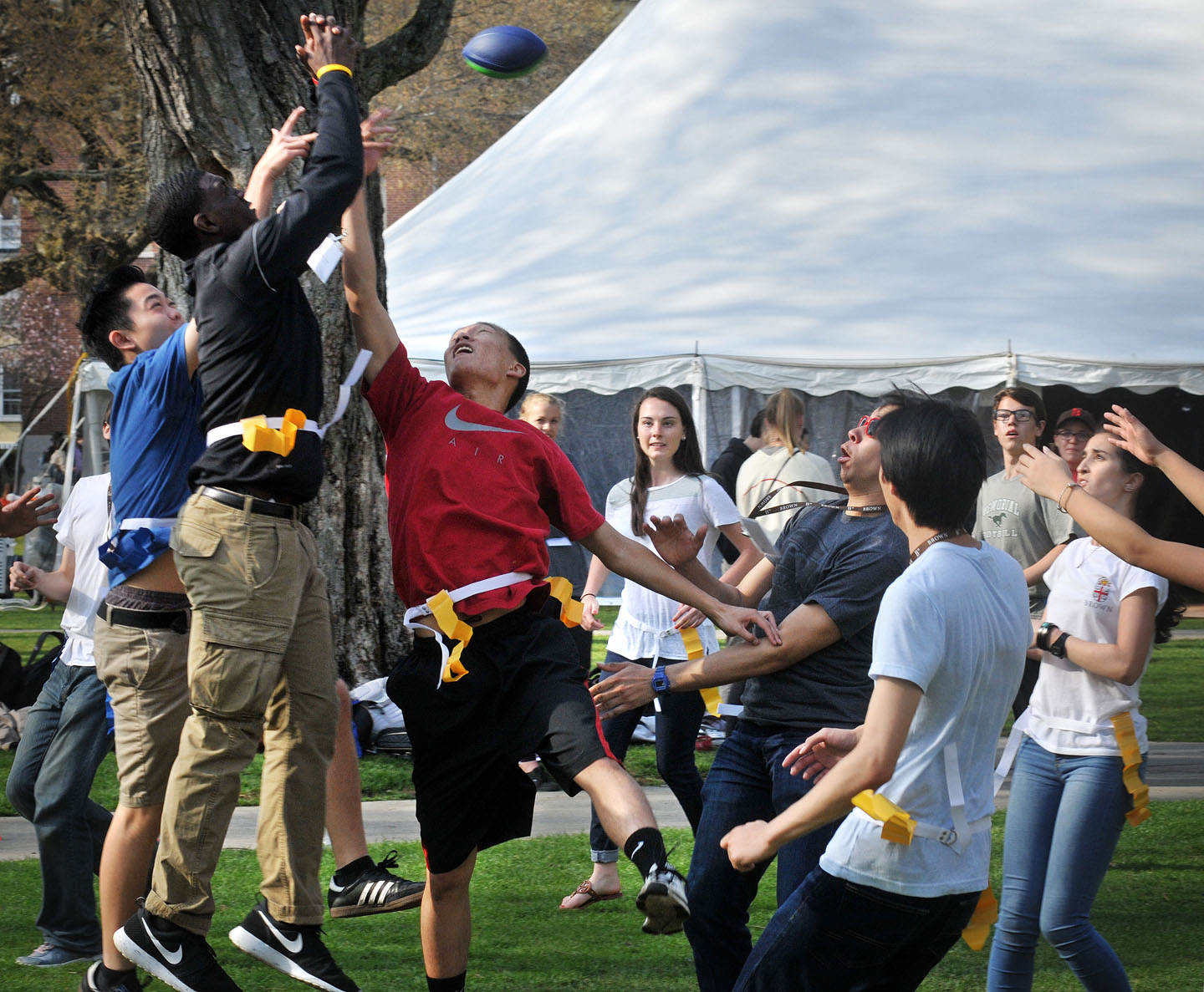 "ADOCH is an instrumental part of attracting some of the best and brightest students around the world," said DeAngelis. "We know they have acceptance offers to some other amazing institutions. ADOCH is the time for our community to help them figure out if Brown is the best place for them."
Decision day is May 1.