President Paxson, Mayor Elorza and other members of the Brown community helped mark the topping off of the new building for the Division of Applied Mathematics at the Corner of Hope and George streets Wednesday morning, Feb. 18, 2015.
PROVIDENCE, R.I. [Brown University] — Members of the Brown community gathered today to mark the topping off of Brown's new building for the Division of Applied Mathematics. After remarks by Brown officials and Providence Mayor Jorge Elorza, workers hoisted into the place the building's final structural beam, which had been signed by many of those attending the ceremony.
"As we enjoy the benefits of a digital economy and the ability to collect and analyze ever-growing amounts of data, it's clear that we need applied mathematics more than ever," said Brown President Christina Paxson. "Fortunately Brown has been an academic leader in this field for a long time. This building signifies our commitment to an equally strong future for this division."
Construction on the three-story, 13,000-square-foot building began in November 2014, with completion scheduled for December of 2015. The facility, which sits at the corner of George and Hope Streets, will provide new office and meeting space for faculty, students, and staff of the division. The structure will share green space with the existing headquarters for the Division of Applied Mathematics at 182 George St.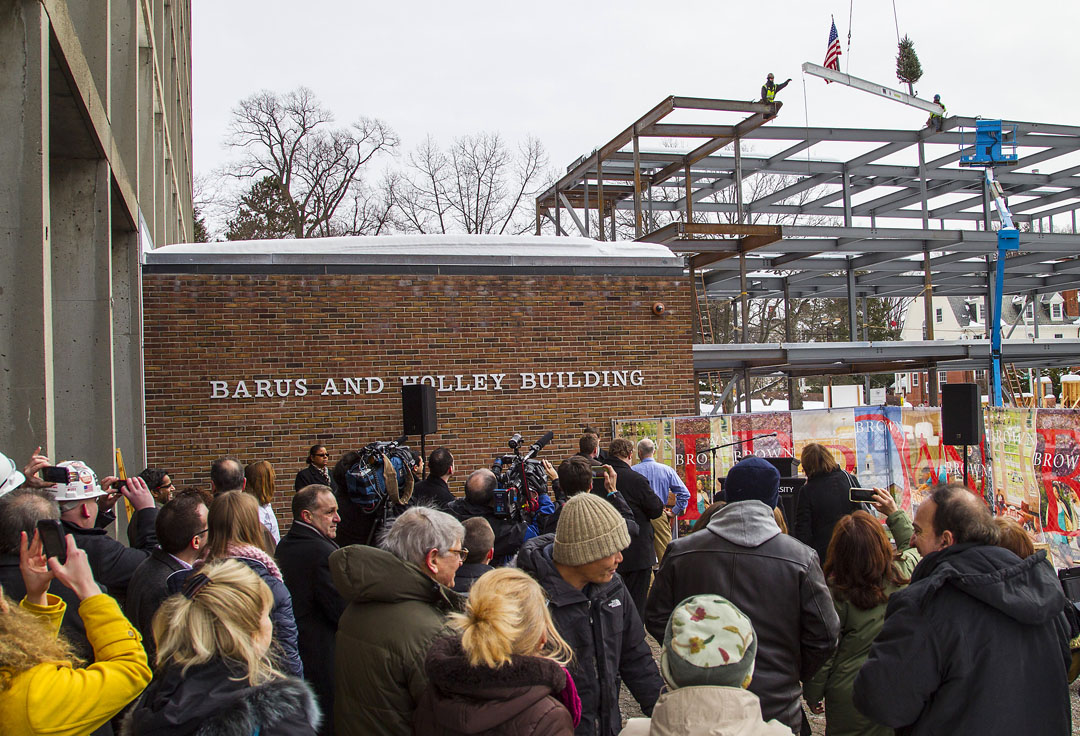 Björn Sandstede, chair of applied mathematics, said the new space will support growth and bolster collaboration.
"More and more undergraduates take our courses and want to engage more closely with our faculty; our graduate students learn, discuss, and work in teams; and our research has become more collaborative," he said. "We're very confident that the design and flexibility that will be afforded to us by the new building will serve us for a long time into the future."
Russell Carey, executive vice president for planning and policy at Brown, said great care was taken to make sure the new structure both served the needs of the division and fit well into the surrounding residential neighborhood.
"For decades, we've faced the neighborhood with a parking lot," Carey said. "The campus development section of the strategic plan that President Paxson set forth for Brown challenged us to do better. We're confident that this beautiful building taking shape behind me, and the new green space around it, will be much, much better for Brown and for our neighbors for decades ahead."
Mayor Elorza noted Brown's ongoing partnership with Building Futures, a Providence-based organization that provides training and apprenticeship opportunities for low-income people interested in the construction trades.
"I'm grateful that President Paxson and Brown University have supported this program in such an important way that opens the door to the building trades for more men, women and minorities every day," Elorza said.