A day of drumming, dancing, creation, and excitement: Youth Arts Day celebrated the city's commitment to arts opportunities for youth and the efforts of arts leaders to create vibrant youth development ventures.
PROVIDENCE, R.I. [Brown University] — The Granoff Center for the Creative Arts came alive Nov. 22, 2014, as the sounds of drumming, dancing, and excited chatter filled the building. Kids raced up the stairs to discover teens drumming on overturned buckets. The grade school crowd built fantastical structures out of cardboard boxes. Young adult mentors orchestrated the joyful cacophony, and encouraged bashful onlookers to join the fun.
All of this activity came together for Youth Arts Day, a celebration of Brown University alumni and their colleagues in Providence who are developing vibrant, creative youth development ventures.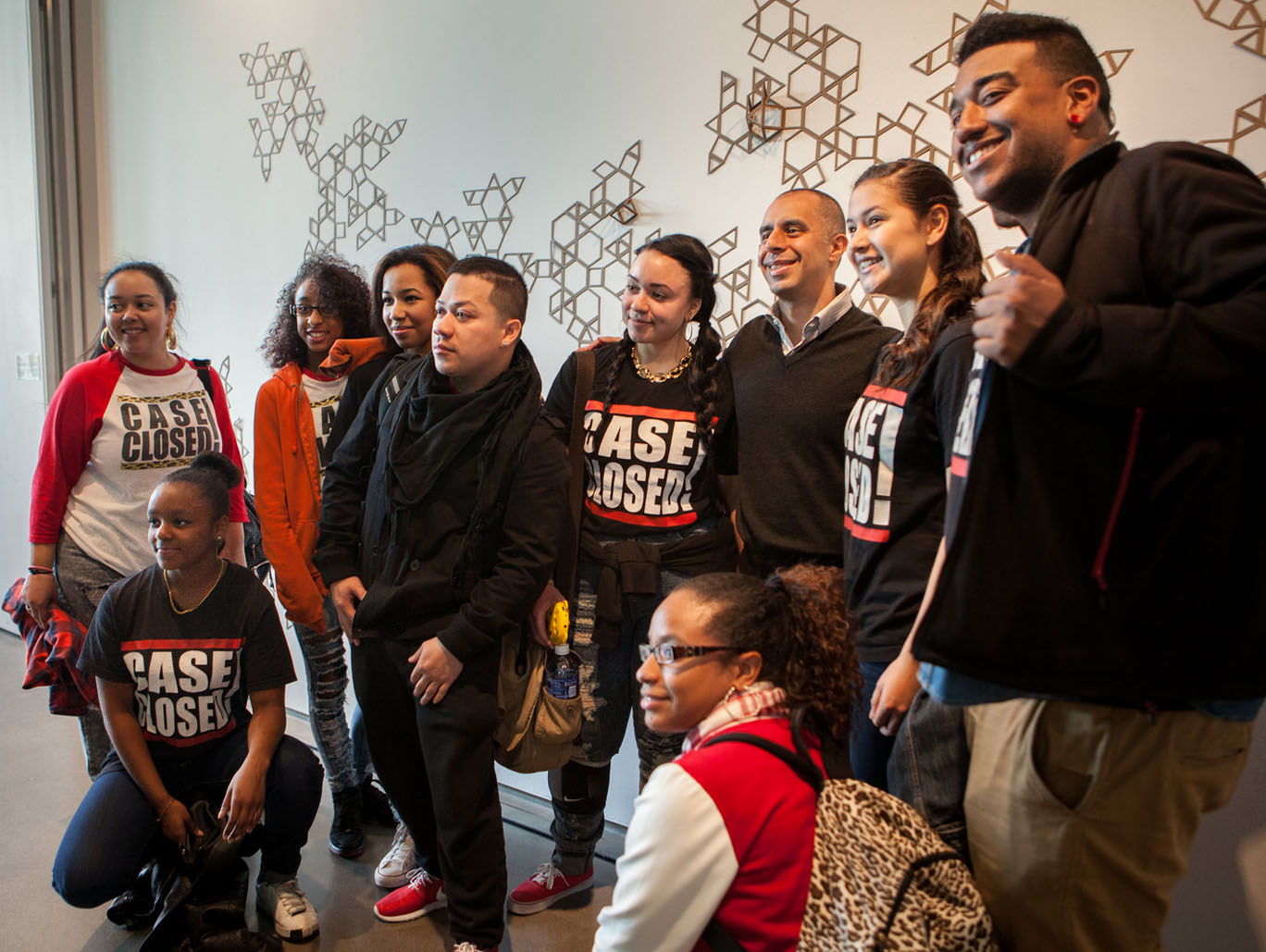 The event was sponsored by the Creative Arts Council, Brown 250+, and the Brown University Departments of Music, Visual Art, and Theatre Arts and Performance Studies, in collaboration with the Providence Youth Arts Collaborative.
The unique architecture of the Granoff Center allowed several events to happen simultaneously, while participants in one room could peer up or down into the activities in another. "I liked seeing the dancers," said Lincoln Knapp, 8, of Providence, who came to join the celebration with his mom and brother. "And it's cool how you can see into the other rooms."
According to the Department of Theater Arts and Performance Studies, the event "paid tribute most especially to the work of the youth who collaborate with the adult artists and staff, and who are poised to be our community's future leaders and innovators. They [presented] a full day of exhibits, performances, workshops, and conversations ... imagining a future of art, innovation and civic engagement at Brown and in Providence."
Performances and workshops featuring youth from AS220 Youth, The Avenue Concept, Cased Closed! of Everett Company, Community MusicWorks, DownCity Design, Girls Rock! RI, The Manton Avenue Project, New Urban Arts, Project 401, Project Open Door, Providence CityArts for Youth, Trinity Rep Young Actors Studio, and Youth In Action.