At a meeting held on the Brown campus Monday, July 21, 2014, the Rhode Island Science and Technology Advisory Council (STAC) announced six grants for local researchers totaling $445,092. Three of the six involved collaborative research between Brown and the University of Rhode Island.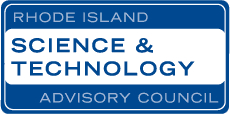 PROVIDENCE, R.I. [Brown University] — Four Brown University researchers will receive grants for collaborative research from the Rhode Island Science and Technology Advisory Council (STAC). The grants, announced this week, aim to advance research projects that are collaborative across institutions, well-positioned to receive follow-on funding, and with significant technology development and commercialization potential.
Gang Xiao, professor of physics at Brown, and Qing Yang from URI will receive funding to develop new storage systems for big data applications.
Li-Qiong Wang, lecturer in chemistry at Brown, and Brenton DeBoef from URI were funded to develop a noninvasive molecular imaging technique to help diagnose disease.
Pradeep Guduru, professor of engineering, and William Patterson, senior lecturer in engineering, both at Brown, received funding for an ultra-high speed infrared imaging system to detect fractures in materials. Guduru and Patterson will work with Arun Shukla from URI.
Each research group will receive $75,000. More information is online.