From Thomas Jefferson's own cipher to the algorithms that enable digital image editing, math offers an almost limitless menu of experience. Thirty-one 10th- and 11th-grade girls plunged in at GirlsGetMath camp this month.
PROVIDENCE, R.I. [Brown University] — Young women from all over Rhode Island gathered at Brown last week for a summer camp completely devoid of cabins, canoes, and campfires. This camp was all about the math.
The weeklong retreat, called GirlsGetMath@ICERM, drew 31 young women entering 10th and 11th grades to ICERM, Brown's National Science Foundation math institute. The idea behind the annual program, which was offered for the first time this year, is to nurture an interest in math among young women and keep them on track for math-heavy careers in which women tend to be underrepresented.
"Mathematics opens the door to a huge variety of careers requiring quantitative skills, logical reasoning, and the ability to deal with data," said Jill Pipher, director of ICERM. "These careers range from healthcare to finance, from engineering to business, and are key to the nation's economic future. In the United States, women are underrepresented in many of these careers, and some people believe that we are losing them at a very early stage in education."
Research has shown that young women tend to hit a roadblock in their math education in the middle school and high school years, said Irina Mitrea, a mathematics professor at Temple University and the faculty leader of this year's GirlsGetMath program. Girls who report an interest in math going into high school have a tendency to lose that interest by the time they graduate. That's the problem the camp aims to address. All of the young women who attended expressed a math interest, and the organizers hoped to stoke that fire by showing the wonder, beauty, and usefulness of math in all kinds of different arenas.
"We choose topics that really spark curiosity and that are surprising," Mitrea said. "We want them to be excited about the topics, but we also want them to grow. These are all challenging topics. We care at the end of the day that they know more mathematics than they knew when they came in."
The camp kicked off with a bit of history. When Thomas Jefferson was secretary of state, he used a coding system he designed himself to exchange messages with diplomats and generals. Jefferson's wheel cipher consisted of 26 wooden discs — one for each letter of the alphabet — that rotated on a spindle. The students learned how the system worked and made their own ciphers from Styrofoam cups.
Later in the week, lessons took on a decidedly more modern flavor. The students learned the basic matrix algebra that underlies photo editing programs like Photoshop and Instragram. They also learned about the algorithms that drive the search engines we use everyday on the Internet and even created their own search engines in an afternoon lab exercise.
Anna Aloshine, who will be a junior next year at LaSalle Academy in Providence, said the lessons at the camp expanded upon what she learns in her regular classroom.
"It's going in depth from what we learn in class," she said. "It's relevant for me because I want to go into computer science, and today we're learning image filtering. It's a great experience if you're going into a career that uses math in any way. We're learning so much."
Students also seemed to appreciate the surprising nature of the lessons.
"I liked the [Jefferson] codes," said Katelyn Heuer of Middletown, R.I. "It was something I wouldn't have known, something new and interesting."
One of the important things about the program, Pipher said, is that it's open to any young women with the interest to participate.
"A weeklong math day camp for girls that is interest-based, and not merit-based, is unique, I believe," Pipher said. "Most of the programs I know of for this age group are either not for girls only, or have admission requirements."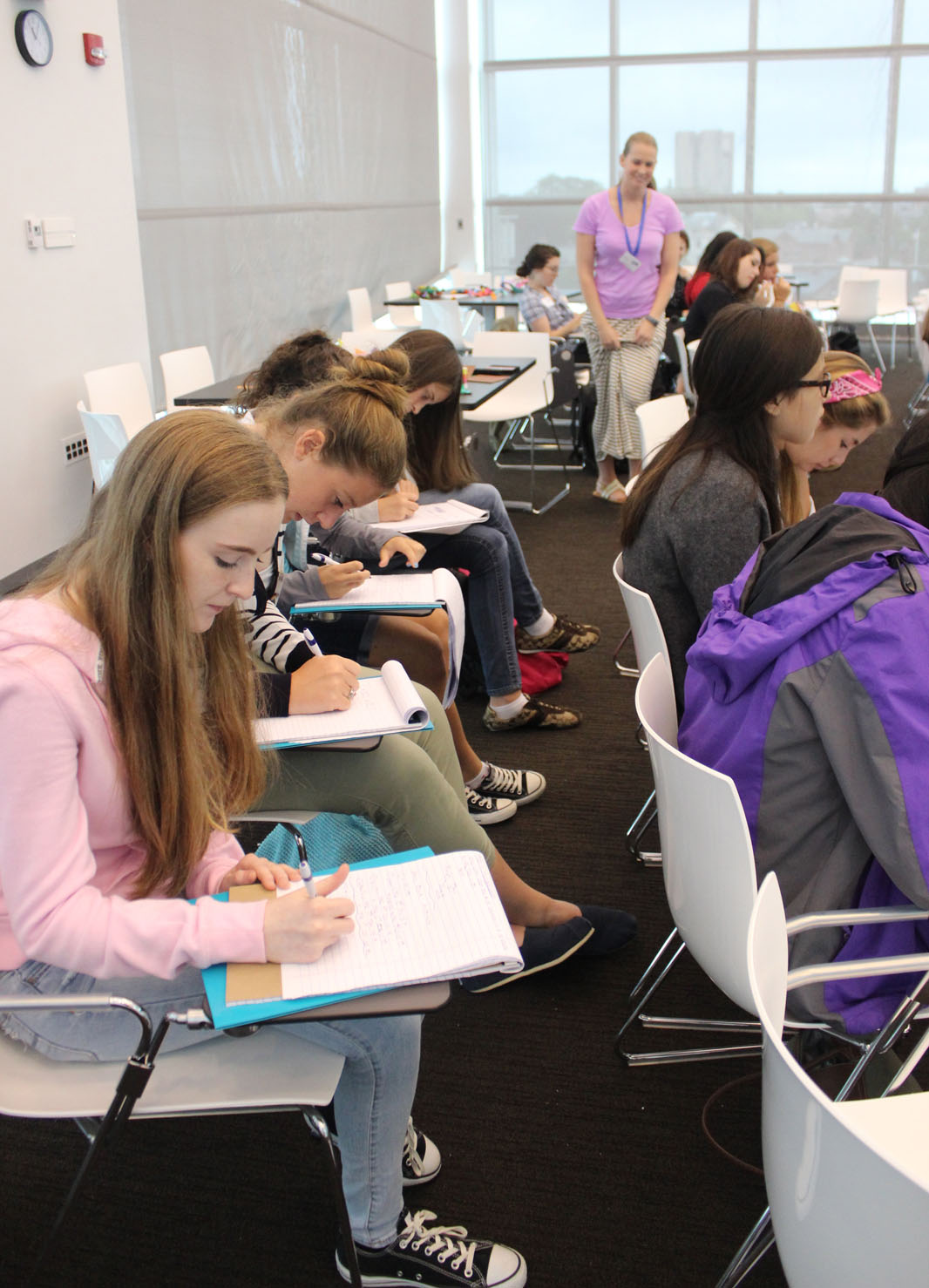 GirlsGetMath@ICERM was supported by grants from the Phoebe Snow Foundation, a California based nonprofit, and the Mathematical Association of America. The organizers hope that what was started at Brown could be a template for similar programs nationwide.
"Our long-term goal would be to make ICERM a training ground," Mitrea said. "We want to create something that it is portable so that people who want to have this at their own institution won't have to reinvent the wheel."
If the young women in attendance at Brown are any indication, the program will be welcome elsewhere.
"It's really great that we're able to have this experience," said Aloshine. "Math is a field that's dominated by males, so it's great for us to be able to get engaged in math and science."