The 2014 Solar Decathlon has drawn to a close. The RISD/Brown/Erfurt team brought home top ten finishes in four events, along with an experience they'll never forget. Techstyle Haus, their one-of-a-kind solar home, now heads for its final stop — an arts retreat in France where it will serve as housing for visiting artists.
PROVIDENCE, R.I. [Brown University] — The challenge was daunting. Design a highly efficient solar-powered house from scratch; build it with materials that have never been used before in residential construction; then figure out how to get the whole thing to France for an international competition.
That, in a nutshell, is the story of Techstyle Haus, a self-sustaining solar home built by students from the RISD, Brown, and University of Applied Sciences Erfurt in Germany for the 2014 Solar Decathlon Europe. The competition, which wrapped up earlier this week in Versailles, France, challenged 20 collegiate teams from all over the world to build efficient, comfortable, and sustainable solar homes.
Each house was judged in ten different categories during the two-week competition. The Techstyle Haus team brought home a third place in Comfort Conditions and top ten scores in Communications and Social Awareness, House Functioning, and Energy Efficiency. They finished in 14th place overall.
The winning house was Rhome for Dencity, designed by students from Università degli Studi Roma Tre in Rome, Italy.
"The Solar Decathlon has been an amazing and crazy experience," said Helen Bergstrom, a rising senior in Brown's School of Engineering and a Techstyle Haus team member. "It was an incredible opportunity to show our peers, professionals and the world that 35 students are capable of building the future."
Techstyle Haus wore its futuristic design on its sleeve. Its gracefully curved exterior shell is made from a flexible textile material supported by steel structural ribs. The material, called Sheerfill II Architectural Membrane, is generally used on the roofs of domed sports stadiums and airplane hangers, but has never before been used in residential construction. The textile wall assembly combined highly efficient insulation with materials that resist fire and dampen sound. The design enables Techstyle Haus to use up to 90 percent less energy for heating and cooling than a standard U.S. house. It gets all the electricity it needs from two solar arrays specially designed to fit the house's curved roof.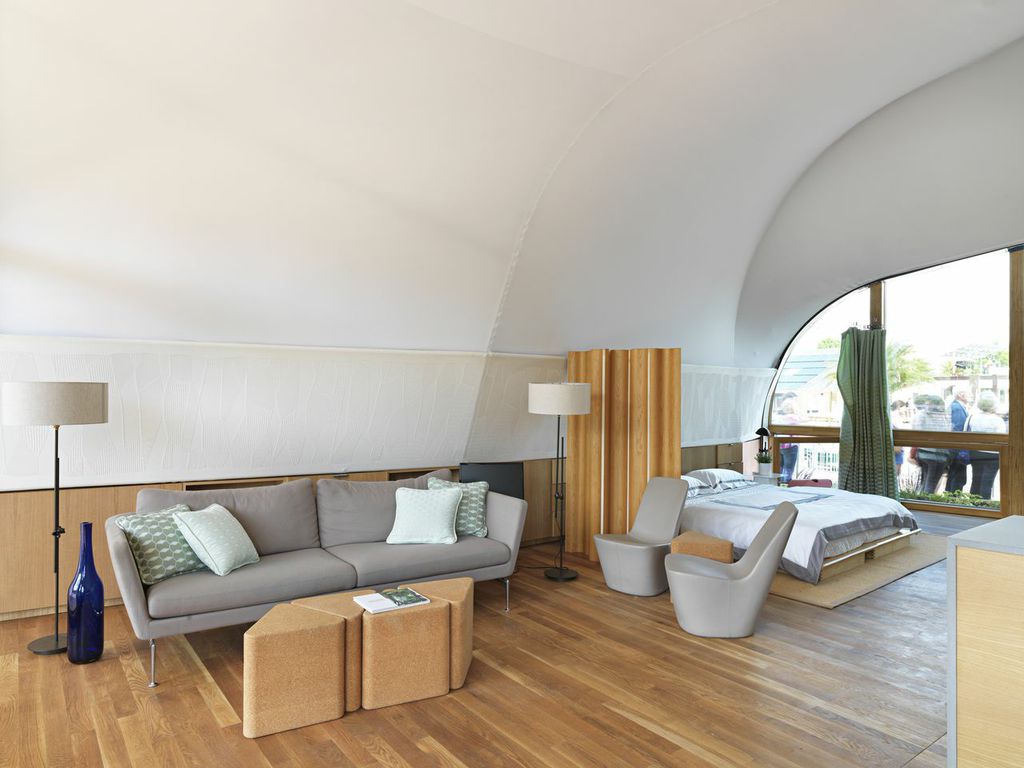 Everything about Techstyle Haus is designed to maximize efficiency and sustainability. Heat from appliances and occupants' bodies is recycled to minimize the energy required the keep the house warm. When the outside temperature rises, phase-change materials in the house's mechanical core change from solid to liquid, trapping unwanted heat in the process. When the temperature cools, the materials solidify, releasing that trapped heat to keep the house warm. Even greywater from sinks, showers and appliances is filtered and recycled to irrigate gardens that surround the house's exterior walls.
During its two weeks at Versailles, an estimated 20,000 people toured Techstyle Haus. The team was encouraged by the feedback they received from visitors.
"Leading public tours at the Cité du Soleil has been an extremely rewarding experience, and it has been especially exciting to receive such positive feedback from the general public," said Isby Lubin, a rising junior in Brown's School of Engineering. "People have been pleasantly surprised by the acoustics and volume of the interior space. Few things have been more fulfilling than the offers by some of our visitors to move into our house."
Techstyle Haus was a project nearly two years in the making. After developing a preliminary concept, the team was accepted into the competition in December of 2012. After refining their designs, engineering the house's key systems, and enlisting sponsorships from companies all over the world, the team started construction in February 2014 in Providence. Stateside construction wrapped up in May. The house was then dismantled, shipped to France, and reassembled in Versailles for the competition.
The students are currently dismantling Techstyle Haus once again in order to move it to its final destination. The house will provide student housing at Domaine de Boisbuchet, the site of annual interdisciplinary art and design workshops in Lessac, France.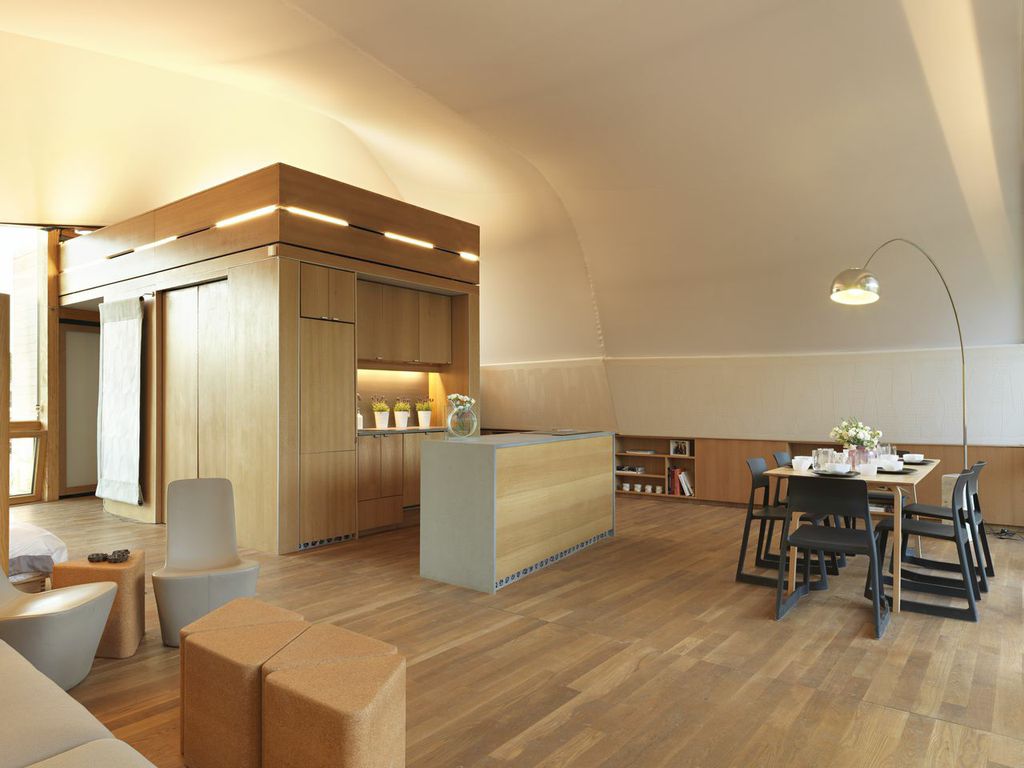 "I'm delighted that [the house] will continue to inspire and to turn heads at its permanent home at the Domaine de Boisbuchet," said Derek Stein, associate professor of physics and engineering at Brown and a faculty advisor for the project. "More importantly, Techstyle Haus has built a cohort of students who understand how to improve the housing sector. I hope that many will choose to design sustainable housing, develop energy efficient building materials, or push for stricter building codes."
That experience is one that the team members say they'll never forget.
"We're all so proud of what we've done here," said rising Brown junior Gareth Rose, "and I can't think of a more enlightening way to have spent the last two years."