This week, Vice President for International Affairs Matthew Gutmann travels to Brazil, where he'll sign agreements with two local agencies that will serve to strengthen scholarship and research ties between Brown and the South American country, including one that will bring a Brazilian scholar to Brown each year to teach. He'll also join a delegation from the Alpert Medical School that will be touring area medical schools and meeting with health researchers. Gutmann spoke with Courtney Coelho about his trip and Brown's ongoing relationship with Brazil.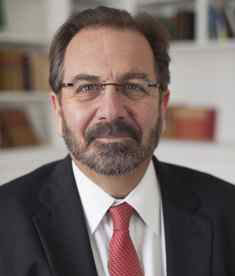 Explain the agreement you are signing that will bring an expert from Brazil to Brown each year.
After several years of discussions, the Brazilian Federal Agency for Support and Evaluation of Graduate Education, known as CAPES, has generously offered to fund a visiting professor chair in the humanities, social sciences, or sciences that will bring a different distinguished scholar to Brown for at least one semester each year. Once the agreement has been signed this week, we will begin looking for a candidate to serve as the inaugural chair and we expect to bring the inaugural chair to Brown within the next two years.
What is the significance of this agreement?
This honor is a recognition by the Brazilian government of both Brown's standing as a leading global research university as well as its particular strengths of and in Brazil from a wide range of disciplines.
You'll also be signing an agreement with a local funding agency in São Paulo. What does that agreement entail?
The agreement with FAPESP, the São Paulo Research Foundation, will pave the way for promoting and supporting research projects involving researchers from public and private research and teaching institutions in São Paulo and researchers at Brown. Some of the areas of research we are discussing include environmental studies, public health, and urban studies.
A delegation from the Alpert Medical School will also be visiting Brazil with you. Who's going and what is the purpose of their visit?
In Brazil, I will be joining Edward Wing, dean of medicine and biological science; Susan Cu-Uvin, director of the Global Health Initiative at Brown, professor of obstetrics and gynecology,  professor of medicine, and professor of health services, policy and practice; Cesario Bianchi, associate professor of surgery; Bharat Ramratnam, associate professor of medicine, head of the Laboratory of Retrovirology in the Department of Medicine, and director of the COBRE Center for Cancer Research Development at Rhode Island Hospital; and Sarah MacCarthy, postdoctoral fellow at the Alpert Medical School. We will spend the week visiting area medical schools as a way to strengthen ties with Brazilian researchers in medicine and health.
Why is Brown interested in making connections like these?
Brown has a long and distinguished history of research and teaching about Brazil, from studies of Portuguese language and literature to contemporary Brazilian history to work stretching more than 20 years in environmental sciences like biology and geology. In all, some 30 faculty focus a significant part of their work on and in Brazil, and we have been thrilled to count on our faculty former Brazilian president Fernando Henrique Cardoso and human rights rapporteur and scholar Paulo Sérgio Pinheiro among others. Brown has significant agreements signed in the last few years with IMPA, the leading institution for mathematics in Brazil, with the Universities of São Paulo and Campinas, as well as ongoing collaborations with several other Brazilian universities. Brown undergraduates study in Brazil at the Catholic University in Rio de Janeiro. Top science and engineering students from Brazil are today studying at Brown through the Science Without Borders program, and our graduate students carry out cutting-edge research in major cities and the Amazon.
How do you see Brown's relationship with Brazil expanding in the future?
Across the campus and with close colleagues in Brazil, Brown is expanding and building out collaborations and exchanges, including explorations in the fields of engineering and brain science, to ensure that the best scholars and scientists are working together to help solve the most pressing challenges the world is facing today, from environmental degradation to infectious disease to economic inequality.