The University is launching the Brown-India Initiative, which will bring an interdisciplinary roster of international scholars and other experts on issues facing contemporary India to Brown for a series of public lectures and events, while also fostering research in those areas. A lecture on Friday, Sept. 28, 2012, by Indian Minister of External Affairs S.M. Krishna will inaugurate the Initiative's first year of activities.
PROVIDENCE, R.I. [Brown University] — The University is launching the Brown-India Initiative, an interdisciplinary hub for the study of contemporary India through research and a series of public lectures and events throughout the academic year. The Initiative will be based out of the Watson Institute for International Studies.
The Initiative's goals are twofold: to produce first-rate academic research, and to contribute to public discourse on, and in, India through talks, events, and the convergence of figures from across the lines of academia, civil society, literature, public policy and journalism.
"Developments in India are generating enormous intellectual and practical curiosities," said Ashutosh Varshney, the Sol Goldman Professor of International Studies and the Social Sciences and director of the Brown-India Initiative. "The rapid pace of change over the last two decades has led to exciting research puzzles. New challenges have also been posed for the politics and economics of the country. By promoting research on questions of contemporary political and economic relevance, Brown University can play a significant role in analyzing key issues and can influence public debates about the future evolution of India."
The Brown-India Initiative will promote research in economics, politics, urbanization, national security, domestic conflict management, and other areas and will work with partners in India to conduct that research. Those partners include the nonprofit organization Janaagraha, in Bangalore, and the Center for Policy Research and the National Council of Applied Economic Research, both in Delhi.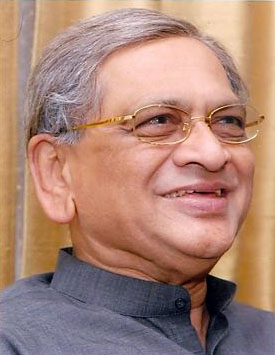 The Initiative will inaugurate its first year of activities with a lecture by S.M. Krishna, India's minister of external affairs, at 3:15 p.m. Friday, Sept. 28, 2012, in List Art Center, 64 College St., Room 120.
During his lengthy political career, Krishna has served in several posts in the Indian government, including minister for commerce, industries and Parliamentary affairs, speaker of the Karnataka Legislative Assembly, chief minister of Karnataka and governor of Maharashtra before he was elected as minister of external affairs in 2009. Widely traveled, Krishna was a member of the Indian delegation to the United Nations in 1982 and a delegate to the Commonwealth Parliamentary Seminar at Westminster in 1990.
Krishna's lecture is the first of a year-long series public presentations to be offered by the initiative throughout the academic year. The series is designed to advance public understanding of contemporary Indian issues and to bring greater attention to India's growing importance in the world. The series will bring internationally known figures in academia, civil society, literature, public policy, and journalism to Providence. All events are free and open to the public.
In addition to the inaugural lecture by Krishna, the institute will feature a number of other observers of contemporary Indian political and cultural society:
Kaushik Basu, chief economist of the World Bank, will deliver a series of two talks as part of the inaugural O.P. Jindal Distinguished Lectures, established to promote serious discussion of politics, economics, social and cultural change in modern India. Basu's lectures will focus on two decades of India's economic reform.
Rana Dasgupta is a British Indian novelist and essayist currently living in Delhi, India. He is the author of two novels, Tokyo Cancelled and Solo.
Barkha Dutt, group editor with NDTV, India's premier news and current affairs network, is one of India's best known journalists and television anchors. As Brown's inaugural Meera and Vikram Gandhi fellow, Dutt will be in residence at the University and will work on her book The Unquiet Land: Exploring India's Fault Lines.
Partha Chatterjee, professor of anthropology and of Middle Eastern, South Asian and African studies at Columbia University.
Uday S. Mehta, distinguished professor of political science in the Department of Political Science at the City University of New York. He is a renowned political theorist whose work encompasses a wide spectrum of philosophical traditions.
Simon Chauchard, assistant professor in the Department of Government at Dartmouth College.
Rachel Dwyer, professor of Indian cultures and cinema at SOAS, University of London, will offer two presentations.
Emmanuel Teitelbaum, assistant professor of political science, George Washington University, will present a lecture on Maoism in central India.
A complete lecture series schedule and additional information about the Brown-India Initiative can be found online at www.brown.edu/initiatives/india/