Brown University's herbarium, believed to include more than 100,000 specimens of plants, fungi and other natural treasures, will begin moving into a newly renovated space next month that director Erika Edwards says is "beyond my wildest dreams." In addition, a new grant will allow her team to digitize and catalog the entire collection.
PROVIDENCE, R.I. [Brown University] — Plant biologist Erika Edwards wasn't alive during the 1920s, but she knows from the dates on thousands of samples in the Brown University Herbarium that the Jazz Age was the Golden Age for botany at Brown. Next month, the precious collection will rise again — literally, as it ascends from its tight quarters in the basement of Arnold Lab to a spacious, modern home on the second floor of the BioMedical Center. Then the revival will extend it into the Digital Age.
Edwards took over stewardship of the herbarium in 2008, almost a quarter-century after the massive collection had been tucked into its current location more for storage than display or study. The preserved, paper-mounted specimens lay in stacks on the shelves of oak and metal cabinets nestled snugly in a single room, spaced by narrow aisles. Some cabinets don't close fully. Others are too tightly packed together to open at all. But as University-financed construction winds down in the former medical student lounge at the BioMedical Center, all that is about to change.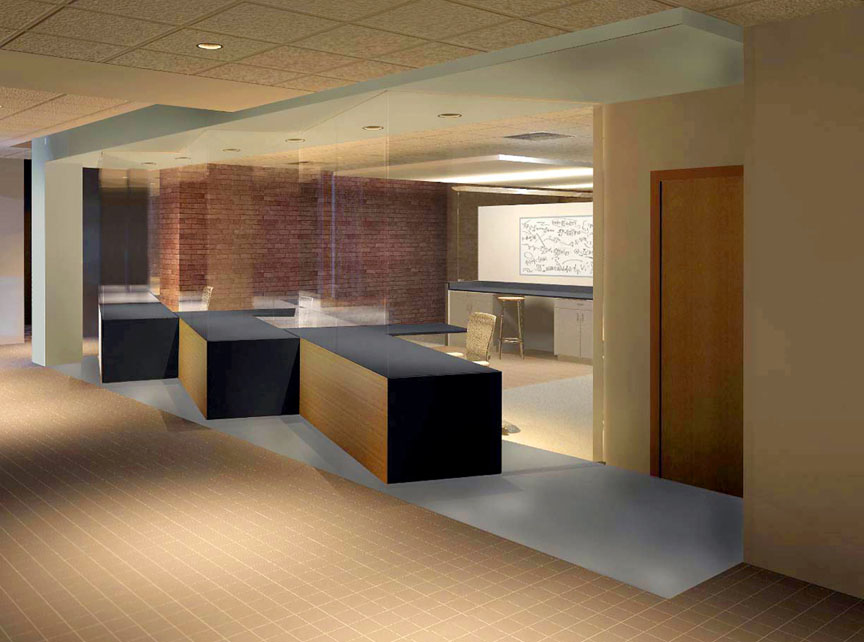 Now the herbarium will occupy a more inviting and functional 1,600-square-foot space divided into four custom-designed rooms. It will have climate-controlled collection storage, a prep room for processing new specimens, a specialized room for studying and working with the samples, and an office for collection manager Kathleen McCauley.
"This is beyond my wildest dreams," Edwards said. "This is going to be a beautiful herbarium."
The new facility will be open to the public by appointment and is sure to make working with the collection much easier for researchers at Brown and beyond.
'Strange little treasures'
No one yet knows how big the collection actually is, but it is believed to include more than 100,000 mounted specimens of plants, not to mention cabinetfuls of mushrooms, lichen, algae and other forms of life. Many are rare and some may even be unique, like Brown's full set of British mosses from 1818 (many European herbaria were destroyed during World War II).
"We're finding strange little treasures like that, that nobody knew existed," Edwards said.
One recent find, a Castilleja guadalupensis, from Guadeloupe Island off the coast of Mexico, is now extinct. It can only be found in herbaria.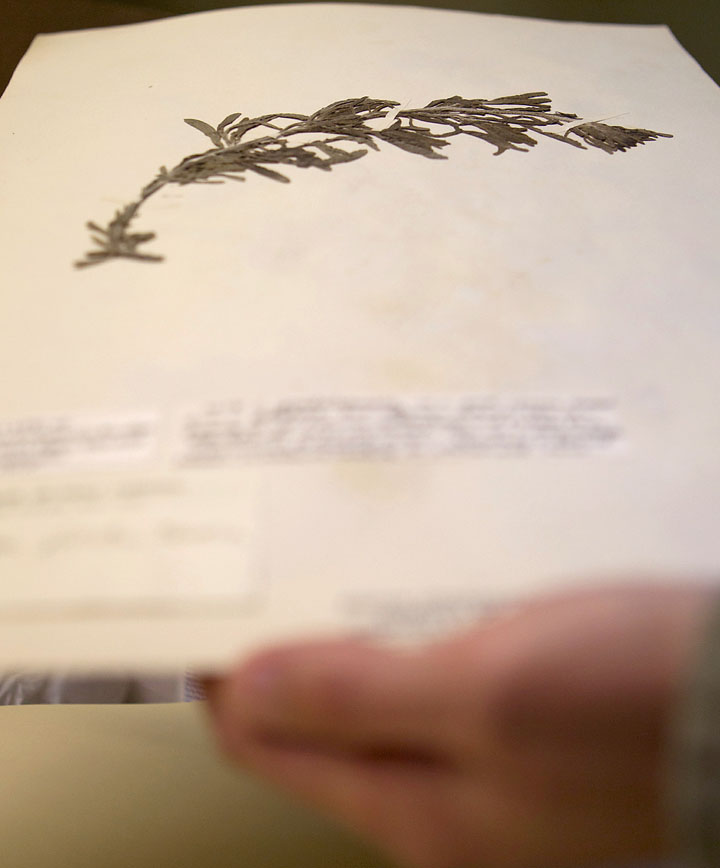 Many more treasures are sure to be rediscovered as the collection moves to its new spaces and then as a National Science Foundation-funded project to catalog and digitize the collection begins. Brown is one of about a dozen herbarium sites around New England to share in the $2.4-million effort to create a visual, computerized database of millions of samples overall.
Digitizing and imaging at Brown will begin in earnest in the latter half of 2013, said Edwards, who will use some of theUniversity's $160,000 share of the award to hire undergraduate helpers.
More than preservation
The effort to revive, catalog and digitize the herbarium are about more than preserving historical samples. Plant biologists continue to rely on such collections both for teaching and for answering active research questions (for her work Edwards has traveled to herbaria as far flung as Borneo). The NSF grant includes funding for a study that will examine whether plants have begun to flower earlier in the year now than they did a century ago. Such a hypothesized shift in phenology derives from bigger questions about climate change. New England's herbaria can help answer them.
For centuries, herbaria have been where biologists go to piece together how species differ and how they are related. Classically, they've studied the form, or morphology, of plants, and more recently they've compared the plants' DNA. Herbaria continue to support both methodologies.
"We want to build the tree of life," she said. "We want to understand how all the branches on the tree of life are related to one another."
The collections also allow biologists to define individual species, Edwards said, and house archetypal versions of species.
"Most people accept that, say, Arabidopsis thaliana, for example, is an actual distinct entity, but someone had to sit in an herbarium with hundreds of specimens and sort out what makes thaliana, well, thaliana," she said. "Describing species is a real fundamental building block to all the rest of biology."
The value was surely obvious to the University's earliest herbarium benefactors, Steven Thayer Olney, James Lawrence Bennett, and W. W. Bailey, who built the collection in the early 1880s. Then as now, the herbarium had its ups and downs, moving from a library basement to Manning Hall, then to Maxcy Hall with facilities considered modern for the time.
With a botanical renaissance afoot, Edwards beams about the potential for the herbarium to grow again.
"A new day is dawning here," she said. "It's really exciting."
Plants, even preserved ones, thrive in the light of a new day.