The new 134,000-square-foot home of the Warren Alpert Medical School allows the M.D. class size to expand by 20 percent and provides educational enhancements and student amenities, including new infrastructure for electronic information access. At the grand opening today, elected officials joined Brown officers in celebrating the building, which is built to meet LEED Gold environmental sustainability standards, for its potential to accelerate the local and state economy. (See
fact sheet
on the construction project.)
PROVIDENCE, R.I. [Brown University] — The first day of instruction for the class of 2015 at The Warren Alpert Medical School of Brown University was also the opening day for the new medical school building where the class will learn to become doctors during the next four years. The doors are officially open at 222 Richmond St., the school's first real home.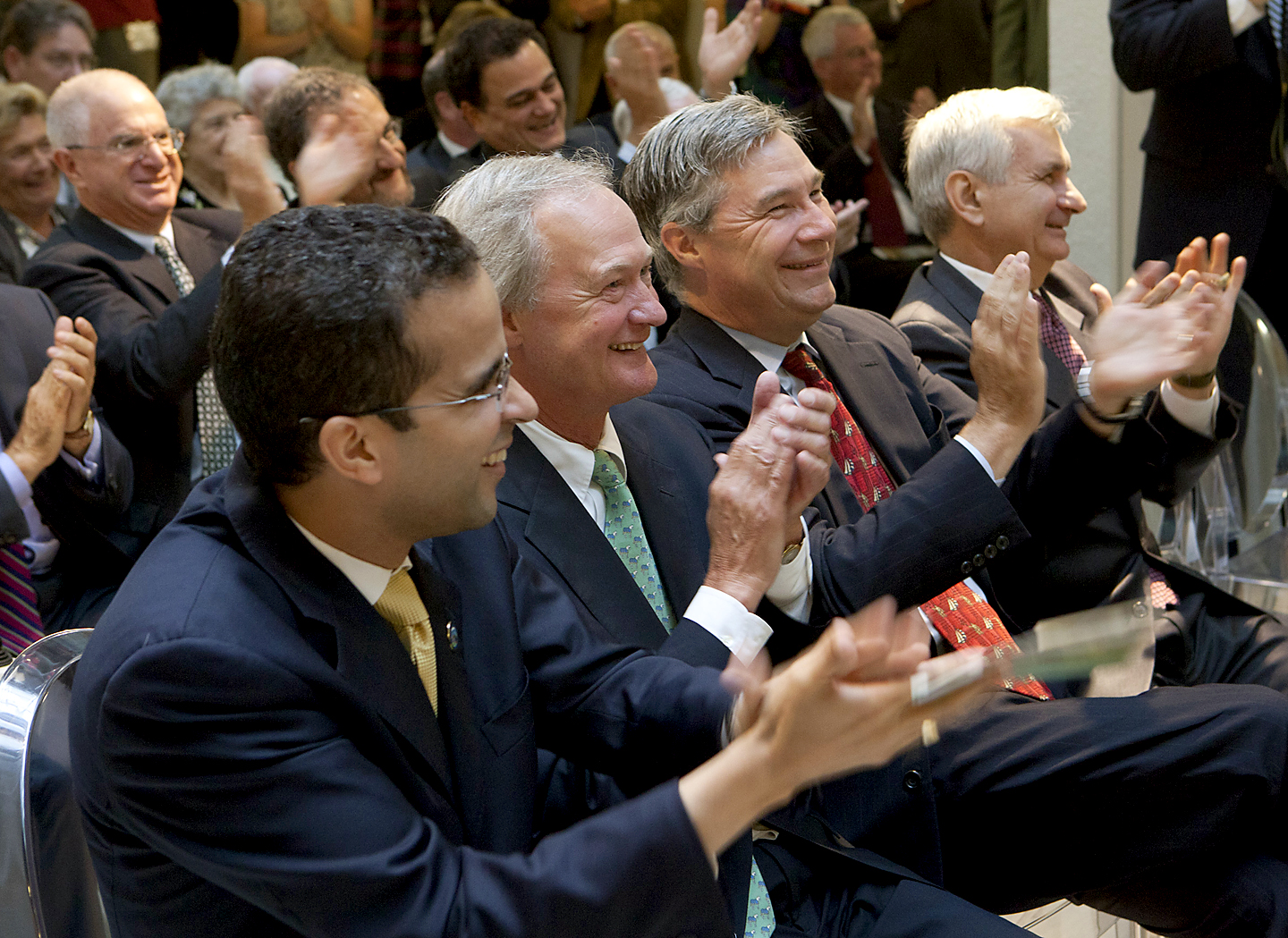 "This is a milestone in so many respects," said Brown University President Ruth J. Simmons. "It promises important advances in research and health care for our state and country."
About an hour after the first class let out, Simmons and Edward Wing, dean of medicine and biological sciences, officially opened the building at a midday ceremony. Joining them were U.S. Sens. Jack Reed and Sheldon Whitehouse, U.S. Reps. Jim Langevin and David Cicilline, Gov. Lincoln D. Chafee, Mayor Angel Taveras and second-year medical student Jenna Lester. Each talked about the importance of the building not only for Brown, but also for the Jewelry District, the city and the state.
"I believe it is a catalytic moment in the history of Rhode Island," said Chafee, who said that academic institutions and hospitals will work together to grow the state's economy.
The building, built in 1928 as a jewelry factory, is now the first facility designed exclusively for medical education in the Alpert Medical School's 39-year history.
Referencing the Speidel "Twist-o-Flex" watch band that was a local innovation, Reed drew a parallel between the building's history as a factory and its new role in supporting an emerging biotech industry. "This small area, the Jewelry District, grew up on the Twist-o-Flex," he said. "Well, the future is the double helix and that is what this building is going to allow."
A student-centered medical home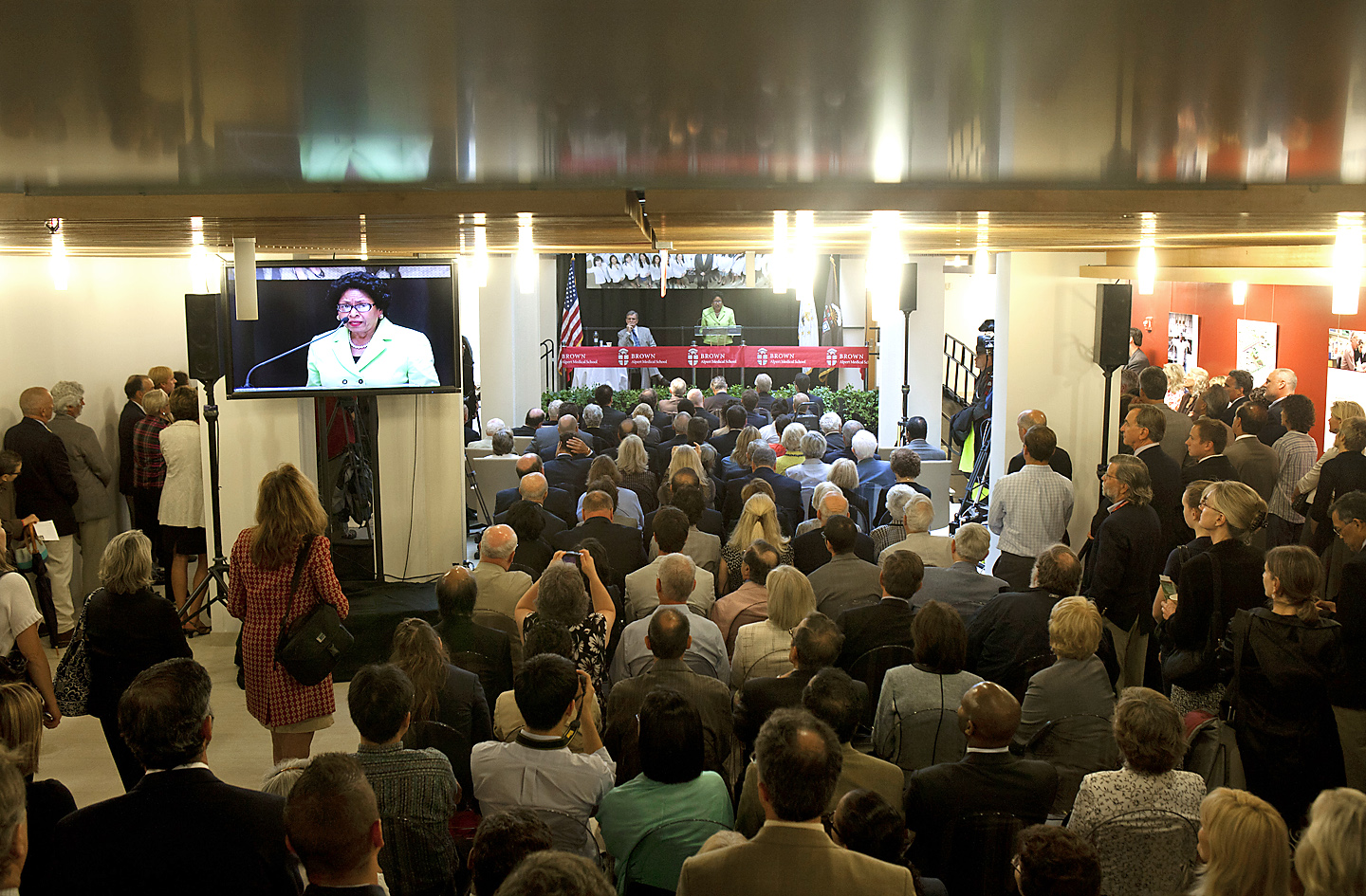 In four floors and 134,000 square feet, the building will allow yearly enrollment to expand by some 20 percent to 120 in 2012. The building also provides new lecture halls, case-study rooms, a bright well-ventilated anatomy lab and a 16-room "clinical simulation suite," which incorporates exam rooms where first- and second-year students can practice their doctoring skills.
Much of the second floor is devoted to three "academies" where groups of 40 students from each of the four class years will be grouped together to study, interact, socialize, and use advising services. The academy system promotes collaboration and mentoring among class years.
"This space is terrific — it's more than what we hoped for," Wing said. "It's a much friendlier, nicer atmosphere than when I went to Medical School."
The building's library provides students with access to a full-time librarian, yet it hosts almost no printed books. Instead, the library offers space and connections for computers and iPads to connect to vast online resources. Similarly, the building has power outlets at all lecture and seminar room seats and wireless Internet throughout to allow students to stay connected all day. Beginning this year, the medical school is making a transition to the use of iPad-based electronic textbooks.
Simmons emphasized that the building is first and foremost for the students, who will in turn give back to society as physicians. "This structure is for you," Simmons said. "It is about you. It is about preparing you to serve in an area vital to the public good."
Second-year student Jenna Lester agreed that the building will improve the student experience.
"Believe it or not 222 Richmond St. gives us medical students a reason to be excited about studying," Lester said. "No longer will we be on the never-ending prowl for study space, scattered among various classrooms and buildings on Brown's campus, never quite finding a space of our own."
Economic, community impact
Before an audience of about 300 guests at the grand opening, several public officials noted that the building is more than a collection of classrooms, labs and offices. By bringing about 500 medical minds to the heart of the Jewelry District, for example, the building will also be an important accelerator of biomedical economic growth in the Jewelry District, which is already the location of three major hospitals, many biotech startups, the Rhode Island Center for Innovation and Entrepreneurship, and the Laboratories for Molecular Medicine, one of Brown's premier biomedical research labs, at 70 Ship St.
"I think we see that economic engine in biotechnology," said Langevin, whose district includes the neighborhood. "I have no doubt that this whole area will soon become a state and regional hub for research-driven entrepreneurial development. It wouldn't happen without a premier academic institution already in place."
Taveras agreed that acedmic-government partnership can drive economic growth. "I look forward to working with you to see this area become that foundation of our new economy," he said. "I know that together we can make that happen."
Already the building has had an economic impact. The $45-million renovation that began in April 2010 created about 425 temporary construction and related jobs.
With the building, Brown has committed to a variety of community enhancements including a new shared substation for Brown and Providence police, a new park space on the opposite corner of Richmond and Ship Streets, a new bagel café, new paving on Richmond and Ship streets, and new trees and sidewalks along Richmond Street.
In keeping with the University's commitment to environmentally sustainable construction, the building will be submitted for LEED Gold status. Starting from the environmental advantage of reusing an existing structure and site, the building's design by architects Ellenzweig Associates of Cambridge, Mass., incorporates numerous water- and power-saving features. General contractor Suffolk Construction of Boston, Mass., employed low-landfill handling of construction debris.
Wing said the building's transformation is a microcosm of the economic rebirth of the area.
"It's restoring an old strength of Providence, the Jewelry manufacturing industry, and turning it into a new strength for the city and state," Wing said. "It will be education, medical care, research, and biotech and retail. This is a renaissance for the city of Providence and this building will be one of the important keystones for that."