Getting a firsthand look at New England schools, a group of 24 teachers, principals, and government school officials from Shenzhen, China, is visiting Brown for four weeks, comparing how American education practices differ from their own.
What interested them most was homeroom. The typical, even somewhat banal start to most American school days became the subject of a lively bilingual discussion at Esek Hopkins Middle School.
"What do you talk about?" "How often?" "Do all of the students talk over problems and issues together?" Posing these questions through a translator was a group of 24 Chinese teachers, headmasters, and government education officials taking part in the Brown-Shenzhen Summer Institute, organized by Brown's Urban Education Policy Program (UEP).
The group is at Brown for four weeks, touring nearly a dozen public, private, and charter schools throughout New England and having personal conversations with students, teachers, and administrators at each school. They are here to get a firsthand look at trends and developments in American education, classroom management and standards, teaching methods, policy, and other issues.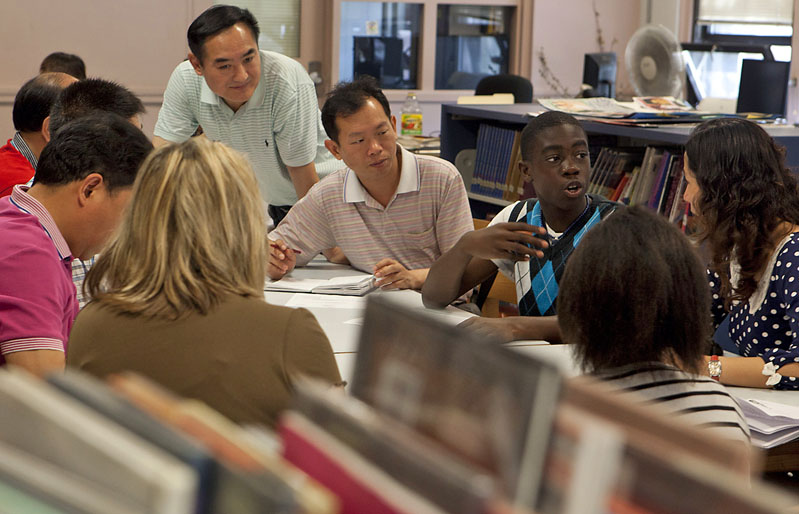 To the Shenzhen group, the concept of homeroom ("advisory groups" at Esek Hopkins) was unusual and intriguing. Several sixth, seventh, and eighth grade students helped explain that their advisory groups meet first thing each morning to help students set goals, discuss current events and issues, and address any problems. Students also fielded questions about homework load, favorite subjects, and even a bit of school history.
The middle school students then led the Chinese group on school tours, stopping in each classroom to observe - and sometimes participate in - the daily teaching and learning. The Chinese teachers and headmasters thumbed through science text books, read over assignment sheets, eyed laboratory equipment, and even asked students in an eighth grade social studies class to point out China on a map (the students had no problem).
Liang Zhu, a vice principal at Nanshan No. 2 Foreign Language School, said she noticed that "American education attaches much importance to the individuality of students." Other teachers remarked on the investment in students with special needs, the sociability of the students, and the equality between adults and students. They said that they learned helpful and important information that they will take back to their own schools and use to suggest new strategies and techniques.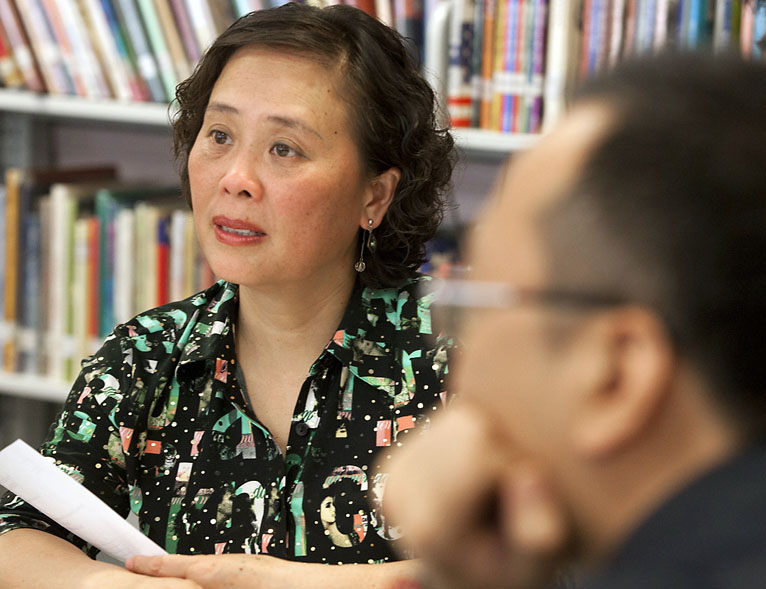 Baoguo Ruan, an English teacher at Futian Hongling Middle School, said the core difference he noticed was in student engagement. Classrooms in his school typically hold about 50 to 60 students. "It's more difficult to catch up and learn in China with so many students in the class," he said. "The most important thing we can learn here is classroom teaching reform. We should try our best to make the students really listen and really join the class and be involved."
The Brown-Shenzhen Summer Institute is one of Brown's first programs to partner internationally with a K-12 urban school district, according to Kenneth Wong, the Walter and Leonore Annenberg Professor in Education Policy and UEP director. A second cohort, a group of two dozen teachers, will come to Brown for eight weeks this fall. Wong also said faculty from Brown's Department of Education hope to launch joint research projects with teachers and administrators involved with the institute.
"Brown is committed to contributing to solutions for global challenges and urban education is certainly one of them," he said. "How do you best organize a high-functioning, high-performing school when students have a range of readiness levels? How do you best assess teachers? How do you address student motivational and behavioral problems? These are common challenges globally and this is our way to engage in that global conversation."
From the personal school tours to the small group discussions, Esek Hopkins Principal Gloria Jackson says the Chinese teachers and headmasters weren't the only ones learning something from the encounter.
"This exposes kids to a different culture, many of them for the first time," she said. "It's a great experience for the kids. I think we can all learn a lot from each other."