The David Winton Bell Gallery at Brown University presents Among the Breakage: New Painting from Providence, featuring recent paintings by 10 local artists, from Saturday, June 11, through Sunday, July 10, 2011.
PROVIDENCE, R.I. [Brown University] — The David Winton Bell Gallery at Brown University presents Among the Breakage: New Painting from Providence, featuring recent paintings by 10 local artists, on view from Saturday, June 11, through Sunday July 10, 2011. An opening reception will be held on Friday, June 10, from 5:30 to 7:30 p.m. in List Art Center. The exhibition and reception event are free and open to the public.
Curator Maya Allison collaborated with guest curator Neal Walsh, gallery director at AS220, in this survey of new painting from Providence artists. They say that Among the Breakage grew out of their observation that Providence's creative communities are more akin to an archipelago than a single island of "regional style." Work in this exhibition ranges from hard-edged abstraction to hybrid figurative landscapes and techniques that "stretch the very definition of painting."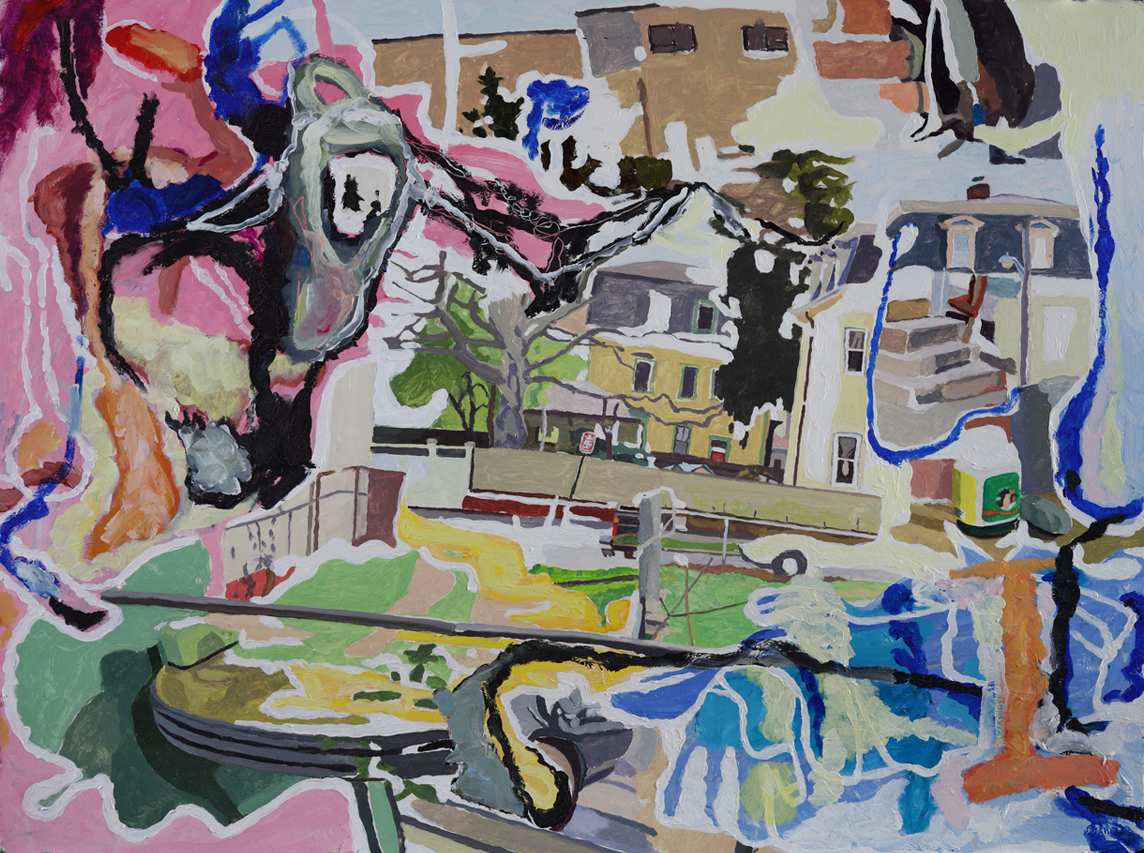 The show's title is taken from "The Dry Salvages," T.S. Eliot's poem about a hazardous group of rocks off the New England coast, around which ship wreckage drifts. According to the curators, the phrase "among the breakage" evokes both Providence's postindustrial landscape and the ways in which its artists are creating anew amidst the wreckage of Modernist painting orthodoxy.
"Perhaps due to the freedom afforded by working in the art world periphery, several of these artists are in dialogue with what Roberta Smith calls the 'maverick branch' of painting," said Walsh. "They are 'constantly stretching the medium, extending it into installation art or questioning its status as a precious, high-skill commodity.'"
"Each artist here works in dialogue with the international art world as well as with one another, creating paintings that may hint at their Providence and New England context," said Allison. "They have in common a profound dedication to their art, and uniquely individual routes to testing the limits of their process."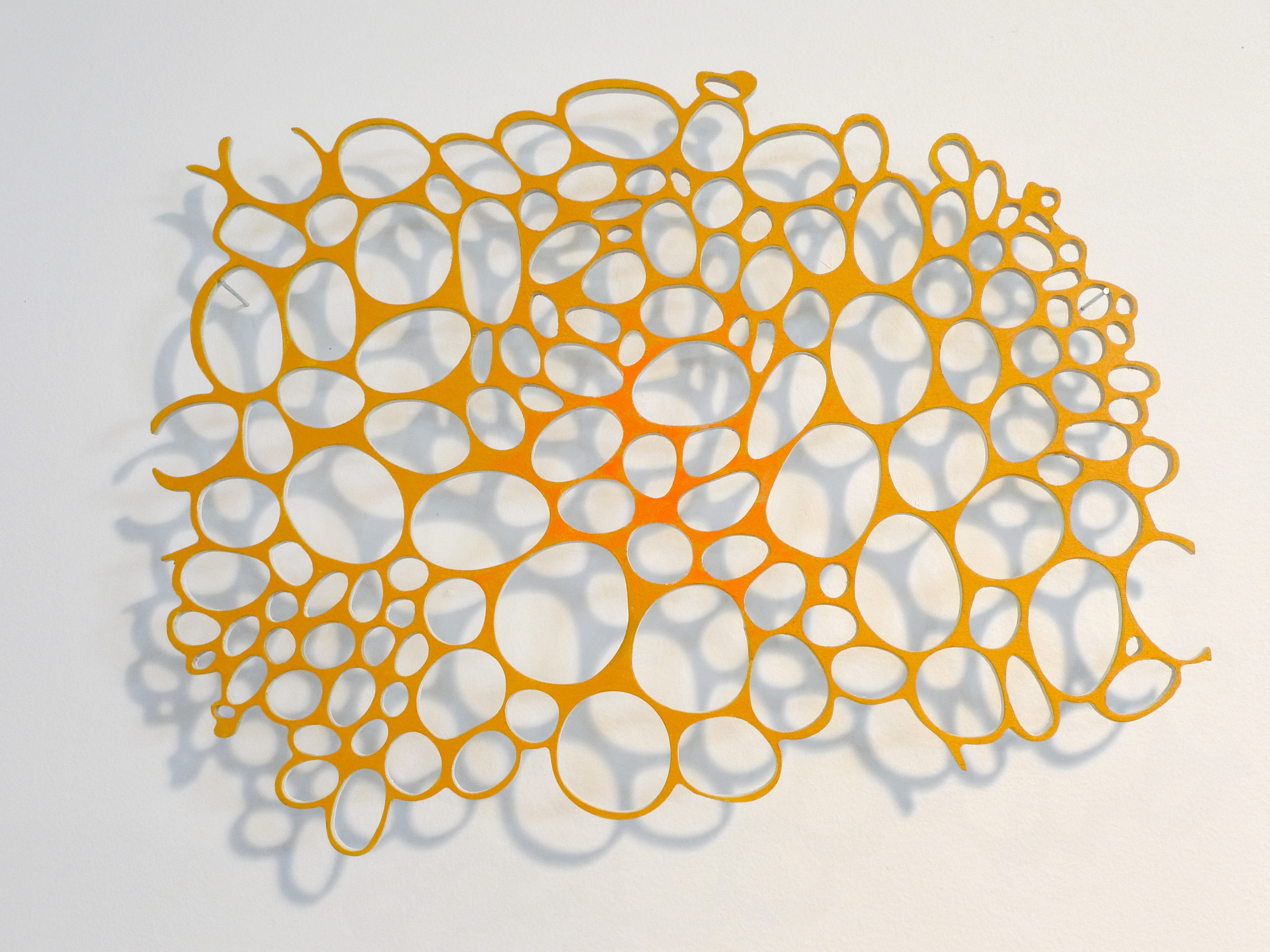 Artists of Among the Breakage
Sam Duket recently earned his B.F.A. in painting from the Massachusetts College of Art and went on to study at the Pont Aven School of Art in France. He won the Rhode Island Council on the Arts (RISCA) fellowship in painting in 2008 and is a 2011 artist-in-residence at the Bemis Center for Contemporary Arts in Omaha, Neb.
Shawn Gilheeney is an emerging printer, painter, and installation artist. Now working as a studio assistant to sculptor Dave Cole, he earned his B.F.A. in printmaking from Rhode Island College in 2008.
Ernest Jolicoeur is a mid-career artist whose work has appeared in Greater New York at P.S.1 (New York), and at venues such as Feature Inc. (New York), MACO (Mexico City), and Silverstein Gallery (New York). A recent Louis Comfort Tiffany Foundation award nominee, he has a B.F.A. from Rhode Island College, and an M.F.A. from Yale University.
Maria Napolitano earned her M.F.A. in painting from Syracuse University, her B.F.A. from UMass–Dartmouth, and has exhibited extensively in New England. She was honored with the Curator's Choice award at the Fidelity Investments Invitational and is a two-time recipient of the RISCA merit award.
Lisa Perez is an emerging artist who has exhibited at such venues as the Drawing Center (New York), the Center for Curatorial Studies at Bard, the Headlands Center for the Arts (Sausalito, Calif.), and most recently, a solo show at the Dorsch Gallery (Miami). Perez received her M.F.A. from the University of California–Berkeley.
Ara Peterson's work has exhibited extensively internationally at venues such as Deitch Projects and P.S. 1./MoMA in New York, Yerba Buena Center for the Arts (San Francisco), and The Deste Foundation Centre for Contemporary Art (Athens, Greece). A RISD graduate, he has rarely exhibited in New England, where he is perhaps best-known as one of the founding members of the Providence art collective Forcefield, which was included in the 2002 Whitney Biennial.
Masha Ryskin is a Russian-born artist with a classical art education in Moscow, Russia, followed by a B.F.A. from RISD and an M.F.A. in painting and printmaking from the University of Michigan. She recently joined the faculty at RISD.
Monica Shinn is a painter and metalsmith with a B.S. from the Oregon College of Arts and Crafts. A longtime resident of Providence, she has exhibited at Gallery Agniel, Warwick Museum of Art, the Sarah Doyle Gallery, and AS220, among others.
Dan Talbot is an emerging artist whose paintings have been exhibited at the Canada Gallery (New York), Aqua Art Miami (with 5 Traverse Gallery), the Stairwell Gallery (Providence), the Chazan Wheeler Gallery (Providence), and Deitch Projects (New York). He earned a B.F.A. in painting from RISD, and has participated in a number of renowned artist residencies, including Skowhegan and Macdowell.
Jason Travers trained at the American University for an M.F.A. and the Art Institute of Boston for a B.F.A.. He has exhibited at museums and galleries throughout New England. He earned a merit award in painting from RISCA and was included in a traveling exhibition organized by curator Robert Storr.
The Bell Gallery, 64 College St., is open to the public without charge Monday though Friday from 11 a.m. until 4 p.m. and 1 to 4 p.m. on Saturday and Sunday. For further information, call 401-863-2932 or visit www.brown.edu/bellgallery.