In Haiti, the urgent needs of patient care often leave little time for academic medicine, yet teaching and research are key for long-term public health. After years of outreach, the  Alpert Medical School has begun a new partnership with the Universite Notre Dame d'Haiti and St. Damien Hospital. A team of five Brown doctors returned to Haiti in March to demonstrate the follow-through they had promised at a key meeting a year before.
A well-placed introduction proved enough to get them through the 12-foot concrete walls and armed guards of St. Damien Hospital two miles east of the Port-au-Prince airport, but when four doctors from the Warren Alpert Medical School began talking with the hospital's nursing administrator, Sister Judy, it was clear she might just send them back to Rhode Island.
That meeting was in March 2010. While offers of help in Haiti were plentiful right after the devastating earthquake, few carried hints of real commitment or a willingness to listen. Patrick Moynihan, a Brown alumnus and president of The Haitian Project, assured Sister Judy and hospital director Father Rick Frechette that this offer would be different.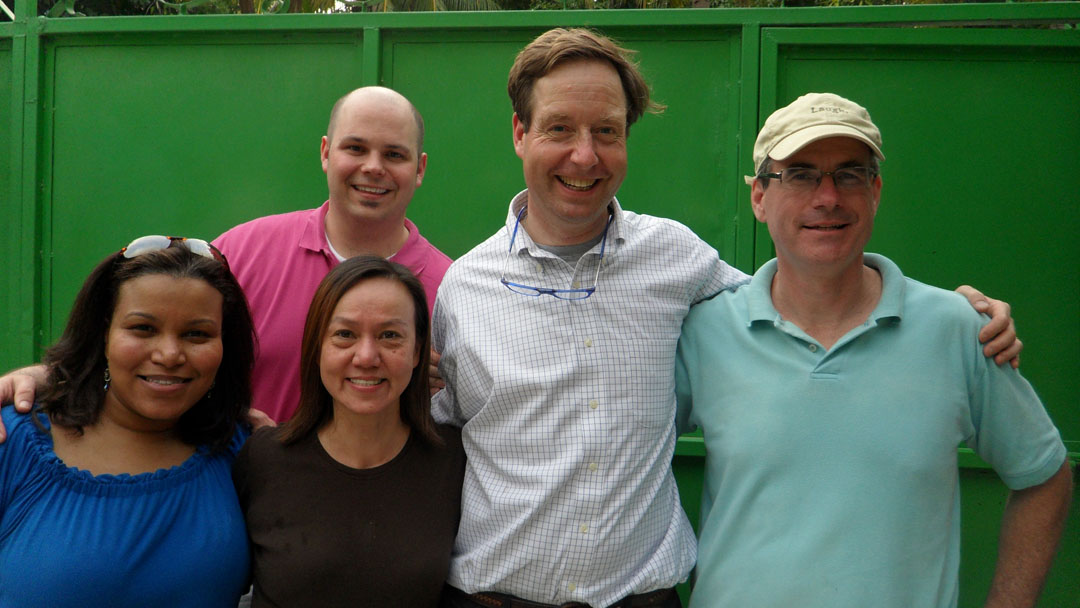 "The first thing she said to us was, 'I've had 22 other NGOs in here with 44 ideas of how to make this place better, so why should I listen to you?'," recalled Dr. Michael Koster, clinical assistant professor of pediatrics and hospitalist at Hasbro Children's Hospital.
The answer from Drs. Koster, Sybil Cineas, Tim Flanigan, and Susan Cu-Uvin, was that they intended to be there for the long haul to work side-by-side with doctors at the pediatric hospital and at the Université Notre Dame d'Haïti to augment their medical education efforts. In short order the team followed up with a weeklong trip in May and then sent another delegation in October, including Dr. Edward Wing, dean of medicine and biological sciences, and Dr. Robert Klein, professor and chair of pediatrics.
"[Sister Judy] wanted us to prove that we were going to come back," said Cineas, clinical assistant professor of medicine and physician at Rhode Island Hospital. "I think the second trip and the third trip were proving that we are working toward those goals. We're committed to this."
March at St. Damien
In March 2011, amid the tensions of Haiti's hotly disputed presidential election, the Brown and Lifespan team members got their first chance to walk the walk. For the entire month, faculty members and medical staff worked at St. Damien, living in Italian military tents on the compound, buying food from the U.N.-run grocery down the road, and showering in a converted shipping container.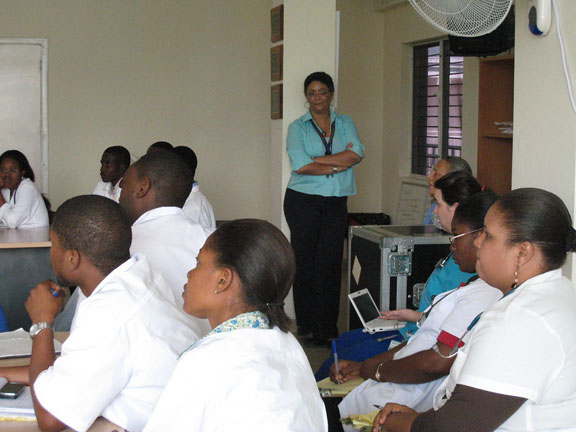 They were there to observe, build relationships, lecture, care for patients and begin to implement the details of their new partnership in medical education. They had formalized it with a memorandum of understanding between the Alpert Medical School and Notre Dame that Wing signed on his October trip. It became official over the winter.
"Before March, this was all theoretical," Flanigan said. "In March, it really came together and it's really beautiful."
Koster and Dr. Rosalind Vaz, clinical professor of pediatrics, split the month as faculty representatives with two weeks each in-country and a few days of overlap. And with the support of Dr. Staci Fischer, director of graduate medical education, a formal agreement was signed between Lifespan and St. Damien allowing residents to participate. Three house staff officers, Drs. Raina Phillips, Will Hahn, and Elizabeth Dawson, accompanied them. Phillips was there for the whole month. Hahn and Dawson for more than two weeks.
A dozen Notre Dame medical students come to St. Damien every month. They rotate in groups of three for a week each through the emergency department, the hospital's floors, the outpatient clinic, and hematology/oncology.
During the month the team delivered 10 lectures for the students. Phillips, for example, talked about fever without a source. Koster presented on nephrotic syndrome, a kidney disorder.
"We lectured on what's happening in Haiti," Koster said. "Meningitis, pneumonia, malnutrition, tuberculosis, to name a few."
Seeing patients is the first obligation of doctors, but even that has educational benefits for the students through bedside teaching. Part of what's holding back Haitian medical education is that doctors are so overwhelmed with patient care, they strain to find time for the educational and teaching side of academic medicine.
"We can give a little breathing room to the system," Flanigan said.
Looking to the fall
The goals of the memorandum are for faculty, medical staff and student exchanges three months a year, assistance with teaching and curriculum development, and assistance with research, including an annual symposium where students will present posters. That's routine at Brown, but novel in Haiti.
"Research is not happening, that's one of the things they want our support with," Koster said. "They need to measure things. They have 25 deaths a month and they see 30,000 patients a year — if you don't know why those patients are dying, you can't improve patient care."
The next goal is to be back in Haiti in October. In the meantime, the group is working to develop online curricula for the students, for instance in the area of patient diagnosis through problem-based learning.
In that way, Brown will be there, even when Brown faculty are not.
"There are thousands of NGOs working in Haiti to save lives and that's a great thing," Flanigan said. "Our goal is to help with patient care but it's primarily to strengthen the medical education system so that Haitian physicians and the education system improve in collaboration with Brown."
Providing an in-country academic rotation for students will help Haitian medical students get a good education in their own country instead of feeling like they have to leave for schools in Europe or the United States. That will in turn mean that more doctors in Haiti are from Haiti.