From "fishbowls" to "playgrounds," students and faculty describe their experiences on the first day of classes in the Perry and Marty Granoff Center for the Creative Arts.
Students, faculty, and even the construction workers agreed there was a sense of excitement at the Granoff Center for the Creative Arts Wednesday morning as the new building opened its doors for the first day of classes. Crews were busy with the near-final touches in all corners of the building, a portion of the yellow cautionary tape surrounding the perimeter was finally removed, and curious students explored the different spaces and materials throughout the center as they arrived.
The $40-million Granoff Center is a revolutionary new building, one that does not house a specific academic department or program. Rather, it is dedicated to bringing together faculty and students to push traditional boundaries and discover new collaborations in research, teaching, and production. The building was designed to catalyze those discoveries, with its six half-levels divided by a shear glass wall that visually connects each studio to one above and below. Throughout the building, people can easily see what's happening in other spaces, including classes, rehearsals, performances, and multimedia production.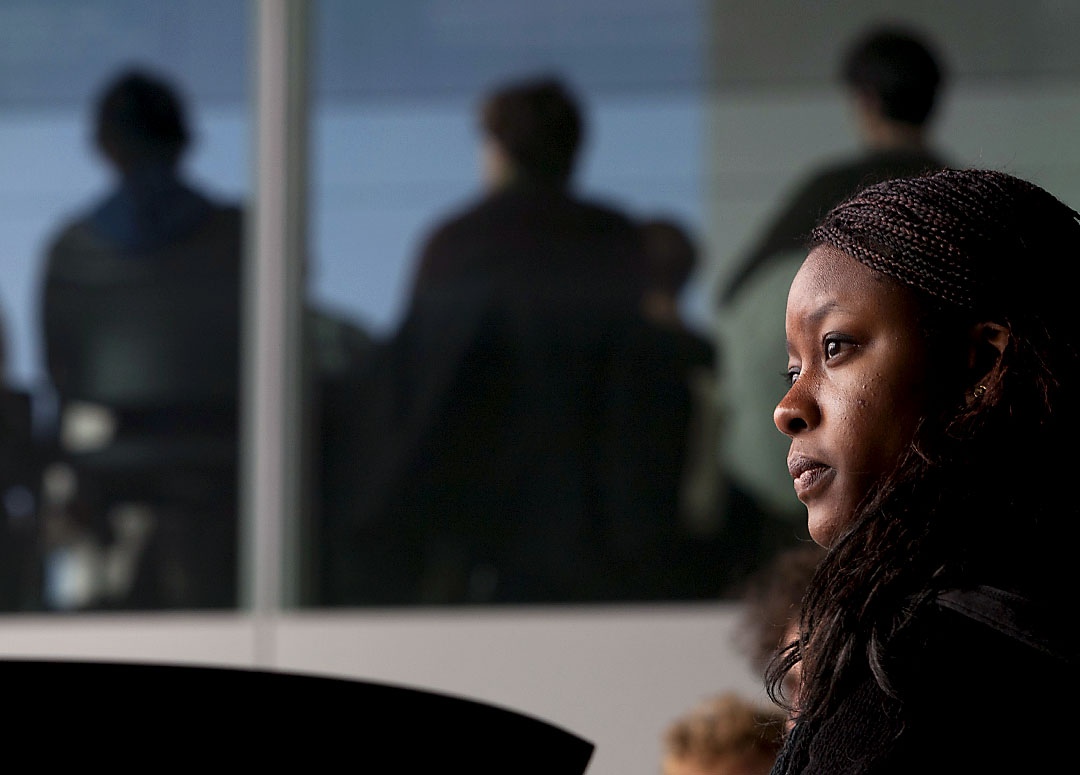 The first class of the day, "Experimental Musical Instrument Design," opened with Associate Professor of Music Joseph "Butch" Rovan saying, "This new course embodies the spirit of the building, as it gives us new perspectives and allows a dialogue between the arts." The course is co-taught with sculptor Paul Myoda and will explore the science and art of instrument design and well as experimental music composition and performance. It is one of nine inaugural classes at the Granoff Center, including "Curating Contemporary Art," "Introduction to Cinematic Coding and Narrativity," "Sonic Psychogeography: Site and Sound," "Narrative Immersion," "Solo Opera," "Recording Studio as Compositional Tool," "Under One Roof: Interdisciplinary and Intermedial Art," and "Viewpoints and the Suzuki Method." The lineup was selected by a Creative Arts Council committee for the way the courses would make use of the different spaces.
"The space provided an inspiring backdrop for today's class," said Ian Gonsher, adjunct lecturer in visual art. "There was a palpable sense of creative energy in the building, which you could glimpse through the visually permeable walls. There was a sense that interesting things were happening just beyond the space we were in."
One student said he felt like he was "in a playground from the future floating in the middle of a snowstorm," while a professor felt like a "curious fish in an aquarium in a pet store, who is somewhat dimly aware of the other fish in other fishbowls close by, wondering what that other fishbowl is like."
No matter how they described their first time Granoff Center experience, almost everyone expressed excitement by what the building will enable, both creatively and academically.
"It was really nice to be in a space that is intentionally geared toward the creative mind ... You can tell the space will successfully merge arts like dance and photography with other production like theater and music," said undergraduate Olaitan Oladipo after class. "It seems like the Granoff Center is meant to combine the arts and make the inventive process that much more inventive."