Recording artist and international aid activist Wyclef Jean will join Brown University's Department of Africana Studies as a visiting fellow during the 2010-11 academic year. Jean joins the department to engage in discussions and activities related to the University's Haitian Initiative.
PROVIDENCE, R.I. [Brown University] — Brown University today announced that Haitian activist and international recording artist Wyclef Jean has accepted an appointment as visiting fellow in the Department of Africana Studies for the 2010-11 academic year, specifically to engage in activities related to the University's Haitian Initiative. As a fellow, Jean will attend various campus Haitian Initiative events, including lectures, faculty conversations, classes and other offerings.
"We are delighted to welcome Wyclef Jean to the Department of Africana Studies and to Brown University," said Tricia Rose, professor of Africana studies and department chair. "As an Africana Studies visiting fellow, Jean is planning on engaging in discussions on campus and remotely, as appropriate, throughout this school year generated by Brown's Haitian Initiative and the faculty in Africana Studies."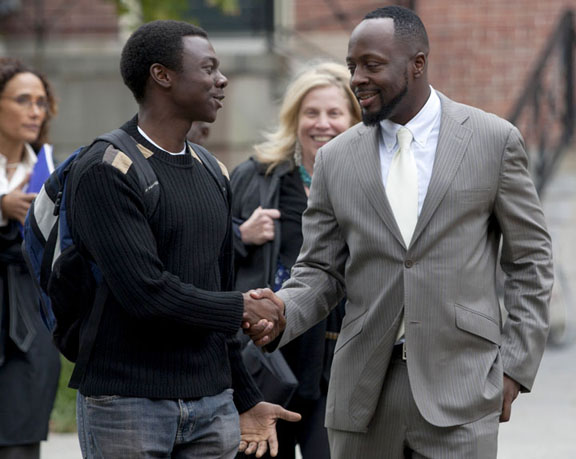 Today, during his first visit to campus, Jean attended two 2010-11 inaugural Haitian Initiative events: an afternoon lecture with acclaimed novelist Edwidge Danticat, a native of Haiti who earned a Master of Fine Arts at Brown in 1993; and an evening lecture with internationally renowned public health specialist Paul Farmer, M.D., entitled "Rebuilding Haiti," sponsored by the Brown Lecture Board.
"I look forward to my time at Brown as a period of learning and reflection," said Jean. "I hope to make a genuine contribution to the rich intellectual community at the University and to its Haitian Initiative in particular. I am a lifelong student and appreciate this unique opportunity to contemplate all the potential and possibilities, as well as the contributions of my homeland, and Haitians in the diaspora, to the world's creative culture."
The newly launched Africana Studies Visiting Fellows Program invites people whose record of excellence and recognized contributions to Africana studies to join the community of scholars, students, and artists on a periodic basis.
"We expect the exchanges facilitated by this program to deepen the intellectual and artistic encounters within the department and across the campus," Rose said.
Wyclef Jean
Born Neluset Wyclef Jean, in Haiti, Wyclef Jean is a Grammy-winning musician and record producer. As a child, he moved with his family to the United States and was raised in northern New Jersey.
Jean's musical breakthrough was as part of the three person band, the Fugees. The Fugees' debut album, Blunted on Reality, sold 2 million-plus copies worldwide. The follow-up album, The Score, sold more than 18 million copies worldwide, eventually becoming a multiplatinum, Grammy-winning album. Jean has released eight solo albums since 1997, with another due to be released in 2010.
In 2005, Jean was the main force behind establishing the Yéle Haiti foundation. In its first year of operation, the foundation, with funding by Comcel, provided scholarships to 3,600 children in Gonaïves, Haiti, after the devastation by Tropical Storm Jeanne. Since then, the foundation has grown its programs to include mobilizing community, delivering food and water, offering grants to smaller NGOs, training teachers, repairing schools, planting trees, feeding children in schools, organizing sports teams, supporting arts programming, and giving scholarships to 4,500 children and a dozen college students, among many others.
Since the January 2010 Haiti earthquake, Yéle Haiti has redoubled its efforts in Haiti, working with 34 tent camps and other communities across the country. Yéle has also launched Yéle Vert, a reforestation program, and will further expand Yéle Corps, a jobs-creation and vocational-training program. It has plans to build Yéle Kitchen, a jobs-creation and vocational-training program that will also provide food for the needy, and is in the beginning stages of providing temporary housing that has been designed to withstand hurricanes and earthquakes.
Department of Africana Studies
The Department of Africana Studies is the intellectual center for faculty and students interested in the artistic, historical, literary, and theoretical expressions of the various cultures of Africa and the African diaspora. The department is dedicated to the exploration and development of new knowledges about the cultures, histories, social formations and artistic expressions of Africa and various locations that comprise the African diaspora.