The David Winton Bell Gallery of Brown University presents the work of three area artists: Jon Laustsen (Pawtucket, R.I.), Amy Podmore (Williamstown, Mass.), and Charles Jones (Boston). <em>VoiceOver,</em> an exploration of the narrative tradition in sculpture, will continue through July 11, 2010. It is open to the public without charge.
PROVIDENCE, R.I. [Brown University] — The David Winton Bell Gallery will present VoiceOver: Jon Laustsen, Amy Podmore, Charles Jones from June 12 through July 11, 2010.
An opening reception will be held on Friday, June 11, from 5:30 to 7:30 p.m. at the gallery in List Art Center, 64 College St. The exhibition and the reception are open to the public without charge.
VoiceOver, curated by Dean Snyder, explores the narrative tradition in sculpture through the work of three New England artists. The title points to the importance of material choices in the deliverance of sculpture narrative; these choices act as a voice-over, leading the viewer through the work.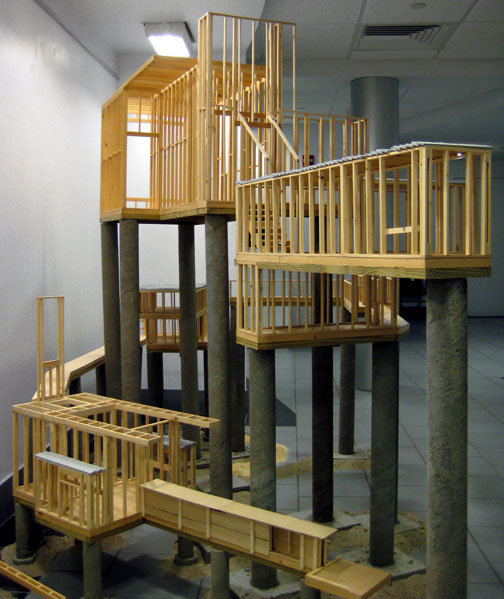 Amy Podmore spins her humorous and absurd narratives in plaster, bronze, and mixed media. Commenting on the human condition, her figurative sculptures commingle humans, animals, and objects in perplexing juxtapositions. In Measured Rest, for example, a young girl with a Bugs Bunny head stands atop a stepladder wearing black galoshes and holding a violin in her hand. The exhibition will also include documentation of Podmore's performances Disappearing Acts: Milk and Powder. As in her sculpture, Podmore's subject matter is gleaned from objects native to her domestic sphere.
Charles Jones' narratives reference history, often pointing a stern finger at heroic missteps and memorializing lost valor. The Oars of Cortes, Magellan's Chair, and Pizzaro's Glove evoke the era of Western exploration and imperialism. Accord Group/Kyoto, his life-size leather gas mask for an elephant, is based on a Swiss Zoo's 1938 attempt to create such a device in the lead-up to World War II. Jones' works are united by his highly realized workmanship in cast crystal, metal, leather, and wood.
Jon Laustsen's sculpture and installations depict construction sites on a miniature scale. Built from 1/8 scale milled lumber and cast concrete block, the works are both playful (like a model) and sophisticated (like a minimalist sculpture). Caught in a transient state of unfinish, works like The Reachers and the Dwellers, v2 reflect the artist's interest in "what is to come, what has been left behind, and the fluid space that is present in-between." Jon Laustsen will create a site-specific work for the lobby of List Art Center.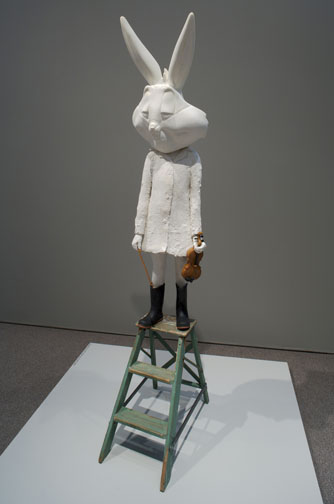 The Bell Gallery, 64 College St., is open to the public without charge Monday though Friday from 11 a.m. until 4 p.m. and 1 to 4 p.m. on Saturday and Sunday.
The Artists
Amy Podmore lives and works in Williamstown, Mass. She received her M.F.A. from the University of California–Davis in 1987 and her B.F.A. from State University College at Buffalo in 1982, also attending Universita Bell'Arte, Siena, Italy, in 1982 and The Skowhegan School of Painting and Sculpture in 1986. Her work has been shown both nationally and abroad. She has received awards from Artist's Resource Trust and The Massachusetts Cultural Council. Podmore teaches sculpture at Williams College in Williamstown, Mass.
Jon Laustsen lives and works in Pawtucket, R.I. He received his M.F.A. in sculpture at The Rhode Island School of Design in 2002 and a B.A. from Bethel College in 1998. His work has been exhibited in New England and New York City. He has received artist's fellowships from the Rhode Island State Council on the Arts in 2006 and 2009.
Charles Jones lives and works in the Boston area. He received his B.F.A. in sculpture at Western Carolina University. Jones served 12 years as a field construction boilermaker with the International Brotherhood of Boilermakers, Iron Ship Builders, Blacksmiths, Forgers and Helpers. He also worked as a nuclear-certified welder, specializing in high-pressure steam and lethal gas applications. Jones is a member of the Boston Sculptors Gallery. He will be having his third solo exhibition at the gallery in September 2010.