Ann Hamilton, internationally known for her large-scale installations, will attend a reception at the opening of her work, "ground," a carpet that graphically represents speaking and listening, on the third floor of Pembroke Hall, 172 Meeting St., on Wednesday, April 21 from 5 to 6:30 p.m.
PROVIDENCE, R.I. [Brown University] — Ann Hamilton, internationally known for her large-scale installations, will attend a reception at the opening of her work, "ground," on the third floor of Pembroke Hall, 172 Meeting St., on Wednesday, April 21, 2010, from 5 to 6:30 p.m.
The installation is a wool felt carpet inspired by drawers of metal type used to set text by hand before the advent of photo lithography and digital printing. In "ground," Hamilton graphically echoes conversations that will take place in this common area. For the lecture room in Pembroke Hall, Hamilton devised a carpet depicting letters and their phonetic spellings in English, French, German, Italian, and Spanish (ah, a, ah, a, a; bee, bé, beh, bi, be, …).
The 2,600-square-foot carpet was commissioned by Brown's Public Art Committee, using 1 percent of the construction budget for the renovation of Pembroke Hall. The three-story building was erected for Brown's Women's College in 1897; it is now used by the new multidisciplinary Cogut Humanities Center and the Pembroke Center for Teaching and Research on Women.
Hamilton is a recipient of the prestigious MacArthur Fellowship (1993). She is recognized for her multimedia installations that use accumulations of materials and labor-intensive processes to focus on sensory experiences. Language and text are central to Hamilton's concerns. In her 1999 Venice Biennale work, she devised walls that sifted red pigment down their sides and onto the floor. The walls were enhanced with oversized Braille dots that picked up the pigment as it sifted down, staining the walls with a red-blood powder and literally making language visual.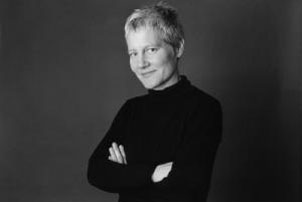 The Artist
Born in Lima, Ohio, in 1956, Hamilton received a Bachelor of Fine Arts in textile design from the University of Kansas in 1979 and a Master of Fine Arts in sculpture from Yale University School of Art in 1985. From 1985 to 1991 she taught on the faculty of the University of California–Santa Barbara. In 1992 she established her home and practice in Columbus, Ohio, and has been a professor of art at Ohio State University.
In 1999 she was chosen to represent the United States at the 48th Venice Biennale. Among her many honors, she has received the U.S. Artists Fellowship (2007), Progressive Architecture Citation Award (1997), NEA Visual Arts Fellowship (1993), Skowhegan Medal for Sculpture (1992), and the Guggenheim Memorial Fellowship (1989).
Hamilton's work has been widely exhibited in America and abroad. Her major museum installations include La Maison Tought Foundation de Antoine Galbert, Paris (2005); Historiska Museet, Sockholm (2004); the Massachusetts Museum of Contemporary Art, North Adams, Mass. (2003); The Hirshhorn Museum and Sculpture Garden, Washington, D.C. (2003, 1991); The Wanas Foundation, Knislinge, Sweden (2002); Akira Ikeda Gallery, Raura, Japan (2001); The Museum d'art Contemporain, Lyon (1997); The Art Institute of Chicago (1995); The Museum of Modern Art, New York (1994); The Tate Gallery, Liverpool (1994); Dia Center for the Arts, N.Y. (1993); and the Museum of Contemporary Art, Los Angeles (1988).
Her public sculpture projects include permanent commissions in collaboration with landscape architect Michael Van Valkenburgh and artist Michael Mercil for Allegheny Riverfront Park in Pittsburgh, Pa., and Teardrop Park in Battery Park City, N.Y., as well as permanent works at the Seattle Central Library and the San Francisco Public Library, among others.
The Public Art Committee
The Public Art Committee is responsible for bringing works of art to the Brown campus for display in public spaces. The committee includes President Ruth Simmons; Chancellor Emeritus Artemis Joukowsky; Jo-Ann Conklin, director, David Winton Bell Art Gallery; Robert Emlen, University curator and senior lecturer in American Civilization; Richard Fishman, director of the Creative Arts Council and professor of visual arts; Susan Freedman '82, president, Public Art Fund, N.Y.; Stephen Maiorisi, vice president, facilities management; and Dietrich Neumann, professor of the history of art and architecture.