The Cogut Center for the Humanities and the David Winton Bell Gallery at Brown University present an exhibition of early works by M.F. Husain, one of India's most renowned living artists, from Feb. 5 through March 26, 2010.
PROVIDENCE, R.I. [Brown University] — The Cogut Center for the Humanities, in collaboration with the David Winton Bell Gallery at Brown University, will host an exhibition of work by Maqbool Fida Husain, one of India's most famous living painters, from Friday, Feb. 5, through Friday, March 26, 2010, at the Cogut Center in Pembroke Hall. The show is a part of Brown's Year of India initiative, a series of public lectures, art exhibits, academic conferences, and other explorations of India's dramatic rise on the global stage.
M.F. Husain: Early Masterpieces, 1950s-70s, drawn from the collection of Amrita Jhaveri, a 1991 Brown graduate, will open with a reception on Friday, Feb. 5, 2010, from 5 to 7 p.m. in Pembroke Hall. Jhaveri, a specialist in 20th-century Indian art and the author of A Guide to 101 Modern and Contemporary Indian Artists (India Book House, 2005), will also present a lecture Monday, March 22, 2010, at 5 p.m. in Pembroke Hall. The exhibition and both events, supported by Jindal South West, are open to the public at no charge.
One of the most recognized figures in Indian art, the 94-year-old Husain has been instrumental in the rise of modernism in India and the introduction of contemporary Indian art onto an international stage. As a young man, Husain incorporated Western styles, drawn from the work of Pablo Picasso and Georges Braque, with Indian subjects — Hindu, Muslim, and secular — to create distinctly modernist art.
"Husain's paintings are unique for their profundity and their playfulness, for their ability to explore themes of cultural history and legacy in a context of explosive color and beauty," said Michael Steinberg, director of the Cogut Center for the Humanities. "This union of visual art and humanistic inquiry makes for an ideal collaborative project between the Cogut Center and the Bell Gallery, as well as a perfect celebration of the Year of India."
Husain's paintings and prints are associated with his cultural roots — steeped in Indian visual culture, as well as social and religious traditions — and demonstrate his diverse influences, from India's sensuous ancient sculpture to the colors of Rajasthani miniature painting and the lines and forms of Picasso and Braque.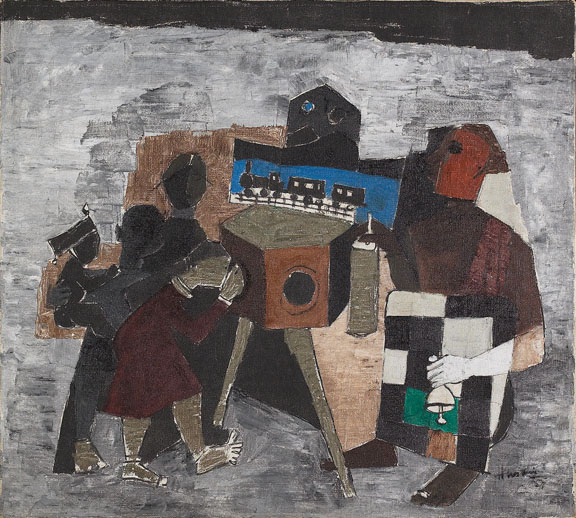 Focusing on Husain's early works, the current exhibition features 12 paintings created between 1954 and 1971, providing a view into the artist's first manifestations of his many favorite subjects: life on the streets, woman and horse (together and apart), and mythological and religious personages. Amusement in the Street and The Puppet Dancers depict forms of street entertainment. Virile horses, depicted in full gallop or rearing with heads thrown back, are a leitmotif in Husain's work. Chariot of the Sun God depicts the seven horses that draw the Sun God chariot across the sky. The painting in oil and Chinese lacquer was created after Husain's trip to China in 1953, where he learned and experimented with the ancient technique.
Husain's interest in mythology is represented in the exhibition by Draupadi, which portrays the heroine of the epic Mahabharata. A powerful story that continues to inspire people today, the Mahabharata is a tale of two sets of cousins: the five Pandava brothers and the hundred Kauravas. Draupadi was married to all five brothers, who fought their cousins over the possession of the kingdom. In the painting, she is represented as a large female figure with her husbands depicted on her body in miniature. The painting is one of 29 that were created for the São Paulo Biennale in 1971. Husain and Picasso were the only artists to be specifically invited to the Biennale.
The Cogut Center for the Humanities, located in Pembroke Hall, 172 Meeting St., is open to the public Monday through Friday from 9 a.m. to 5 p.m. For more information, call (401) 863-2932.
The Year of India
Throughout the 2009-10 academic year, Brown is hosting a series of events to advance understanding of India's people, culture, economy, and politics, and their growing impact around the world. Upcoming events include lectures by novelist Salman Rushdie, Infosys founder Narayana Murthy, and former Indian Cabinet Minister Mani Shankar Aiyar. Additionally, Brown will host a performance by Mumbai's Lasya Dance Troupe and an exhibition of photographs by artist-activist Fazal Sheikh, focusing on women and the changes and challenges they face in modern India. See the Year of India Web site for a full list of events.
The Year of India initiative is the latest in a series of Brown University programming focusing on international issues and research. The 2007-08 academic year featured events and programs related to Latin America, followed by a Focus on Africa series in 2008-09.