The David Winton Bell Gallery at Brown University presents Self and Others, an exhibition of photographic self-portraits, from Saturday, June 7, through Sunday, July 6, 2008. The gallery, in the List Art Center, 64 College St., will hold an opening reception for the artists on Friday, June 6, 2008, from 5:30 p.m. to 7 p.m. Admission is free.
The David Winton Bell Gallery will present Self and Others, an exhibition of photographic self-portraits, from Saturday, June 7 to Sunday, July 6, 2008. An opening reception for the artists — Jesse Burke, Amy Lovera, Annu Palakunnathu Matthew, Sage Sohier, Millee Tibbs,and Linn Underhill — will be held on Friday, June 6, 2008, from 5:30 p.m. to 7 p.m. The gallery is located in Brown University's List Art Center, 64 College St.; admission is free.
The artists included in Self and Others explore their identity in relationship to others, such as family, friends, or society. Burke and Sohier approach the self through family; Matthew focuses on ethnicity; Underhill and Burke examine gender. Tibbs compares her child and adult selves, while Lovera posits a fictionalized self as girl-adventurer.
Jesse Burke's Masculinity presents a tribe of men — the artist's friends and three generations of Burke males — in natural settings that may signify their primal selves. References to such stereotypical male activities as hunting, drinking, and sports provide backdrops to individual portraits. Most of the men address the camera directly; a few are caught in moments of stress, vulnerability, or introspection. Landscapes, still life of basketballs and of animals living and dead all serve as rests between the portraits. Presented in a frieze, the images build sequentially to create a story of masculinity that is nature-bound, family-oriented, and equally defined by foolhardy youth and the calm of maturity.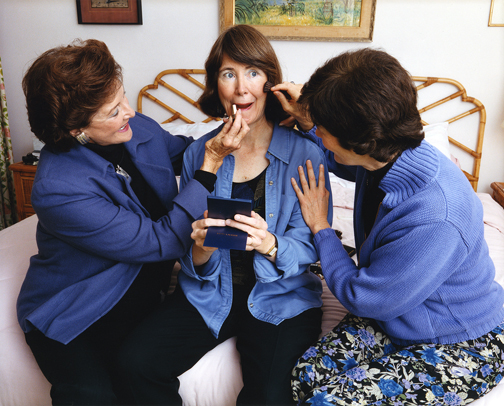 Growing up with a mother who was an elegant beauty, Sage Sohier realized early on that competition was fruitless. Instead, she chose to document her mother's strength, beauty, and hidden vulnerabilities. By photographing her mother, alone and while interacting with her sister and herself, Sohier has created a portrait of herself and her family's dynamics.
An Indian from India is Annu Palakunnathu Matthew's response to the American misnomer of identifying Native Americans as Indians. She rephotographed images of Native American "Indians" by early 20th-century photographers, substituting herself, an Indian American, for the Native American. The images are presented in pairs with titles such as American Indian with Dot on Face/Indian American with Dot on Face and Red Indian/Brown Indian. The dry humor of the titles belies the stereotypes that the photographs perpetuate.
Using similar techniques to Matthew's, Linn Underhill addresses gender in No Man's Land. Restaging George Platt Lynes's elegant portraits of writers and artists with herself in the title roles, Underhill plays the part of her heroes: T.S. Eliot, Joan Miro, Marsden Hartley, Tennessee Williams, Henri Cartier-Bresson, and others. Mimicking the glamorous style and subtle lighting of Lynes's black and white images, Underhill draws attention to the homoerotic gaze of Lynes's photographs. The layering of gender — gay, straight, male, female — mirrors Underhill's view of a no-man's land of gender, which she posits as "open to question and contention, owned absolutely by no one."
In This is a picture of me, Millee Tibbs pairs family snapshots of child Millee age 3 to 6 with reenactments of adult Millee in identical clothing and pose. The series is a charming and nostalgic turn on the desire to return to childhood and serves also as a meditation on societal views of sexuality, the body, and childhood. "I like to think that all those experiences that form who I am are present in the space between the two images," Tibbs has said.
Amy Lovera's narrative series, Deviant Friend, tells the story of a young woman who befriends a bird on the Internet. When the bird comes to visit the heroine, played by Lovera, they open the Girl and Bird Detective Agency and investigate the evil forces of Wal-Mart. Mixing drawings with straight and digitally rendered photographs, Lovera's delightful tale is reminiscent of adventure series for young girls such as Nancy Drew and Pippi Longstocking, while voicing the artist's political inclinations as well.
The David Winton Bell Gallery is located in the List Art Center, 64 College St. Admission is free. Gallery hours are Monday to Friday, 11 a.m. to 4 p.m., and Saturday and Sunday, 1 p.m. to 4 p.m.