Lebanese artist Walid Raad juxtaposes video and still images, truth and fiction in his solo show at Brown University's Bell Gallery. Raad, who focuses on the history of Beirut bombings and the post-9/11 political landscape, will give a presentation at the show's opening on April 9, 2008.
PROVIDENCE, R.I. [Brown University] — The David Winton Bell Gallery presents two projects by Walid Raad, a Lebanese-born, New York-based artist, from April 10 to May 25, 2008.
Raad will launch the exhibition with a lecture and performance on April 9 at 5:30 p.m. at the List Art Center auditorium. The artist's lecture, titled My Neck Is Thinner Than A Hair: A History of the Car Bomb in the 1975-1991 Lebanese Wars–Volume 1: January 21, will be followed by a 7 p.m. reception.
In the main gallery, Raad's project We Can Make Rain But No One Came To Ask touches on the history of car bombing in the Lebanese civil wars by treating historical events as both factual and imagined. In a 17-minute documentary-style video, two fictional characters investigate a bombing in Beirut in 1986. The video is accompanied by a series of 43 inkjet prints on archival paper, grouped in four separate folios and displayed on tables to resemble archival materials.
Raad's title refers to the impossibility of prognosis, less in terms of weather conditions than future historical, geopolitical, and cultural conditions. "By juxtaposing the still and moving images, cinematic and archival setting, looking and reading, the exhibition explores how the same narrative is experienced differently in different media," Vesela Sretenovic, the exhibition curator, said.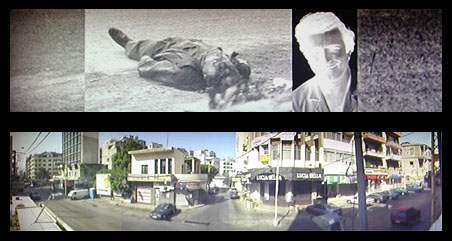 Part two of Raad's exhibition, I Feel A Great Desire to Meet the Masses Once Again, is credited to Elly Boueri. Conceived specifically for the List Art Center lobby, this large four-part mural depicts the post-9/11 sociopolitical landscape. The background of each of the mural's parts is painted in a different shade of blue, referencing the sky over New York on Sept. 11, 2001, and foreshadowing the subsequent changes of political climate. The rough, sketchy drawings are digitally manipulated courtroom drawings that Raad compiled for a number of years after 9/11, left intentionally unfinished to remain ambiguous in origin and reference.
Walid Raad
Born in Chbanieh, Lebanon, in 1967, Raad grew up in the mostly Christian sector of East Beirut. After finishing his master's and doctoral studies at the University of Rochester, N.Y., he moved to New York City. He joined the Cooper Union faculty in 2002, teaching film, video, photography, and installation. Raad is also known as a founder of The Atlas Group, an imaginary foundation whose aim is to research and document the contemporary history of Lebanon.
Raad's work has been presented in 2002 at Documenta 11, Kassel, and the Whitney Biennial; in 2003 at the Venice Biennale; in 2004 at York University, Toronto, and the Krannert Art Museum, Champaign, Ill.; in 2005 at the Reynolds Gallery, London, and FACT, Liverpool; in 2006 at Concordia University, Montreal, the Kitchen, New York, Henry Art Gallery, Seattle, and Hamburger Bahnhof, Berlin; and in 2007, Migros Museum fur Gegenwartskunst, Zurich. In 2008, Raad's work has been featured in Archive Fever: Uses of the Document in Contemporary Art at the International Center of Photography in New York.
In 1996 Raad helped found the Arab Image Foundation, which promotes historical research of the visual culture of the Arab world and experimental video production in the region. He also received the 2003 Rockefeller Fellowship and the 2007 Alpert Award for Visual Arts from the Herb Alpert Foundation.
All events are free and open to the public. The David Winton Bell Gallery, located on the first floor of List Art Center, 64 College St., is open from 11 a.m. to 4 p.m. weekdays and 1 p.m. to 4 p.m. Saturdays and Sundays. For more information, call (401) 863-2932.