The David Winton Bell Gallery will present Cut Folded Dyed & Glued, an exhibition of paper and Mylar sculptures by artists Imi Hwangbo and Jae Ko, from Saturday, Jan. 26, through Wednesday, March 5, 2008. An opening reception will be held on Friday, Jan. 25, at 5:30 p.m. The exhibition and opening event are free and open to the public.
PROVIDENCE, R.I. [Brown University] — The David Winton Bell Gallery at Brown University presents Cut Folded Dyed & Glued from Saturday, Jan. 26 through Wednesday, March 5, 2008. The exhibition features abstract paper and Mylar sculptures by artists Imi Hwangbo and Jae Ko. An opening reception will be held on Friday, Jan. 25, 2008, at 5:30 p.m. The exhibition and opening event are free and open to the public.
Natives of Korea, Ko left home to study in Japan and subsequently in the United States, and Hwangbo moved to the United States with her family when she was two years old. Ko's use of paper builds on the traditional Korean practices of papermaking and papercrafts. Hwangbo references Korean decorative arts, using designs from pogaji (cloth used for wrapping as well as covering, carrying, and storing objects both secular and sacred) and the brilliant colors of hanbok (clothing).
"Both Imi Hwangbo and Jae Ko work with common materials that are transformed through labor-intensive methods. In this they epitomize a contemporary movement of artists who are at ease with technology, but embrace the handcrafted and laborious," said Jo-Ann Conklin, director of the Bell Gallery. "They have each developed an innovative method of working with materials. Ko creates sculptural objects from paper that is layered, twisted, and soaked in ink, while Hwangbo works with Mylar that is printed, cut, and layered."
Ko has worked exclusively with paper throughout her artistic career. Experimenting with different types of paper – from rice paper to newspaper and register receipt paper – she has cut, buried, soaked, dyed, glued, and otherwise manipulated her material. In one early work, an elegy to her father, Ko slit a roll of paper vertically to its center and then buried it at the Atlantic shore. She was interested in the interaction of nature on the work and in making it "part of the earth."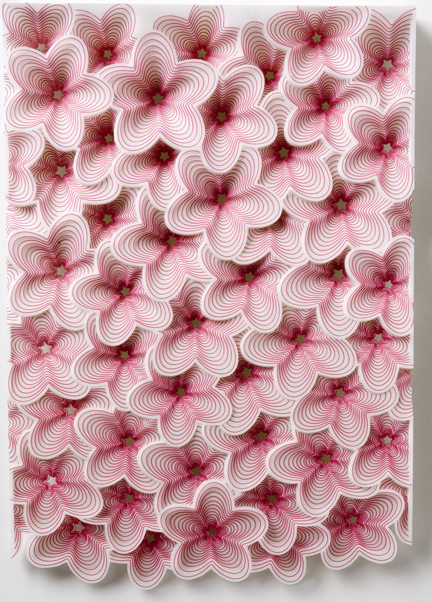 The works presented in Cut Folded Dyed & Glued represent two distinct styles. The earlier works, created between 1996 and 2005, are billowy wall reliefs with subtly modulated surfaces that bend and fold in on themselves. Working with adding machine paper, Ko shaped and then soaked layers of paper in sumi ink and water. In the finished works, the swollen paper looks velvety and soft, and the powdered ink dries to a matte finish. Ko has said she is inspired by nature, but the evocative works draw broad associations to Asian calligraphy, minimalist painting, and the human body.
Ko's recent works, which she presents individually or in groups, are twisted forms suggestive of spirals, cyclones, s-curves, wheels, and infinite signs. According to Conklin, the works are more physically aggressive than the reliefs, and whereas the earlier surfaces were velvety, these are hard and shiny and could easily be mistaken for Fiberglas, plastic, or ceramic. Here again Ko uses adding machine paper, which is either left natural or colored red or black with calligraphic ink and sealed with glue that dries to a shiny finish. Two large black reliefs and a red floor piece will be presented at the Bell Gallery in an elegant minimalist installation.
Hwangbo's delicate sculptural reliefs elicit awe, inspired by the elegant beauty of floral and geometric patterns and the laborious methods of their construction. Works from the Pojagi Series, which dates from 2003 to the present, range in size from an intimate six by eight inches to a monumental 11-feet high.
Hwangbo has developed a remarkable working method that combines drawing, printmaking, and sculpture. The reliefs are accurately categorized as three-dimensional drawing or sculpture, and have alternately been included in print exhibitions. Hwangbo begins each work with a drawing done by hand that is subsequently translated into a computer drawing and printed in archival ink on sheets of translucent Mylar. (She uses an algorithm to calculate the recession of the pattern onto the numerous layers of Mylar.) She then meticulously hand cuts the individual layers. The layers – up to 30 in an individual work – are aligned to create form, shape, and depth.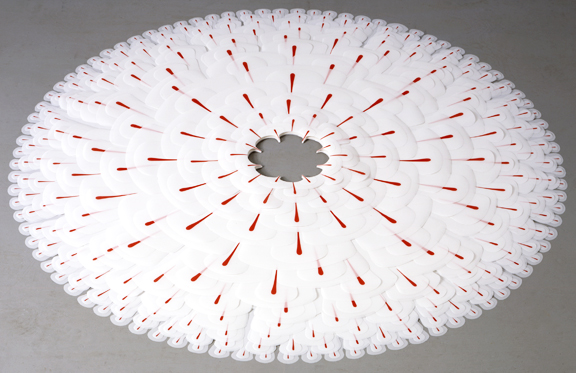 Decorative patterns include five- and seven-petaled flowers, simple to complex diamond and swastika patterns, and elaborate filigree designs; individual or interlocking patterns are repeated over all or part of the object's surface. Hwangbo creates her motifs by removing rather than adding material. Conklin says this exploration of negative space is primary to the series. Hwangbo created depth by various means: The five layers of Seer float slightly away from each other in moderate relief, whereas the greater depth apparent in Portal is a result of interstitial spaces (about one-half inch each) between its three layers, which are held in place by grooved pins. Works such as Lepidoptera create depth via the accumulation of up to 30 layers of Mylar.
The Artists
Jae Ko was born in Korea in 1961. She received a B.F.A. from Wako University in Tokyo and an M.F.A. from Maryland Institute College of Art, Baltimore. Ko is the recipient of a Pollock-Krasner Foundation grant, as well as grants from the Virginia Commission on the Arts, the D.C. Commission on the Arts, and the Maryland State Arts Council. Her work has been included in exhibitions at the Museum Rijswijk and Museum Apeldoorn/CODA, The Netherlands; at Ludwig Museum, Koblenz, Germany; the Peabody Essex Museum, Salem, Mass.; and the John Michael Kohler Arts Center, Sheboygan, Wis., among others. One-person exhibitions of her work are upcoming at the American University Museum, Washington, D.C. (2008) and the University of Richmond Museums, Richmond, Va. (2009). Jae Ko lives and works in Maryland.
Imi Hwangbo was born in Korea and moved with her family to the United States when she was 2 years old. She holds a B.A. in visual studies from Dartmouth College and an M.F.A. in sculpture from Stanford University, where she studied with Nathan Oliveira. Hwangbo has had residencies at the American Academy in Rome and the Camargo Foundation in France and in the United States at Yaddo, Sculpture Space, and at the Bemis Center for Contemporary Art. Her work has been exhibited throughout the states, with shows at the Weatherspoon Art Museum in Greensboro, N.C.; the Visual Art Center of Richmond, Va.; the Atlanta Contemporary Art Center; the International Print Center New York; and the Painted Bride Art Center in Philadelphia. Hwangbo teaches sculpture at the University of Georgia, Athens.
The David Winton Bell Gallery, located on the first floor of List Art Center, 64 College St., is open from 11 a.m. to 4 p.m. Monday through Friday and 1 to 4 p.m. Saturday and Sunday. For more information, call (401) 863-2932.