The David Winton Bell Gallery will present <em>KIDS</em>, an exhibition of photographs of children by Julie Blackmon, Jill Greenberg, and Ruud van Empel, from Saturday, Nov. 3 through Friday, Dec. 21, 2007. An opening reception and gallery talk will be held on Friday, Nov. 2, at 5:30 p.m. The exhibition and opening event are free and open to the public.
PROVIDENCE, R.I. [Brown University] — From amusing scenes of Midwestern family life to agonizing close-ups of sobbing toddlers, photographs of children by Julie Blackmon, Jill Greenberg, and Ruud van Empel are featured in KIDS, on view from Saturday, Nov. 3, through Friday, Dec. 21, 2007, at the David Winton Bell Gallery. An opening reception will be held on Friday, Nov. 2, at 5:30 p.m. with a gallery talk by Blackmon, Greenberg, and exhibition curator Jo-Ann Conklin, director of the Bell Gallery. The exhibition and opening reception are free and open to the public.
Blackmon, Greenberg, and van Empel all use digital techniques to "separate photography from its associations with reality," said Conklin. Blackmon collages elements and intensifies colors. Greenberg draws on the images, emphasizing facial expressions. Van Empel uses the most elaborate techniques, building his images element-by-element and often compiling more than 100 individual elements into a single image. The resulting fictional images may elicit reactions ranging from amusement to astonishment to shock.
Blackmon's featured series is titled Domestic Vacations. The oldest of nine children and the mother of three, she photographs her close-knit family in their homes in Springfield, Mo. She creates humorous scenes of family life that are staged and collaged, and as such, both fictional and autobiographic. Blackmon compares her images to the paintings of Jan Steen, the 17th-century Dutch painter whose work spawned the proverb "the Jan Steen household," referring to a messy house in disarray. American audiences may see connections with Norman Rockwell's scenes of everyday life in small-town, middle-class America. Blackmon has said she is photographing "the stress, the chaos, and the need to simultaneously escape [from] and connect [to family]."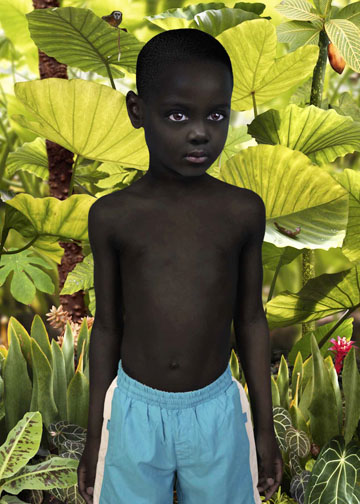 Greenberg's End Times is an arresting series of photographs of children crying: sniffling and weeping, screaming, and wailing. Taken in her studio in Los Angeles, the images capture emotions seldom documented on film. Greenberg began the series shortly after the 2004 presidential election. She relates the despair of the children to her own feelings about then-current political and social events. The first image in the series is called Four More Years; other images carry titles such as Torture, Armageddon, and Misinformation.
Van Empel has created two series of images of children surrounded by nature: white children in northern deciduous forests and black children in dense tropical forests. The forests are intricately described; every flower and leaf is visible, as are animals and insects. The children face the camera and stand stock-still. Conklin calls the images "both beautiful and odd." Van Empel identifies innocence as his subject and bases some of his images on family snapshots taken by his father. He calls the series of images of black children World, thereby emphasizing the universality of the subject and identifying these children as belonging to all of us. Van Empel has created images that are both nostalgic and utopian, and readings, therefore, fluctuate between an embrace of innocence and a critique of racial relationships.
The exhibition is accompanied by a fully illustrated catalog, with essays by Conklin.
Julie Blackmon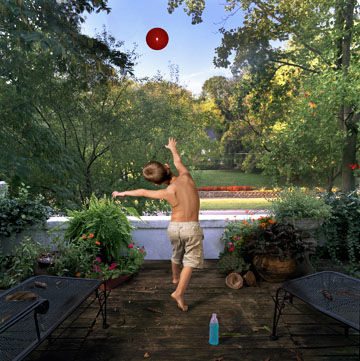 Julie Blackmon was born in 1966 in Springfield, Mo. She attended Missouri State University and continues to live and work in Springfield. Her work has been included in exhibitions throughout the United States, including at the Photographic Center Northwest in Seattle; Museum of Contemporary Photography in Chicago; and the Photographic Resource Center in Boston. Her work is held in the collections of the Museum of Contemporary Photography, Chicago; Museum of Fine Arts, Houston; University of Arkansas, Little Rock; Kemper Museum of Contemporary Art, Kansas City, Mo; and Portland Art Museum, Portland, Ore. More information is available at www.julieblackmon.com.
Jill Greenberg
Jill Greenberg was born in 1967 in Montreal, Canada, and grew up in suburban Detroit. She graduated in 1989 from the Rhode Island School of Design with a B.F.A. in photography. She currently lives and works in Los Angeles. In addition to her commercial work for MGM, Sony, HBO, Target, Microsoft, and others, her photographs from Monkey Portraits and End Times have been exhibited at the National Academy of Sciences, Washington, D.C.; Museum of Contemporary Canadian Art, Toronto; Artspace, New Haven, Conn.; Chelsea Art Museum, New York City; and Boston University Art Gallery. More information can be found at http://www.manipulator.com.
Ruud van Empel
Ruud van Empel was born in 1958 in Breda, The Netherlands, and currently lives and works in Amsterdam. He attended the Sint Joost Academy of Fine Arts in Breda and worked as a graphic designer, set designer, and art director for television before turning to photography in 1995. His work has been shown throughout Europe since 1998 and in the United States since 2005 and was included in Picturing Eden, a traveling exhibition organized by George Eastman House, and in exhibitions at the Chelsea Art Museum, New York City; Museum of Photographic Arts, San Diego, Calif.; Des Moines Art Center, Des Moines, Iowa; and in The Netherlands at Gemeentemuseum Den Haag, Scheringa Museum voor Realisme, and the Groninger Museum. His work is held in numerous private and public collections including those of the Groninger Museum; Norton Museum of Art, West Palm Beach, Fla.; and Tel Aviv Museum of Art, Israel. More information is available at www.ruudvanempel.nl.
The David Winton Bell Gallery, located on the first floor of List Art Center, 64 College St., is open from 11 a.m. to 4 p.m. Monday through Friday and 1 to 4 p.m. Saturday and Sunday. For more information, call (401) 863-2932.