Celebrating the accomplishments of artist, scholar, and teacher Walter Feldman, Brown University's John D. Rockefeller Jr. Library will host a special exhibition of Feldman's work, including paintings, collages, sculptures and books. <em>Recent Works by Walter Feldman </em>runs from Saturday, Sept. 8, through Friday, Oct. 5, 2007. It is free and open to the public.
Feldman recreated each of the nine paintings in the exhibition, including Stele of the Three Guardians, Two Sentinels at Babel, and Stele of the Gibborim, after the works were nearly ruined in a flood 10 years ago. The artist says he "resurrected" the colorful, abstract pieces, bringing a different attitude to them. "I see them as a continuation," he said. "I am a different person now than when they were first created."
The 24 canvas collages in Feldman's Ardennes Winter Series are created with various heat elements in order to project the emotions of pain and agony. The works pay homage to the Battle of the Bulge, which Feldman experienced as a soldier in World War II. "The collages exist on the border between gestural chaos and cosmic geometry – intense energy and the framing square," writes art critic Donald Kuspit in the exhibition catalog. "They are tours de force of intensely worked surface and self-containment."
Recent Works also includes dozens of three-dimensional and two-dimensional books, as well as broadsides, from Ziggurat Press, which Feldman founded in 1990. While some of the works feature Feldman's own words and reflections, others feature poetry by such writers as C.D. Wright, William Blake, and Tony Kushner. Central themes and subjects in Feldman's book art range from pre-Columbian art to contemplation of biblical psalms to celebrating the centennial of women at Brown.
"This exhibition is an opportunity to celebrate Walter's extraordinary career at Brown, as well as his commitment to his students, his art, and his community," said Brown University President Ruth J. Simmons. "Since his arrival at Brown in 1953, Walter has had a profound and lasting influence on the University, for which we are grateful."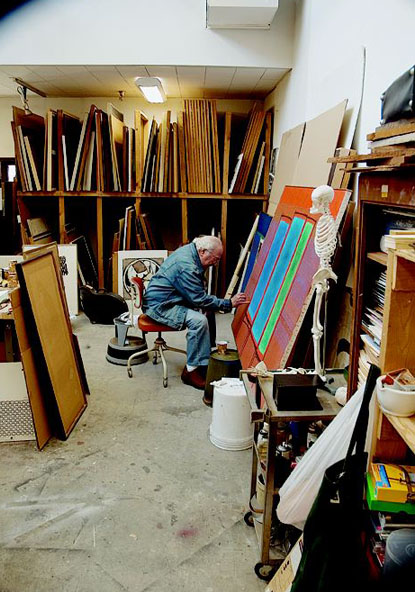 Recent Works by Walter Feldman is on view in the lower level of the John D. Rockefeller Jr. Library, 10 Prospect St. The library is regularly open Monday through Thursday from 8:30 a.m. to 2 a.m.; Friday from 8:30 a.m. to 10 p.m.; Saturday from 10 a.m. to 10 p.m.; and Sunday from 10 a.m. to 2 a.m. Library hours by are also available by calling (401) 863-BOOK.
Walter Feldman
Walter Feldman is a professor emeritus of visual art and John Hay Professor Emeritus of Bibliography at Brown University. As an undergraduate at Yale, he studied with Willem de Kooning and Josef Albers. During three years' service in the army during World War II, he was awarded a Purple Heart and the Combat Infantry Badge. Feldman returned to Yale and completed his B.F.A. in 1950, received the Alice Kimball Fellowship, and earned his M.F.A. in 1951. He taught at Yale until 1953, when he joined the art faculty at Brown. In 1956, Feldman was awarded a Fulbright fellowship to study mosaics and stained-glass in Italy. In 1957, his self-portrait won the gold medal at the Mostra Internazionale in Milan, and one year later received the Tonner Prize from the American Color Print Society.
Feldman's architectural commissions range from stained-glass windows and mural painting to mosiac murals and pavements. His work has been included in one-person and group exhibitions at major museums including the Museum of Modern Art, New York City; the Corcoran Gallery, Washington, D.C.; the Institute of Contemporary Art, Boston; and the Brooklyn Museum. In 1985 Feldman founded the Ziggurat Press (now the Brown/Ziggurat Press) for the production of handmade books. More than 300 of his students' books are in the permanent collection of the John Hay Library.