The David Winton Bell Gallery at Brown University presents <em>Jukai, </em>a site-specific architectural environment by Japanese artist Yumi Kori, from Saturday, Sept. 8, through Sunday, Oct. 21, 2007. Concurrently, <em>Selections from the Permanent Collection</em> will be on view in the List Art Center Lobby. The exhibitions and an opening reception on Friday, Sept. 7, 2007, are free and open to the public.
PROVIDENCE, R.I. [Brown University] — Japanese architect and artist Yumi Kori will transform the David Winton Bell Gallery with her architectural environment Jukai, conceived specifically for the gallery. Accompanied by the music of Austrian composer, Bernhard Gal, this site-specific piece "tests the limits of sensory experience, spatial and temporal."
Concurrently, Selections from the Permanent Collection, including a number of sculptures and the works on paper, will be on display in the List Art Center Lobby. The exhibitions will run from Saturday, Sept. 8, to Sunday, Oct. 21, 2007. An opening reception will be held on Friday, Sept. 7, 2007, from 5:30 to 7:30 p.m. The exhibitions and opening event are free and open to the public.
Jukai consists of a long, centrally positioned wooden deck/boardwalk, floating light columns receding into the space, reflective Plexiglass sheeting placed on rear and sidewalls, and thousands of clear balloons covering the floor. The work creates a dazzling spatial setting in which the continuous play of light and shadow obscures the distinction between real and illusionary, perceptual and imaginary. With an addition of audio – quiet and repetitive sound suggestive of deep forest – Jukai is further transformed into a temporal, contemplative environment that reaches beyond sensory perceptions.
Similar to Kori's other projects, including Shinkai, Defragmentation/krems and Infinitation, Jukai is conceived as a "non-functional architecture" (art) within the functional architecture (public space).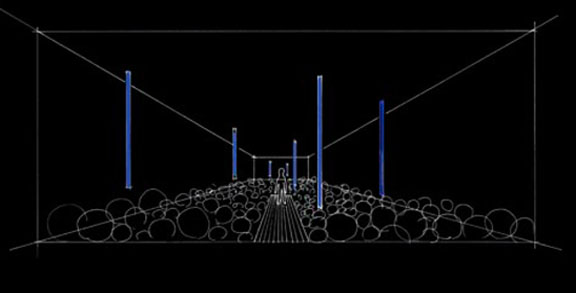 "In all of these projects, Kori intervened with the existing architectural confines (an old church in Austria in the case of Defragmentation/krems and different gallery spaces in the case of Shinkai, Infinitaiton and Jukai), only to redefine them into alternative, almost immaterial realities," said Vesela Sretenovic, curator of the Bell Gallery. "By employing colored light and sound as well as other elements, Kori managed to transfigure these given spatial settings (a white, modernist box in the case of Bell Gallery) into multisensory, interactive environments that directly engage the visitors' sense of vision, touch, hearing and body movements."
In
Jukai
, visitors are invited to walk or sit on a deck/boardwalk; look at the reflective lights and moving balloons; or simply immerse themselves in sounds of winding trees, falling leaves, waterfalls, birds, cicadas, or silence, recorded and manipulated by Bernhard Gal, Kori's longtime collaborator. Indeed, when loosely translated from Japanese to English, "jukai" means deep forest or a sea of trees.
"Like an actual forest, Kori's Jukai heightens sensorial experience, arousing the awareness of the surrounding space and the self, hence exploring physical and psychological aspects of space and how they affect human consciousness," Sretenovic said.
Yumi Kori
Yumi Kori is a Japanese-born artist and architect based in Tokyo and New York. Although she studied music and was intensely involved in theatre and dance, Kori majored in architecture at the Kyoto Prefecture University in 1983. Shortly after, she worked as an assistant architect in a small architectural firm in Tokyo and then as a free-lance architect. In 1991, Kori established her own firm, Studio MYU Architects in Tokyo, where she is the principal architect.
Upon her move to the United States, Kori enrolled in the Graduate School of Architecture at Columbia University and graduated in 1995. Afterward, she began teaching the principals of Japanese architecture at Columbia's Barnard College. Additionally, she has lectured at the Parsons School for Design and the School of Art and Architecture, Yale University. Along with her commissioned architectural projects and set designs for theatre and dance companies, Kori has realized numerous art installations. They include the 2006 Shinkai at the ISE Cultural Foundation, New York; the 2005 Infinitation at the Center for Contemporary Art, Seattle, and Defragmentation/krems at the Minoriten Church Kapitelsaal, Krems-Stein, Austria; the 2003 Panta rhei, Maison Hermes 8f Forum, Tokyo; and the 2002 Machina Temporis at the Franziskaner-Klosterruine, Berlin. Kori is also the recipient of prestigious international awards such as the Modern Living Award; the Osaka Cityscape Award; the London ar+d award; and the Tokyo Architectural Award.
The David Winton Bell Gallery, located on the first floor of List Art Center, 64 College St., is open from 11 a.m. to 4 p.m. Monday through Friday and 1 to 4 p.m. Saturday and Sunday. For more information, call (401) 863-2932.