December 18, 2013
401-863-1862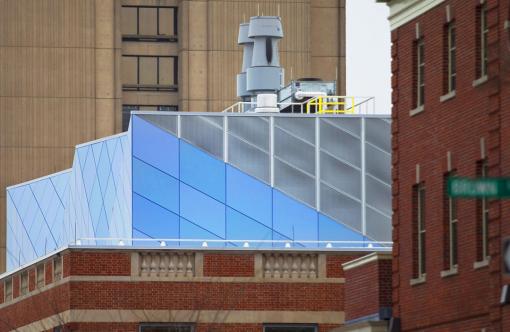 With advanced temperature and lighting controls and six separate rooms for research, the University's new greenhouse on the roof of the freshly renovated Building for Environmental Research and Teaching will make new kinds of plant research possible in 2014. Plants and people are moving in and the final preparations are underway.
PROVIDENCE, R.I. [Brown University] — For plant research at Brown, 2014 won't just be a new year. It will begin a new era as the University's versatile, high-tech new greenhouse opens for business.
"Brown has stepped way into the 21st century by putting this facility together," said Fred Jackson, director of the Plant Environmental Center, as the greenhouse is formally known. "We really have advanced in the kind of research we can do here."
Instructions for finding the new facility (most of it, anyway): Look up. The old facility where Jackson got his start at Brown decades ago was next to Hunter Lab on Waterman Street. Now that Hunter has been renovated to become the Building for Environmental Research and Teaching (BERT), the glassy new greenhouse shimmers in the sunlight atop the roof. A suite of supporting facilities, including a classroom, a "headhouse" for potting and other prep work, and growth chambers – incubators for plants – are in the BERT basement.
"Like night and day"
Greenhouse director Fred Jackson, left, and faculty director Mark Johnson anticipate a new era of botanical research four stories above the old greenhouse, installed in the 1960s.Jackson said he'll miss the old facility, but from the standpoint of enabling world-class research, the two are "like night and day." The PEC has six separate rooms where with the help of computer controls, the staff including new manager Chris Claussen can fine-tune conditions like lighting, temperature, and, to some extent, humidity to meet the requirements of researchers.
The old greenhouse, now empty, had fewer distinct spaces and far fewer means for climate and lighting control.
Mark Johnson, associate professor of biology and faculty director of the facility, said researchers can have the considerable light and warmth needed to raise tobacco – a model organism for plant research — in one room yet right next door the room can be maybe two dozen degrees cooler for Arabidopsis, another standby of botany studies. Not enough natural light in the winter? Turn up the "high intensity discharge" lights. Too much light in the summer? Engage the computer controlled shades or the built-in cooling units. The shades can also be used to enhance heat retention, saving 15 percent on energy costs.
"That's one great thing about having these modular houses," said Johnson, who right now has student Austin Draycott studying how tomatoes fare during heat and drought stress. "We can have a hot one and a cool one and move plants back and forth really easily.
"Here in New England the environment varies a lot during the year," Johnson said. "To keep a steady climate in each house — with five or six experiments running simultaneously – will be great."
To keep a steady climate
Outside, it's winter. Inside, cacti flourish in hot, dry areas next to areas that can mimic tropics or tundra.The research rooms are for authorized personnel only to ensure the integrity of the experiments. But for students and public visitors – probably beginning in a couple of months – the greenhouse will feature a beautiful space: the conservatory. Orchids and other tropical exotics are already in place there, mounted atop tiered decks of richly stained ipe wood. There are even a few built in benches that invite contemplation.
Together, the team headed into the holidays unpacking, tweaking and testing the sophisticated systems, and getting set for the next semester. Just to provide a taste of what's to come, Jackson taught the last couple lectures of his fall semester medicinal plants class in the new basement classroom.
"We're moving into an unbelievable facility," Jackson said. "I'm very excited."
Editors: Brown University has a fiber link television studio available for domestic and international live and taped interviews, and maintains an ISDN line for radio interviews. For more information, call (401) 863-2476.