November 1, 2013
401-863-3766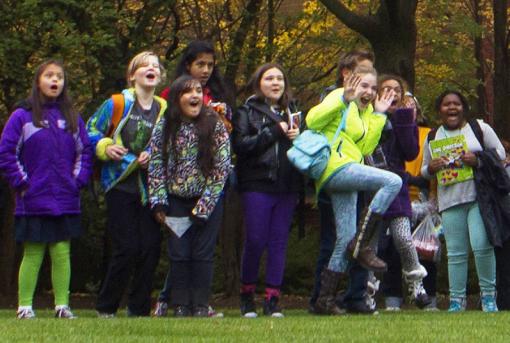 Fifth graders from Vartan Gregorian Elementary School in Fox Point were on campus on Halloween to explore geological sciences. The labs were fascinating, the scientists were great, but what really grabbed their attention was the controlled explosion of a watery volcano — an unforgettable demonstration of the powerful forces inside the Earth.
PROVIDENCE, R.I. [Brown University] — Nothing says learning like a controlled explosion.
A group of fifth-grade students from Vartan Gregorian Elementary School was on campus Thursday — Halloween — for lessons in the geological sciences. The grand finale: a simulation of explosive volcanism that blasted about 40 gallons of water 40 feet into the air.
Alberto Saal, professor of geological sciences, and Bill Collins, a technician in the department, led the demonstration, which showed the students the power of expanding gases. They dropped a small soda bottle filled with supercooled liquid nitrogen into a large trash can filled with water. As the water warmed the liquid nitrogen, it changed phase from liquid to gas, expanding in the process. When the pressure inside the bottle got to be more than the plastic could contain, kah-BOOM! — an instant volcano.
The process is not unlike volcanic processes in the Earth. As lava makes its way toward the surface, water and other volatiles dissolved within it begin to change phase from liquid to gas. That causes pressure to build up on the rocks above. When that pressure gets too high, there's a volcanic explosion.
"It's equivalent to something like Mount St. Helens," Saal said. "This is essentially how volcanoes work when they're explosive."
The blast capped a full morning of geology for the Gregorian students. They toured Brown's geological sciences labs and heard lessons from Brown professors and graduate students.
"They loved it," said Shannon Barata, a teacher at Vartan, of her students. "Lessons like this really fill gaps in our science curriculum."
Thursday's event was part of a weeklong series of Gregorian School visits to campus organized by Karen Haberstroh, assistant professor (research) in the School of Engineering and assistant director of research opportunities — STEM outreach. Students from other grades were on campus Monday and Tuesday, touring engineering, physics, and chemistry labs.
Haberstroh has led science and technology outreach in Providence public schools for several years. These efforts began through a grant from the National Science Foundation, which recently expired. However, Haberstroh has continued the science program at the Gregorian School on a volunteer basis. Undergraduates, graduate students, and faculty from engineering, physics, and geological sciences provide biweekly science lessons at the school for third through fifth graders.
"Our goal is to inspire and educate the next generation of scientists and engineers," Haberstroh said. "Such exposure to application-based science, and more broadly to a university campus and its resources, can be life-changing for K-12 students and their teachers."
A separate group, led by geology graduate students Tess Caswell and Tim Goudge, provides weekly geology lessons for second-grade students at Gregorian.
"The kids really get excited about lessons where there's something for them to touch or manipulate," Caswell said. "For instance, part of our lesson on the properties of solids involves handing the students clay and toothpicks which they then squish or break until they easily describe the difference between 'ductile' and 'brittle.' They also love the 'Phases of the Moon' lesson because they get to eat the Oreo cookies from the lesson."
And as much as the students enjoy the lessons, the scientists seem to enjoy them just as much.
"As grad students it can be easy to be lost in your world of research, sometimes forgetting the underlying joy of science and discovery that made all of us choose to come to grad school in the first place," Goudge said. "Seeing the second-grade students get excited about some topic or some observation that they predicted with a hypotheses, for me at least, really gives me some perspective on how cool my job of doing science actually is."
"I think that this program also emphasizes the diversity of people in science and helps to dispel stereotypes surrounding the field," Caswell said. "The kids get to interact with real scientists who are energetic, excited, and from all walks of life. I think that it is especially significant for young girls, who are prone to thinking that science and engineering are boys' fields, to meet and interact with successful women in science."
Editors: Brown University has a fiber link television studio available for domestic and international live and taped interviews, and maintains an ISDN line for radio interviews. For more information, call (401) 863-2476.