September 12, 2013
401-863-1638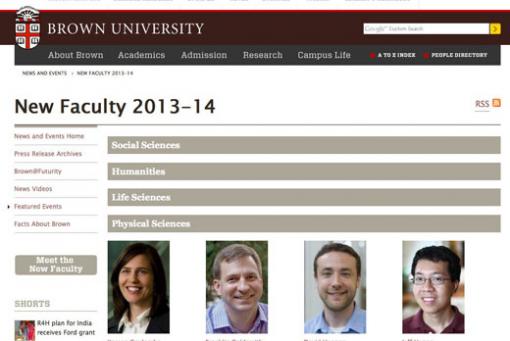 One of the most successful hiring cycles in recent years has brought the total of regular Brown faculty to 731. The new hiring includes many senior scholars, new leadership for several campus areas, and six new faculty for the School of Engineering — and prepares the University to respond to new academic priorities in the next strategic plan.
PROVIDENCE, R.I. [Brown University] — By almost any measure — total hires, diversity, senior scholars, distribution across the disciplines — 2013-14 was a banner year for faculty recruitment and hiring. As of Opening Convocation, the ranks of regular faculty had reached 731, with nearly 50 new members.
"That's the number I had earlier this summer, so it might even be a bit higher," said Kevin McLaughlin, dean of the faculty. "The overall numbers have been fairly steady in recent years. The increase this year was an effect of the high yield."
A few metrics* on the 2013-14 faculty hiring cycle:
Success rate. In a typical year, between 65 and 75 percent of offers extended by the University are accepted. This year the figure rose to approximately 97 percent.
Diversity. Six new faculty are from under-represented racial or ethnic groups, and the faculty is adding eight women to the ranks of STEM specialists.
Distribution. About 30 percent of new hires are in the humanities, 30 percent in the social sciences, 24 percent in the physical sciences, and 16 percent in the life sciences. The School of Engineering welcomes six new faculty. Political science had five, including some joint appointments. Three of the 10 faculty in the Department of History of Art and Architecture are new at Brown this fall.
Senior scholars. Nine of the incoming faculty arrive at the full professor rank. Some are coming to Brown from endowed chairs or deanships and several will take up leadership positions at Brown: Joan Copjec and Bonnie Honig in modern culture and media; Jonathan Eaton in economics; Jack Elias, dean of medicine and biological science; Simin Liu in epidemiology and medicine; Richard Locke and Katherine Tate in political science; Robert Preucel in anthropology; David Wills in French studies; Anthony Vidler in history of art and architecture.
"Our five-year average is between 30 and 31 departures, so we've been more or less in equilibrium recently," McLaughlin said. "We had a number of campus-level opportunities that called for senior people. We went after them aggressively, and I'm still surprised that we got them all."
Those campus-level positions included the new dean of medicine and biological science, a new director of the Watson Institute, a new director at the Haffenreffer Museum of Anthropology, and a leader for the new China initiative.
A successful hiring cycle can also have a significant impact on the academic direction and growth of a small department. "All of a sudden we have an amazing group of people working on architecture," McLaughlin said, "Vidler, Osayimwese, Dietrich Neuman, who has been holding down modern architecture, and Sheila Bonde, who works on medieval architecture. We can have graduate students studying architecture from medieval through 20th century now."
What might the University expect for the 2014-15 hiring cycle?
McLaughlin said this year's success — the campus-level leadership positions, the senior faculty, the additions to the growing School of Engineering — has brought a new equilibrium to the faculty. He does not expect such high numbers — engineering, for example, will not be searching next year — and the head count of regular faculty could even dip a bit as "target of opportunity" hires are absorbed by departments. That is as it should be, McLaughlin said, as the University completes work on its new strategic plan. The plan will inform faculty hiring in coming years.
"We do not want to get too far ahead of ourselves, creating new positions before we know what the strategic plan will require," McLaughlin said. "The over-yield gives us the opportunity to reassess. We're in a financially strained environment. We don't want to accelerate until we have a clear sense of where we're going."
---
* Overall percentages do not include faculty hiring in economics.
Editors: Brown University has a fiber link television studio available for domestic and international live and taped interviews, and maintains an ISDN line for radio interviews. For more information, call (401) 863-2476.