September 25, 2013
401-863-7287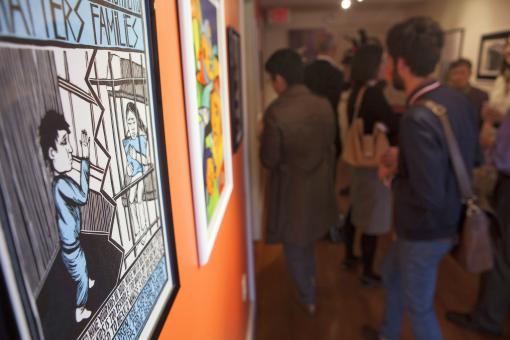 On Tuesday, Sept. 24, the Center for the Study of Race and Ethnicity in America showed off its new quarters and its plans for programs, research sharing, and collaborative grants.
The Center for the Study of Race and Ethnicity in America (CSREA) opened its doors to the campus community for an opening reception Tuesday afternoon, Sept. 24. Faculty, staff and students gathered in the bright and airy space on the top floor of the Hillel Center to celebrate the CSREA's new headquarters, which officially opened in August.
"We wanted the community to know where we are, see the space, say hi, and to make sure that everyone in the arts, humanities and social sciences knows that this is a resource for them," said Tricia Rose, CSREA's new director.
CSREA Director Tricia Rose
The center's plans include films, discussions, research grants, and regular faculty research-sharing sessions called "What I'm Thinking About Now."As guests made their way around rooms in the new space, many stopped to take a look at the art hanging on the walls throughout. The colorful works are part of an exhibition on loan from the nationwide visual arts collaboration Migration Now, which raises awareness about "immigration issues and the imperative for just and equitable change to the nation's immigration system," according to the exhibition description. All of the artists in the collection are part of CultureStrike, a national network of professional and emerging artists, social change experts, and creative producers whose mission is to advance progressive change in immigration through cultural organizing. The works will be displayed for the remainder of the semester, with a new exhibition on display in the spring, according to Rose.
CSREA is off to a busy start, with several events and programs in the works. On Sept. 17, it hosted a panel discussion titled "Where do we go from here? After Trayvon Martin." On Nov. 7, it will host a screening of the movie The House I Live In, which will be followed by an interactive panel discussion. Plans are also in the works to host regular informal faculty research-sharing sessions under the title "What I'm Thinking About Now."
Additionally, the CSREA is offering collaborative research grants of $3,500 for the spring semester, available to groups of faculty, graduate students, and postdocs who wish to host speakers, film screenings, book readings, seminars, or other events. The deadline for proposals is Friday, Oct. 18. Rose said the hope is to bring people together from different parts of campus who might not regularly work together. "We're really interested in projects that are transdivisional, but at least transdepartmental."
Editors: Brown University has a fiber link television studio available for domestic and international live and taped interviews, and maintains an ISDN line for radio interviews. For more information, call (401) 863-2476.