September 17, 2013
401-863-1862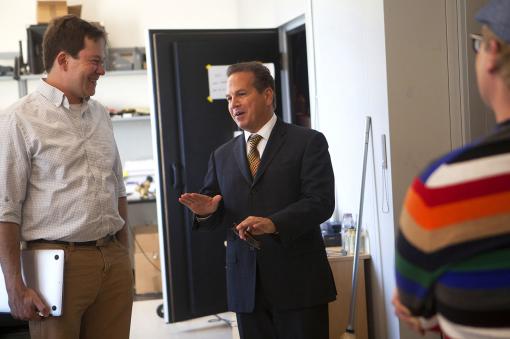 U.S. Rep. David Cicilline visited Brown University Sept. 17, 2013, to talk with leading brain science researchers and to tour the lab of Christopher Moore, associate professor of neuroscience.
PROVIDENCE, R.I. [Brown University] — Just a day after the National Institutes of Health accepted a working report on the research priorities of President Barack Obama's BRAIN initiative, U.S. Rep. David Cicilline came to Brown University to meet with one of the report's co-authors for an update and to tour a cutting edge brain science lab.
Cicilline talked about BRAIN with Brown Institute for Brain Science director John Donoghue, who serves on the NIH working group for the initiative. They also discussed research at Brown before the congressman headed out to see first-hand what's going on in the lab of Christopher Moore, associate professor of neuroscience.
Moore showed Cicilline where he and his research group are developing a new method of controlling blood vessels in the brain using light. The technique could ultimately prove useful in addressing brain aneurysms and in delivering drugs to brain tumors.
Moore also told the Congressman about a project called Open Ephys, created by two members of his research group, Jakob Voigts and Josh Siegle. The effort aims to make conducting neural physiology research less expensive and more accessible by proliferating open-source systems of hardware and software for brain cell recording and stimulation.
Cicilline praised the work at Brown.
"The Brown Institute for Brain Science is doing remarkable work to promote research and development for brain science scholarship across the country," Cicilline said. "Researchers from all stages of academia have participated in the development of cutting-edge treatments for brain disorders and injuries, and I am delighted to see some of these innovative projects first-hand."
Editors: Brown University has a fiber link television studio available for domestic and international live and taped interviews, and maintains an ISDN line for radio interviews. For more information, call (401) 863-2476.