July 19, 2013
401-863-7287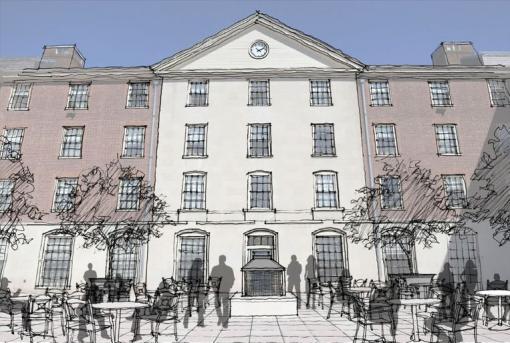 It's another busy summer for Facilities Management, with 100 projects totaling $45 million on the books and many deadlines less than six weeks away, when thousands of students will be arriving on campus.
PROVIDENCE, R.I. [Brown University] — No sooner does Commencement end than the swarms of book-toting students are replaced by hard-hat wearing workers stationed at job sites throughout campus. This summer is no exception. In the weeks between Commencement and Opening Convocation, Facilities Management will oversee exactly 100 projects totaling $45 million. The projects will bring an average of 300 workers to campus each day, including several from the Building Futures program, an initiative that aims to help low-income workers move into careers in the construction trade through an apprenticeship.
For the third consecutive summer, dorm renovations make up the bulk of the work being done on campus. The renovations are part of a strategic plan to create separate residential communities for first-, second-, third-, and fourth-year students, according to Michael McCormick, assistant vice president for planning, design, and construction. "What we found when we started the planning process is that there is a big difference between what students experience year-to-year, so what we're trying to do is very intentionally group together students from each class in certain kinds of residence halls," McCormick said. So far $66.5 million has been spent over the last three years to bring residence halls into line with that plan.
Work is wrapping up on the Keeney Quad residence halls, to which three magnet lounges were added on the top floors last summer to give students more spaces to socialize and study together, which was another goal of the dorm renovation plan, according to McCormick. This summer, the bathrooms and corridors are being upgraded, two elevators are being added, and all mechanical systems are being upgraded.
Restoration
Major renovations in the John Hay Library begin in August, focusing on the first-floor reading room and archives/special collections reading room. Credit: Selldorf ArchitectsOn the other side of campus, work continues on Andrews Hall, which will also be used solely by first-year students, with each room made for double occupancy. Similar work on Miller and Metcalf Halls was completed in December. The Andrews Hall Dining Hall is being converted to a student commons, complete with a dining hall, study rooms, and a seminar room. Additionally, a 24-hour study lounge is being added to the first floor, adjacent to the terrace, where a fire pit will be added. The intent is for the new Andrews Commons to become the heart of first-year residential life on the Pembroke Campus, which includes Miller, Metcalf, Andrews, Emery, Wooley, Morriss and Champlin Halls.
Renovation work began on second-year residence halls Hope College and Hegeman Hall and will continue into next summer.
On the academic side, work continues on the Building for Environmental Research and Teaching, formerly known as Hunter Lab. Construction is nearly complete on a 4,000-square-foot rooftop greenhouse that will include a conservatory and lab space. The interior of the building is being redone to include a 200-seat auditorium, classroom, and lab spaces. The work on the building is slated for completion in the fall. In the spring, the greenhouse currently adjacent to the building will come down, opening an extension of the green space currently between Angell and Waterman streets and the Walk that runs alongside it. "Once completed, the building will have a whole new presence on Waterman Street and a very big campus impact," according to McCormick.
Another major project getting started this summer is the renovation of the John Hay Library, which will begin in August. The primary focus of the project is the renovation of the first-floor reading room, archives/special collections reading room, and front desk area. The goal is to make the reading room more accessible as a study space. The library will be closed until the fall of 2014, when the project is due to be completed.
Additionally, Barus and Holley and Prince Laboratory are undergoing some major infrastructure work, which began in January and will largely be completed by the end of the summer. This project includes the replacement of fire alarm systems, elevator renovations, a ventilation system upgrade, replacement of the chiller plant and cooling towers, replacement of the electrical switchgear and the installation of a new heat exchanger.
Carrie Tower is in its second phase of renewal work. In the first phase, all stone at the base of the tower was replaced. The second phase is focused on the top of the tower, including taking care of any water infiltration, replacing stone as needed, and repointing the brick.
Aside from the major projects taking place around campus, much of the work includes fixing sidewalks on several streets and pedestrian pathways. Facilities Management has posted a map of accessible routes online to minimize campus and neighborhood impact.
Several projects this summer also include energy-efficient upgrades. "Energy efficiency is always a factor for us, so as we plan, we set some very high goals for energy conservation and sustainability," McCormick said. This summer, Facilities Management will be upgrading lighting and temperature controls in about 40 buildings on campus, including many of the residence halls, in an effort to further reduce energy output. In addition, both the Building for Environmental Research and Teaching and Andrews Hall are on track for the U.S. Green Building Council's LEED Gold certification, and both Miller and Metcalf Halls achieved that certification already. The Building for Environmental Research and Teaching will have some unique features, including a rainwater recapture system that will supply most of the nonpotable water needs for the building, and an exterior rain garden to minimize storm water surges and improve water runoff quality.
Editors: Brown University has a fiber link television studio available for domestic and international live and taped interviews, and maintains an ISDN line for radio interviews. For more information, call (401) 863-2476.