January 25, 2013
401-863-3766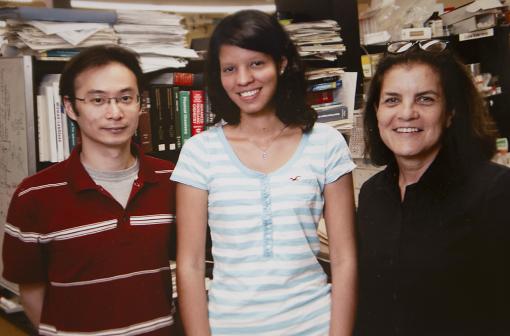 The Leadership Alliance, based at Brown, arranges hands-on research experiences for promising young scholars. Janice Vicenty came to Tayhas Palmore's lab last summer from the University of Puerto Rico.
Janice Vicenty came to Brown from the University of Puerto Rico as a summer research fellow through the Leadership Alliance, a consortium of 32 institutions of higher learning that is headquartered at Brown. The Leadership Alliance encourages students from groups traditionally underrepresented in the sciences, engineering, social sciences, and humanities to pursue research careers in the academic, public, and private sectors.
The Alliance matches promising young students who intend to pursue advanced degrees with faculty mentors. Through one-on-one collaborations, students gain theoretical knowledge and practical training in academic research and scientific experimentation.
Vicenty spent the summer in Tayhas Palmore's lab, working with Palmore and Kwang-Min Kim on techniques for culturing central nervous system cells.
"It's a testament to the value of the Leadership Alliance program that it brings to Brown students like Janice, whose work is of such high quality that she could be a co-author on the paper and a valued part of the research team," Palmore said.
Return to the news release and the paper in Biomaterials.
Editors: Brown University has a fiber link television studio available for domestic and international live and taped interviews, and maintains an ISDN line for radio interviews. For more information, call (401) 863-2476.