October 22, 2012
401-863-7511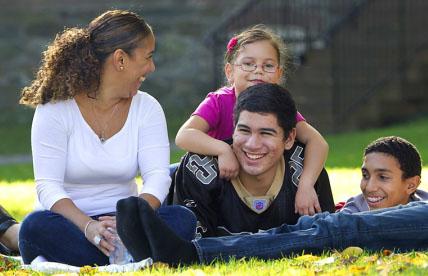 Perfect fall weather, a presidential welcome, faculty presentations, football victory, white coats for new medical students, and more than 650 Brown families. It must be the 2012 edition of Family Weekend.
More than 650 families registered for this year's Family Weekend. They came from 40 different states — as far away as Alaska — and 10 foreign countries: Belgium, Brazil, Canada, Greece, Japan, Korea, Singapore, Switzerland, Tanzania, and the United Kingdom. The weekend began with a welcome address from President Christina Paxson, followed by a variety of performances, panel discussions, and faculty presentations in the arts and the social, medical, and physical sciences. The Brown football game against Cornell on Saturday brought Bears fans to the Brown Stadium (Brown won 21-14), while the keynote address by economist Steven Rattner '74 filled De Ciccio Family Auditorium in Salomon Center. First-year medical students made their formal entrance into the medical at the 14th annual Ceremony of Commitment to Medicine, during which they were each presented with a white coat from the Brown Medical Alumni Association.
Editors: Brown University has a fiber link television studio available for domestic and international live and taped interviews, and maintains an ISDN line for radio interviews. For more information, call (401) 863-2476.