September 13, 2012
401-863-7287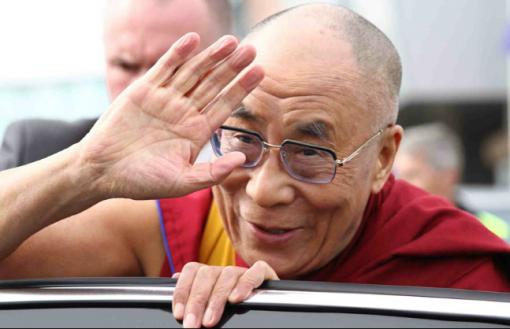 His Holiness the Dalai Lama will deliver a Stephen A. Ogden Jr. '60 Memorial Lecture on International Affairs on Wednesday, Oct. 17, 2012, at 2 p.m. in the Rhode Island Convention Center. The event will be open to the public and presented live on the Brown website.
PROVIDENCE, R.I. [Brown University] — His Holiness the Dalai Lama will deliver a Stephen A. Ogden Jr. '60 Memorial Lecture on International Affairs on Wednesday, Oct. 17, 2012. His talk, titled "A Global Challenge: Creating a Culture of Peace," will begin at 2 p.m. at the Rhode Island Convention Center in downtown Providence. This is a ticketed event that is open to the public. The lecture will also be presented live online at www.brown.edu/web/livestream.
"His Holiness the Dalai Lama is one of the great spiritual leaders of our time," said Brown President Christina Paxson. "We are honored that he will be sharing his inspirational message of peace with thousands of members of our community."
His Holiness the 14th Dalai Lama, Tenzin Gyatso, is the spiritual leader of Tibet. He was born on July 6, 1935, to a farming family in a small hamlet in Taktser, Amdo, northeastern Tibet. At the age of 2, he was recognized as the reincarnation of the 13th Dalai Lama, Thubten Gyatso.
In 1989, he was awarded the Nobel Peace Prize. He also became the first Nobel laureate to be recognized for his concern for global environmental problems. His Holiness has traveled to more than 62 countries on six continents. He has met with presidents, prime ministers, and crowned rulers of major nations and has held dialogues with the heads of different religions and many well-known scientists. Since 1959, His Holiness has received more than 84 awards, honorary doctorates, and prizes in recognition of his message of peace, nonviolence, inter-religious understanding, universal responsibility and compassion. His Holiness is the author of more than 72 books.
The Stephen A. Ogden Jr. '60 Memorial Lecture
Since 1965, the Ogden Lectureship has presented the University and its neighboring communities with authoritative and timely addresses about international affairs. The lectureship was established in memory of Stephen A. Ogden Jr., a member of the Brown Class of 1960, who died in 1963 from injuries he suffered in a car accident during his junior year. His family created the series as a tribute to Ogden's interest in advancing international peace and understanding.
Dozens of heads of state, diplomats, and observers of the international scene have participated in the series, including Queen Noor of Jordan, former President of the Soviet Union Mikhail Gorbachev, President of Brazil Fernando Henrique Cardoso, former Canadian Prime Minister Kim Campbell, media innovator Ted Turner, astronaut Sen. John Glenn, economist Paul Volcker, Bolivian President Evo Morales, and Romano Prodi, former prime minister of Italy.
Ticketing and media credentials
This is a ticketed event open to the public without charge. Online ticketing for Brown students, faculty, and staff opened on Monday, Sept. 24, 2012, at noon. Ticketing opened for the general public on Thursday, Sept. 27.
Update: All available tickets for the Dalai Lama's appearance have been claimed.
Information on security guidelines is available online at www.brown.edu/dalai-lama.
Editors: Credentials are required for this event. Security for the Dalai Lama will be managed by the U.S. Department of State, which will determine security guidelines. To register for press credentials, contact Courtney Coelho at courtney_coelho@brown.edu, 401-863-7287 by Oct. 10, 2012.
Editors: Brown University has a fiber link television studio available for domestic and international live and taped interviews, and maintains an ISDN line for radio interviews. For more information, call (401) 863-2476.