August 14, 2012
401-863-7287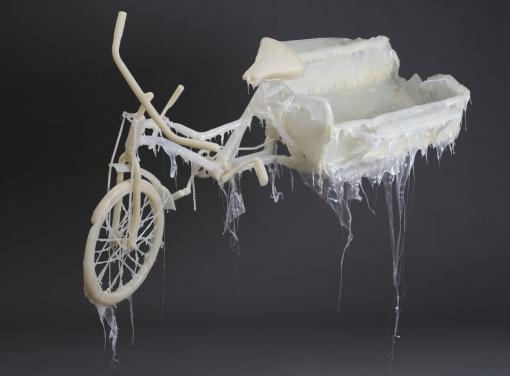 Opening Sept. 1, 2012, at the David Winton Bell Gallery at Brown University, My dad is Li Gang! is a solo exhibition by Chinese artist Jin Shan. With a single work, Jin will transform the main gallery into a commentary on power dynamics in contemporary China.
PROVIDENCE, R.I. [Brown University] — The David Winton Bell Gallery will present My dad is Li Gang! from Saturday, Sept. 1, through Sunday, Nov. 4, 2012. A solo exhibition by Shanghai-based Jin Shan, My dad is Li Gang! will tranform the main gallery into a declaration of Jin's cultural position and social obligation as an artist to engage political issues and make them visible. Curated by Ian Alden Russell, this exhibition is Jin's most ambitious project to date. An opening reception will be held on Friday, Sept. 7, 2012, in List Art Center, beginning at 5:30 p.m. with a conversation between the artist and the curator. The exhibition and reception are free and open to the public.
A leading voice in an emerging generation of socially engaged contemporary artists in China, Jin is an agent provocateur. Preferring wit and satire to aggression and conflict, he uses humor and play to draw audiences into a confrontation with the social, cultural, and political problems of the modern world. In this special project for the Bell Gallery, Jin responds to power dynamics in contemporary China by invoking a powerful Chinese social meme.
"My dad is Li Gang!" developed as a cultural phenomenon in late 2010 after a hit-and-run incident involving the son of a local police official in Baoding, Hebei Province, China. The driver Li Qiming, who hit two students, killing one, fled the scene shouting, "Go ahead, sue me if you dare. My dad is Li Gang!" Social outrage erupted, provoking a social media phenomenon that made the phrase ubiquitous throughout the country.
With My dad is Li Gang!, Jin transforms the main gallery into a big yellow political disco party. At the center, bathed in yellow light, is a mirror-clad replica of China's Tiangong 1 space station. Turning slowly, seemingly powered by a cast replica of a three-wheeled cycle, the space station's mirrors throw yellow light around the room onto four false walls covered with plaster, Russell said. The plaster has been beaten and marked using silicone replicas of the hands of migrant laborers who make their livelihood using three-wheeled cycles in Shanghai. Sustaining his critique of power, desire, and ambition, Jin invites visitors to "walk behind the scenes" of the false walls, revealing the "party" to be a construction and suggesting that the power dynamics of China must be opened to criticism.
"My dad is Li Gang! is a critical transition in the work of Jin Shan toward a bolder, more overtly political and socially engaged artistic practice," Russell said. "Still maintaining his characteristic use of humor and wit, Jin Shan formalizes his process of collaboration with social classes in China who are often marginalized by the burgeoning Chinese contemporary art market. Engaging migrant and factory workers in the design and development of components of the installation, he is fulfilling his commitment to a belief that the process of making art must do more than produce objects for consumption by the social and economic elite."
A graduate of East China Normal University, Jin was born in Jiangsu and lives and works in Shanghai. He is represented by Pekin Fine Arts, Beijing; Aike Dell'Arco, Shanghai; and Masters & Pelavin, New York.
This will be Jin's second solo exhibition in the United States. It occurs in conjunction with his first New York gallery solo show at Masters & Pelavin.
Editors: Brown University has a fiber link television studio available for domestic and international live and taped interviews, and can arrange an ISDN line for radio interviews. For more information, call (401) 863-2476.