January 19, 2012
401-863-2476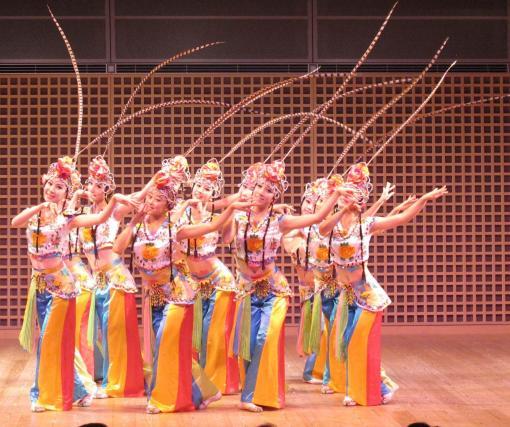 Brown University's Year of China is celebrating the Chinese New Year — 4710, the Year of the Dragon. All events are free and open to the public.
PROVIDENCE, R.I. [Brown University] — The Chinese New Year, 4710, begins Monday, Jan. 23, 2012. Several public activities are planned in conjunction with Brown's Year of China initiative to celebrate the upcoming Year of the Dragon.
January 28:
Zhejiang University Wenqin Art Troupe
Members of the Zhejiang University Wenqin Art Troupe will perform a special Chinese New Year show on Saturday, January 28, 2012. The troupe consists of six talented teams, including a symphony orchestra, a vocal group, a dance team, a drama team, a keyboard orchestra, and a Chinese traditional music team. Their performance will begin at 8 p.m. in RISD Auditorium, 17 Canal St. The group will also perform at Tolman High School in Pawtucket earlier in the day.
February 3:
The Shape of Good Fortune: Welcoming the Year of the Dragon
A new exhibition, The Shape of Good Fortune: Welcoming the Year of the Dragon, will be on display in the inner lobby of List Art Center, 64 College St., from Jan. 23, through Feb. 16, 2012. An opening reception will be held on Friday, Feb. 3, 2012, from 5:30 to 7 p.m.
Shape of Good Fortune is a student-curated Chinese New Year's exhibition, created by members of the Brown History of Art "Shape of Good Fortune" seminar. The exhibition aims to introduce and illuminate the visual culture of the Chinese New Year through the display of typical objects and through their interpretation by means of historically-informed labels. Students participated in every phase of the process, from objects selection, to research and writing of interpretive materials, to installation design, and mounting. This exhibition focuses on auspicious images – images intended to repel evil and to attract good outcomes, such as health, wealth, and baby boys who will continue the family line and bring honor and glory to it.
February 6:
Lantern Festival Gallery Walk
Shana Weinberg, Brown's Year of China coordinator, will lead an early evening Lantern Festival Gallery Walk on Monday, Feb. 6, 2012. Gallery-goers will enjoy 30-minute tours of three exhibits, all displaying unique Chinese collections. The journey will begin at 5:15 p.m. in the John Hay Library with a viewing of Divine Land, Civilization and People: An Exhibition from Chinese Collections, displaying objects from the Library's East Asian Studies Collection, John Hay Library's Special Collections, and Curator Li Wang's personal collection. The exhibit includes a variety of objects: folk new year's paintings, puppet lions, Peking opera makeup, and more. Wang will give a brief talk, accompanied by Chinese Lantern Festival refreshments.
At 6 p.m., participants will visit List Art Center's The Shape of Good Fortune: Welcoming the Year of the Dragon. The evening will culminate with two exhibitions at the Haffenreffer Museum of Anthropology: Crafting Origins: Creativity and Continuity in Indigenous Taiwan, featuring contemporary crafts by indigenous tribes in Taiwan as well as materials culled by a 1960s linguistic anthropologist, and Taoist Gods from China: Ceremonial Paintings from the Mien, which includes paintings from the museum's collection dating to the 17th century, depicting the major gods of the Taoist religion.
The Chinese Lantern Festival falls on the 15th day of the new year by the lunar calendar — also the day of the first full moon marking the end of Chinese New Year celebrations.
A full listing of Year of China events is available online: www.brown.edu/year-of-china.
The Year of China initiative is the latest in a series of Brown University programming focusing on international issues and research. The 2007-08 academic year featured events and programs related to Latin America, followed by a Focus on Africa series in 2008-09, and the Year of India in 2009-10.
Editors: Brown University has a fiber link television studio available for domestic and international live and taped interviews, and maintains an ISDN line for radio interviews. For more information, call (401) 863-2476.